The Bullocks Coastal Challenge Cup continues to elude Property Brokers United but this time there are no excuses as Paraparaumu went back-to-back with a comprehensive 108 run hammering at a damp Victoria Park on Saturday.
Batting patiently on a challenging wicket, after they had expected the game to be played on the No1 pitch and not No2, where United won last weekend's semifinal, Paraparaumu worked their way over the key psychological hump of 200 before they were bowled out in the penultimate over.
In reply, the United batsmen collapsed for their lowest score in any format this summer, laid waste for 99, before ironically the potential saviour of rain would set in only two minutes after the final wicket fell – soaking the already glum home players as they went to pull the covers on.
While United pace bowler Ryan Slight (2-32) managed to get a couple of key early wickets in Jake Ross and Kelsey Fahey, the other opener Byron Gill (31) was able to hold the line with wicketkeeper Rory Lorimer (49), who then carried on with leading allrounder Ramesh Subasinghe (59) to guide their team to 127-4 in the 32nd over.
United captain Tom Lance (4-21) was able to break up the key partnerships, and although Subasinghe began rapidly running through partners at 158-6, Paraparaumu came back again through Sean Windle, who quickly raised 25 in 19 balls.
Subasinghe and Windle's departures through Lance and Ritesh Verma saw the visitor's tail fold quickly, but Paraparaumu could now back themselves given 159 had been a winning total 11 months before.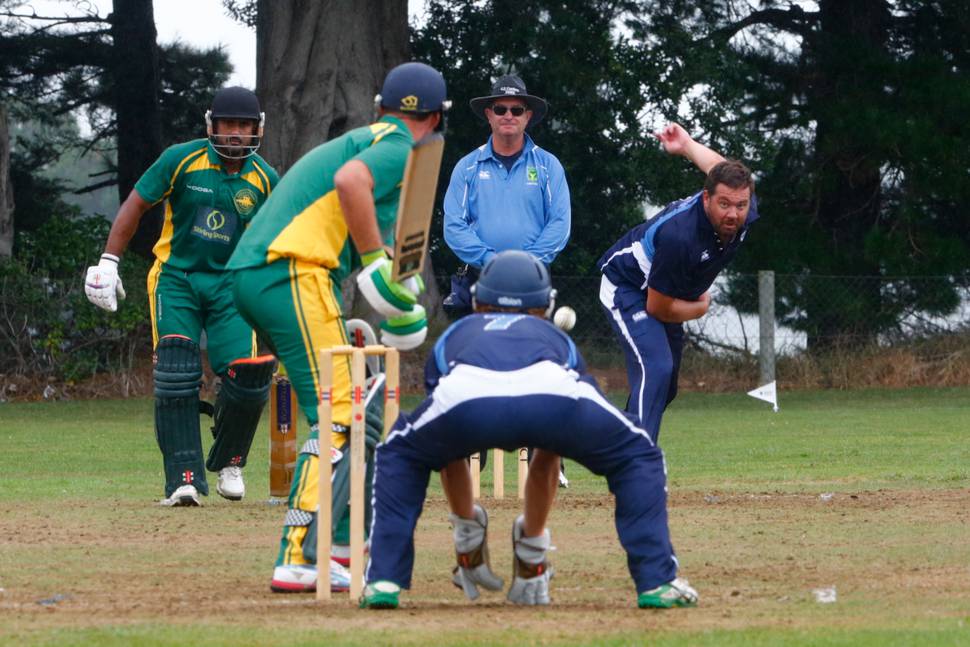 On paper, United had a much stronger batting lineup than that day, yet they stumbled out of the gate with Matthew Boswell, Lance and Matthew Simes all back at the pavilion by the end of the sixth over at 18-3.
Always a big match player, Subasinghe (4-39) did the damage, collecting nicks and stumps.
As with last year, Greg Smith dug in to raise a 50, but while his 2017 innings was slowly grafting singles, here the Englishman looked to change the tone by going on the offensive, hitting eight boundaries as he picked up Windle short of a length to hit him over the top and then pulled him through the on-side with a baseball-style slog, leaving the bowler to kick his cap in frustration.
Smith was leading the recovery at 77-3 as he raised his half-century with consecutive boundaries off Dale McNamara, the second one being an authoritative drive.
But McNamara (5-20) held his composure and the next delivery was a cleverly weighted short and slower ball, which the fired-up Smith misread and instantly regretted, trying to get low and instead chipping it straight to captain Nigel Harvey in-field.
Just like last year, Smith's dismissal was the body blow from which United could not recover, as his partner Freddie Wilson tried to take over but swung out at spinner Jimmy Singh, only to be stumped by Lorimer for 87-5.
Fired up now, McNamara missed out on a close LBW shout on Brendon Walker, but there was no doubt a few balls later as Walker tried to work the ball away but got hit low on the pad, with the finger going up.
Veterans Verma and Gerard Hobbs tried to hold the line, but Hobbs never looked comfortable and gave an edge off McNamara to the delighted Lorimer.
Martin Pennefather survived until the 25th over drinks, as Paraparaumu brought back Subasinghe to get him going at the other end.
In quick succession, both Martin and son James Pennefather lost their stumps in identical circumstances to McNamara, who dropped to a knee with a fist pump as he achieved his five-for.
With Verma watching in vain from the other end, Ryan Slight entered and Subasinghe promptly saw his team off with the silverware again by breaking the stumps.
"Definitely didn't play well enough at the end of the day," said Lance in the dressing room.
United just weren't there mentally with the bat, as Lance said they had been unlucky in the field and could have restricted Paraparaumu to a smaller total.
"Couple of things that could of gone our way – a few less runs."
The skipper was surprised to learn that his four-for was more than enough to secure top position on the Coastal Challenge Cup's MVP board, as per statistics on the CricHQ website, as he finished as both the fourth-best bowler and batsman, as well as the fifth-best fielder.
At the aftermatch, Harvey praised his team for maintaining intensity after they had also won their local Horowhenua-Kapiti club competition final during the week.
"To back up, I'm bloody proud of everyone."
Veteran Hobbs spoke for the United team.
"Maybe we need to play you guys at home," he joked, given United had now lost the final twice as top qualifier with home advantage.
"You guys outplayed us today, completely. Your batting, bowling, and fielding was exceptional."
The Whanganui clubs will now play their red-ball competition for the rest of February and then March, with the last weekend of summer being the Bullocks Premier 1 Twenty20 finals on March 24.
Scoreboard
Paraparaumu
J Ross ct & b R Slight 11
B Gill ct G Smith b T Lance 31
K Fahey ct J Pennefather b R Slight 8
R Lorimer b B Walker 49
R Subasinghe b T Lance 59
B Finn b B Walker 1
N Harvey ct T Lance b M Pennefather 6
S Windle ct G Smith b R Verma 25
C Emmott ct M Simes b T Lance 2
D McNamara ct G Hobbs b T Lance 1
J Singh not out 1
Extras: 13
Total: 207 (48.5 overs).
Bowling: R Slight 6 overs, 0 maidens, 32 runs, 2 wickets; R Verma 8-0-34-1; T Lance 8.5-1-21-4; J Pennefather 6-0-26-0; M Pennefather 10-2-29-1; B Walker 10-0-62-2.
United
M Boswell ct C Emmott b R Subasinghe 6
T Lance ct R Lorimer b R Subasinghe 6
G Smith ct N Harvey b D McNamara 50
M Simes b R Subasinghe 0
F Wilson st R Lorimer b J Singh 16
G Hobbs c R Lorimer b D McNamara 12
B Walker lbw b D McNamara 3
R Verma not out 1
M Pennefather b D McNamara 2
J Pennefather b D McNamara 0
R Slight b R Subasinghe 0
Extras: 3
Total: 99 (27.5 overs).
S Windle 6-0-23-0; R Subasinghe 9.5-1-39-4; D McNamara 8-3-20-5; J Singh 4-0-17-1.
Result: Paraparaumu win by 108 runs.