Treadwell Gordon Wanganui's strong first day's play to secure first innings points turned into a desperate fight for survival after a dynamic Horowhenua-Kapiti fightback at a sweltering Victoria Park yesterday.
Led by Ross Kinnerley getting his name on the honours board for the third consecutive season against the same team, Wanganui wrecked the visitors top order on Saturday morning, and despite a solid lower order fightback by Ryan McCone (49) and Kobe Monk (28), still restricted them to 175.
Kinnerley eventually brought that partnership to an end after Nick Harding took a good running catch on the boundary, which along with Kinnerley getting the first four wickets to fall saw him to overall figures of 6-48 from 18 overs, having left Horowhenua-Kapiti in trouble at 80-7.
Connor O'Leary overstepped the crease plenty in his eagerness, but still took 3-54, while Trent Hemi deserved far better from his 12 overs as he beat the bat constantly but could not get a nick, while having a catch dropped off him early.
While Wanganui opener Matthew Boswell went first ball, captain Dominic Rayner (57) and Greg Smith (39) had Wanganui in excellent position at 104-1 after 26 overs, with Rayner calmly turning the spinner's deliveries round the corners.
However, with first innings looking like a doddle and the main goal being to crack on for 300, Smith pushed too far forward and was stumped off Conor Beleski and then Rayner lost sight of a flighted delivery in the corner of the sidescreen and gave up a simple caught and bowled to Kelsey Fahey.
Horowhenua-Kapiti immediately brought back their front line bowlers and Wanganui made a mountain out of a mole hill to pass the 175 total, losing five more wickets over that time.
Under 19 bowler Fraser Bartholemew took 3-54 as Wanganui batsmen holed out with some casual looking shots as the first innings points crept slowly closer.
Mark Fraser, Matt Simes and Kinnerley all went cheaply, while Chris Stewart (13) stuck around for a bit when joined by Marist team mate John McIlraith (32 from 22 balls), who was still confident to try the fielders on and threaded the gaps with seven boundaries.
McIlraith fell off fast bowler Ramesh Subasinghe (3-66) just after securing first innings points, with Harding (33) joined by Hemi, whose bat stayed safely inside the line of 62 deliveries as the pair batted out the day, with Harding restricting himself aside from one over where he got away from facing Subasinghe and so attacked with a six and a high four.
Wanganui took a 40 run lead overnight at 215-8, but for coach Warren Marr, it was not the match point position he wanted.
"Happy to get the first innings, but not the way we went about it," he said.
"The plan is [300], to grind the opposition into the ground."
Realistic about who was in form, Marr had wanted a 100 partnership from any two players, which Rayner and Smith delivered, but he also wanted a solid 80-odd runs from another pair, which Wanganui's collapse did not provide.
He praised Kinnerley for his six-for, with the Englishman's flushed face showing the strain of bowling in that heat.
"There's no secret why he's our best bowler. He's highly skillful, swings both ways and puts the pressure on the most."
"If they all bowled like that, we'd have a team of superstars."
Wanganui added 20 more runs in the morning before Subasinghe cleaned up the tail, but if the home side thought the match would be a repeat of January when Horowhenua-Kapiti fell apart in their second dig while chasing an identical deficit, they were horribly mistaken.
The visitors attacked, but this time they had their eye in on a flattening pitch as they raced to 344-7 declared in only 47 overs.
Matt Good (28 from 13) got the ball rolling, and Wanganui was bowling them some tasty deliveries as Tharaka Waduge (117 from 108) dug in, despite losing his middle order to O'Leary (3-47).
Waduge batsman struck 16 boundaries and three sixes in his superb knock.
Both Waduge and Ryan Taylor (69) were able to raise their bats just after the lunch break, as Taylor started to loft drive Kinnerley while Harding was looking tired and frustrated, with Wanganui's field now far-flung.
Kinnerley (2-69) appeared to be leading the fight back when he bowled both Waduge and Taylor in short order, the former with an excellent line ball and the latter with a disguised low full toss.
Now six down with a lead of 170, Horowhenua-Kapiti looked vunerable, but only momentarily as Ramesh Subasinghe (46) and McCone (44 not out) took it to the perspiring bowlers, Subasinghe racing to 23 off just nine balls.
They scambered for some quick singles as Wanganui made fumbles in the field, while both men attacked Hemi with some towering sixes, including two from McCone where Harding and Boswell took catches right on the boundary but could not stay in the field.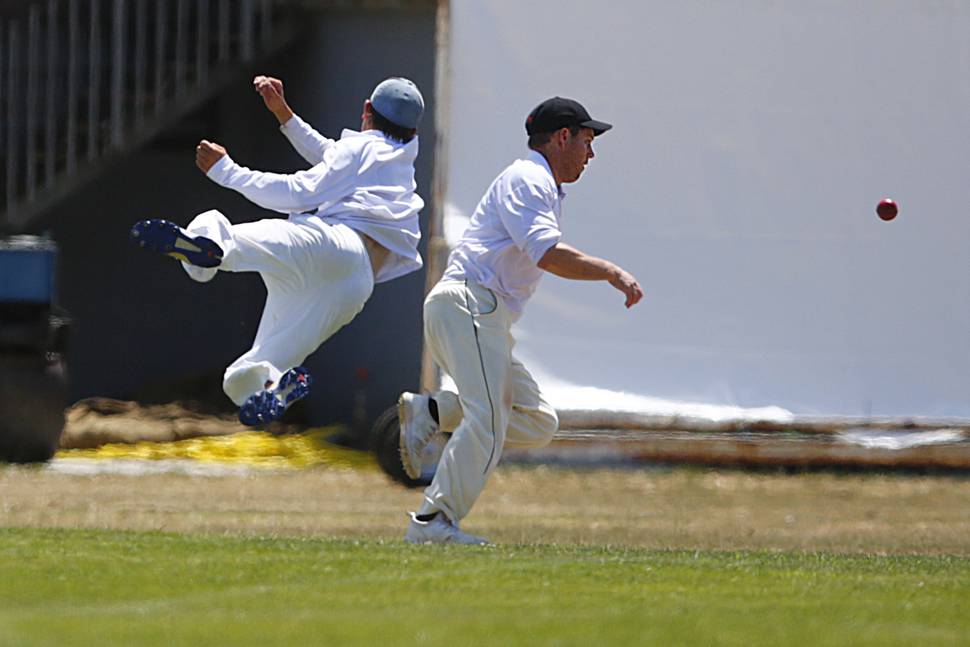 Subasinghe finally chipped one to Rayner off Hemi, but Monk (13 not out) supported McCone for a quick fire 47-run partnership before the visitors called everyone in with a lead of 274.
Despite a clear path for what was required, Wanganui fell apart to be 28-4 after ten overs at drinks, leaving them with the horrible prospect of losing a match where they won the first innings.
Rayner was caught after three balls in the opening over off the fired up McCone, with his first innings partner Smith gone for a duck shortly afterwards.
McCone made it 4-for when he bowled Boswell, and then Stewart was caught two overs later.
Success now lay on the shoulders of Fraser (13 not out), with the youngster Simes in with him and a long way to go before the end of the day's play.
Scoreboard
1st Innings: Horowhenua Kapiti 175 (R McKone 49, K Monk 28; R Kinnerley 6-48, C O'Leary 3-54).
2nd Innings: Wanganui 235 (D Rayner 57, B Smith 39, N Harding 33, J McIlraith 32; F Bartholemew 3-54, R Subasinghe 3-66, R McCone 2-20).
3rd Innings: Horowenua Kapiti 344-7 dec (T Waduge 117, R Taylor 69, R Subasinghe 46, R McCone 44no; C O'Leary 3-47, R Kinnerley 2-69).