Feilding endurance runner Perry Newburn won't break the record for running the length of New Zealand but that's not going to stop him completing his run to Bluff in quick time.
Newburn set out from Cape Reinga on September 4 and by Wednesday evening had reached Sanson.
He has been averaging more than 100km a day in the attempt to break the 42-year-old record of just over 18 days recorded by Ziggy Bauer.
Speaking to the Chronicle just south of Hunterville shortly after ticking over the 1000km mark, Newburn said the run had been hampered by weather.
"You get seven days out of the first nine with pretty horrible weather - it doesn't help matters. And the traffic conditions up north, I couldn't believe it."
On Tuesday Newburn had to pull the pin on running through the Desert Road which effectively ended the record attempt.
"It got too dangerous. It wasn't worth the risk," he said.
"But I'm still going to do it. Still going to average 100km a day. It's frustrating but we had to take in factors.
"The body's actually feeling good which is the frustrating part about all the other variables."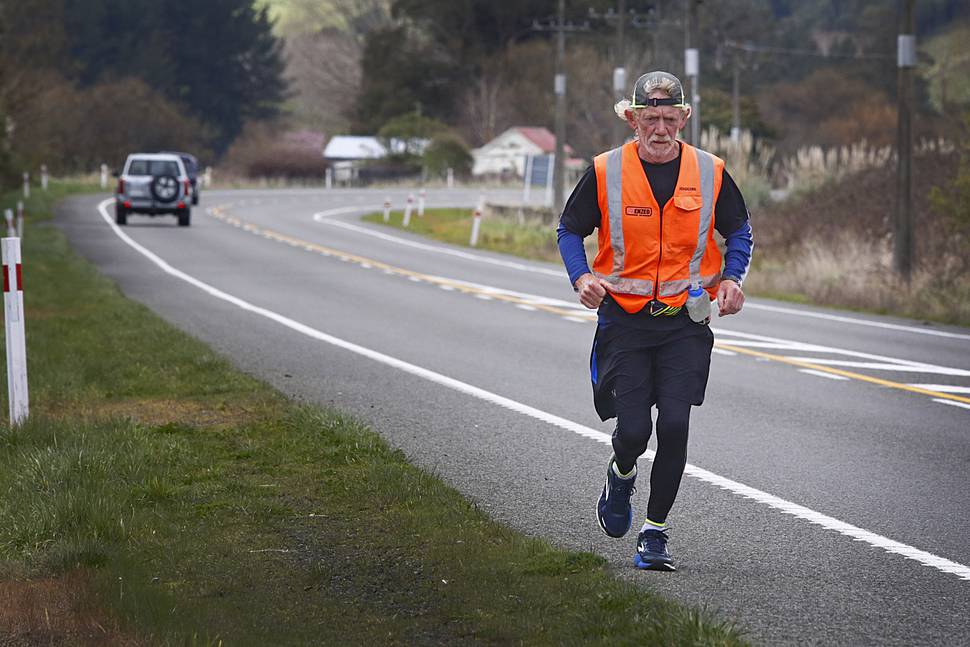 Newburn said would not get upset about it.
"Because you'd end up just giving up. There's always pressure when you're aiming for high mileage... but it's got to be fun at the end of the day. It has to be."
The 63-year-old veteran of several multi-day runs said he had settled quickly into this run.
"There's definitely no problems body-wise," he said.
"We'll just have to see what the South Island delivers. Hopefully weatherwise it's going to be better."
Newburn expected to reach Sanson by the end of Wednesday and Wellington by Thursday evening.
The former Whanganui man hoped a few would come out to run with him as he passed near his hometown of Feilding.
"That's always nice always nice when people come out."
Newburn has clocked up a long list of running achievements including a world masters record across the United States (51 days, 16 hours and 40 minutes), the second-longest distance without sleep by a New Zealander (487km in 72 hours) and a circumnavigation of New Zealand in 71 days.
Newburn is also using the run to raise money for Koru Care.
"That's an important part to."
Donations can be made at givealittle.co.nz/fundraiser/running4korucare