Wanganui Chronicle reporter Zaryd Wilson is your typical 'early adopter'.
He's tech-savvy and does all his financial business via his cellphone.
"I've got a bank app and pay all my bills that way. I don't think I've been into a bank in the two years I've been in Whanganui," he said.
Even if Zaryd needs to contact his bank he'd do that online as well. He's got a list of regular payees in his phone and every payday accesses them on his phone and types in the amount to pay them.
He's not worried about security because he's comfortable with what his bank provides.
"And I've never used a cheque book."
His way of doing things is the way we'll all soon be handling our finances. A recent Mastercard NZ survey showed that half of us reckon we won't be using cash in 10 years.
The survey says, like Zaryd, we're early adopters of technology; always looking for fast, convenient and secure ways to pay.
Nearly half of those surveyed think mobile payments will be the next thing to take off, followed by biometrics/facial recognition/fingerprints and wearable technology including smartwatches.
Already 75 per cent of Kiwis used the 'tap and go' cards rather than inserting their cards into a PIN machine last year, a rise of 20 per cent on 2014.
Retail New Zealand said while people will still be able to deal in cash, it's predicting that over the next decade contactless retail payments will increase from 1 per cent to 35 per cent.
So where does that leave Brian Doughty and Zaryd?
Brian's old-school, using his cheque book to pay the bills for his farming operation and the boutique goats' cheese operation his wife Rae runs at Brunswick.
They're no Luddites. To handle eftpos payments at their Lonely Goat cheese stall at the Saturday markets they've downloaded an app and got a little portable eftpos machine that plugs into their cellphone so they can do business.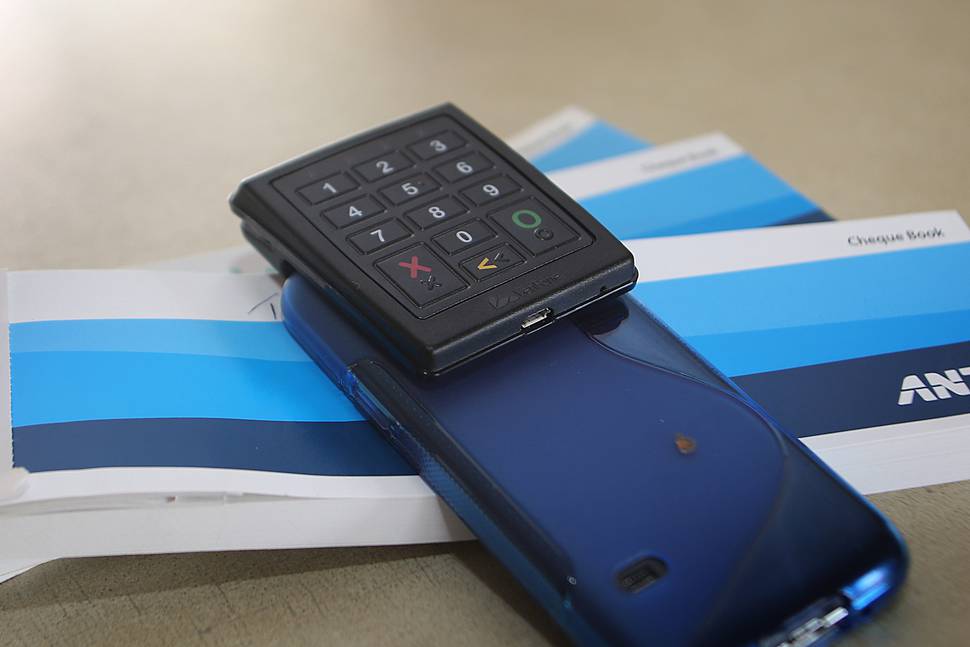 "But we've still got a cheque book. We use it for it for all our supplies to the farm and the cheese unit. It's the same as it always was," Brian said.
"The time will come when we won't have cheques any more. I know other businesses refuse to accept them and you can see why. If you're talking about a business that does its banking once a week it can be days before they can access that money. You can understand it from their point of view," he said.
What concerns Brian more is the gradual erosion of social contact. Relying more on tech devices means he and his wife wouldn't have to leave their farm to do anything.
"That's not good because we're not talking to anybody. We're not communicating."
He said the impact of new technology was already evident in Whanganui's main street with an increasing number of empty retail spaces.
"The boutique places and food outlets will be there, but the rest will disappear. Ask any rural delivery driver and you'd be amazed at the amount of online purchases they're delivering. And that's just in the rural area," he said.
But Brian will keep writing out cheques because he harbours a fear about security of doing business online.
"I'm not convinced it's secure. There's a generation older than me now (he's 70) who haven't come to grips with technology. It's easy to write out a cheque and I get to see people when I come to town. I could do it over the internet but never go to town. That's not healthy in my view." And he said while something new is being created "there'll be some son of a bitch at the other end trying to figure out a way to get into it".
So is Brian right to be worried?
Simon Waters, who owns Computer Solutions Ltd, a Whanganui-based provider of IT solutions for home and business users, said no system is infallible.
"If you do your banking on the same device you visit dodgy sites on, download movies, music and games that you haven't paid for, then it's almost certain you have viruses.
"So everything you type and do on your device is being sent back to some bad guys, who are itching to get their grubby little hands on your personal and banking details," Simon said.
He said banks will usually detect and block suspicious transactions and if the criminals do manage to withdraw your funds, or use your credit card, then you're probably covered by insurance.
But he said cheques are vulnerable too. "You can buy a lot of things with a stolen cheque book before the alarm is raised.
"For me it comes down to usability. You can't buy items or services online with a cheque, it's a major inconvenience to pay bills with a cheque and as big a pain being paid by cheque. I'm surprised they have not been phased out yet. I'm sure they will be someday soon."
Simon said smart users will have two factor authentication which means as well as needing a username and password, you will need a code texted to your cellphone to access your financial details. That way if your PC is infected, it's much harder for the crims because they can't intercept your texts.
"But that said, I do have concerns about how vulnerable most average users are when it comes to technology. They make their homes secure but when it comes to computer security they are babes in the woods and their potential to be hacked is very real. And it does happen."
Simon said it was about making certain you have decent digital security and what makes you vulnerable and how to use technology safely.
"Popping on anti-virus protection and leaving it at that is nowhere near enough. And for many people using a cheque is just easier and frankly perhaps safer."
He said learning about digital security is just a Google search away and there are local businesses which run security audits and advise on any potential problems.
"Like every technological advance there are those who take to it like ducks to water and those who retain a healthy scepticism until they are forced to adopt new ways of doing things as old technology is retired.
"I'm an early adopter with most things and do all my financials online ... but I still have a cheque book," Simon said.
Jon Palmer, manager of The Co-Operative Bank in Whanganui, says the end of the cheque book is already here.
He has one but said he would only write out "10 a year at most", usually when paying for a child's school trip rather than having them take money to school.
"But it's very, very rare that we sell a cheque book to anyone aged under 40 or 50," he said.
Jon said it hasn't affected staff and the way they operate, but what is apparent is the downturn in the number customers coming into the bank to make cash withdrawals or deposits.
"They've got debit cards, eftpos, internet banking and apps on their phones. That's the way things are going."
Yet despite these advances he said customer service remained paramount, whether face-to-face or over the phone.
"I don't think the time is too far away when people won't come into a branch for sit-down interviews. They'll be Skyping (via their computer) or doing more online."
Jon said there were still a lot of people who liked coming into the bank and dealing with a person directly and "we'll still need to cater for that".
"But you'd be surprised at the number of elderly people who are on the internet and computer-savvy or are using phone apps," he said.
"There will be some who won't want to use new technology but a lot of them embracing it."