It's the time of year where the Northland public have their say on the best parts of the sporting year.
This years focus - your Favourite Olympic Moment. Northland brought home four medals from the Rio Olympic and Paralympic Games.
The Northern Advocate 2016 People's Choice Award is being held in conjunction with Sport Northland.
Formerly, the award was the Sports Personality of the Year. Previous winners were basketballer Pero Cameron in 2012, Colin Thorne in 2014 and Vicky, Kelly and Amanda Wilson for their efforts in Equestrian.
To vote, text NAD and your choice to 021 241 4568 or email competitions@northernadvocate.co.nz with your selection.
One vote per person please. Voting closes midnight November 26.
The winner will be revealed at the CSG Konica Minolta Northland Sports Awards in Whangarei on December 2.
Blair Tuke
Kerikeri's Blair Tuke and sailing partner Peter Burling went one better than their silver medal at the 2012 London Olympics when they brought home gold in the 49er skiff sailing class.
Possibly no one in the New Zealand Olympic unit had more pressure on them, but it did not show as they took out the Olympic regatta by 43 points.
But, under the guidance of their coach Hamish Willcox, they carried out the assignment with their usual calm approach. They excelled under expectation.
Their Rio sequence of results: 1, 1, 5, 2, 7, 6, 2, 3, 1, 3, 5, 4; guaranteed their medal before the final race.
They could have just shown up and had a nice, gentle sail around Guanabara Bay to confirm their Olympic medal, but the pair was not happy just to take part in the race.
The brilliant Kiwi pair dominated the fleet, leading the race from the start to finish to take out the regatta over Australian pair Nathan Outteridge and Iain Jensen, who beat the Kiwis for gold in London four years ago.
Cameron Leslie
Cameron Leslie was Northland's sole gold medal winner from the Rio Paralympics.
Leslie, who has a quadruple limb deficiency, led from the front and raced clear to win at a canter with an astonishing time of 2:23.12, breaking a world record he had set mere months before.
After qualifying fastest for the final with a time of 2:29:36, Leslie bettered his own world record in the final by more than two and a half seconds.
In securing gold, Leslie achieved a rare three-peat after winning the event in Beijing in 2008 and London in 2012.
Leslie immediately took control of the final to smash his own world record and earn New Zealand's fifth gold medal of the Games.
He finished ahead of China's Zhipeng Jin and Denmark's Jonas Larsen.
After a slowish start Leslie took the lead midway through the backstroke length and never looked like surrendering it.
He romped home with quick splits in the breaststroke and the freestyle, finishing nearly four seconds faster than his nearest rival in what could only be described as a commanding performance.
Emma Foy
In terms of volume of medals, cyclist Emma Foy was Northland's most successful Paralympian.
Competing as a tandem pair, Foy and her pilot Laura Thompson brought home a silver medal in the women's B 3000m Individual Pursuit and a bronze in the Women's Road Race B.
Foy went into the Paralympics as a triple world champion in the Individual Pursuit, despite being in the sport for just three years.
In the Individual Pursuit, Foy qualified second fastest in the heats with a time of 3:28.563, but came up just short in the gold medal race.
Facing off with Great Britain's Lora Turnham, Foy couldn't quite keep up with the pace as both cyclists lost time over their qualifiers. She came in at 3:31:569, three and a half seconds behind Turnham.
Foy medalled again six days later in the Road Race, finishing third overall with a time of 1:59:33.
After a delayed start, the race was reduced to 70km from the usual 85km. Foy broke from the pack at around the 50km mark and never looked back to claim the bronze.
Chris Sharp
Northland para-sailor Chris Sharp and sailing partners Richard Dodson and Andrew May, was incredibly unlucky to miss out on a medal during the Paralympic sailing regatta, finishing fourth on a cruel count back.
The trio competed in the 3-Person Keelboat (Sonar) class.
Sharp, who became a paraplegic after a motorbike accident four years ago, went into the last day only six points separated the six top crews.
The medal race saw the kiwis in eighth around the first mark; however they then gained on downwind to take first place by the bottom mark.
They held most of the race until USA secured silver by overtaking them on the last upwind leg, pipping them at the finish line by one second.
This left New Zealand in third place until Canada overtook the French on the last short reach to the finish beating them by one second.
The tight finish meant New Zealand were on equal points in third position with the Canadians, but lost on a count back because Canada won one more race.
Brooke Neal and Stacey Michelsen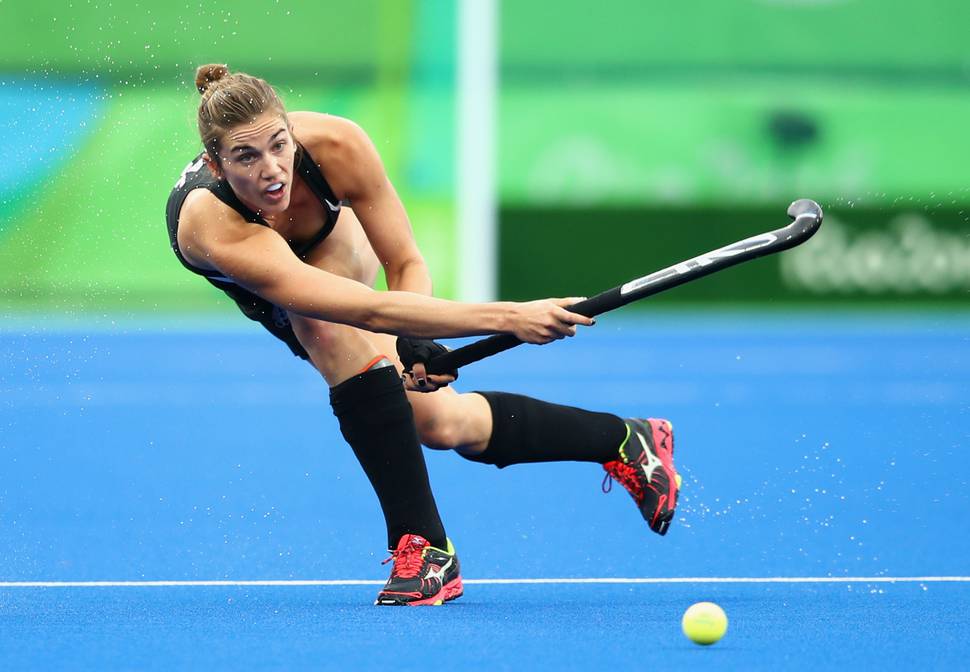 Northland hockey stars Stacey Michelsen and Brooke Neal were on hand to inflict a 4-2 win over trans-Tasman rivals Australia in the quarter-finals of the Rio Olympics.
Michelsen nabbed an assist as Anita McLaren, Kelsey Smith, Gemma Flynn and Olivia Merry all got on the score sheet for Black Sticks.
McLaren opened the scoring but Australia came back with gusto, forcing goalkeeper Sally Rutherford into two smart saves from penalty corners before Smith deflected home skipper Kayla Whitelock's penalty corner effort to give New Zealand a 2-0 lead at half-time.
In the second half Michelsen laid on a goal for Flynn then Merry got a stick to Charlotte Harrison's effort to squeeze it past Rachael Lynch in Australia's goal to cap a dominant display.
The victory consigned New Zealand's greatest sporting rivals to a medal-less hockey campaign and gave the Black Sticks an opportunity to earn a medal.
Unfortunately, New Zealand lost 3-0 in their semi-final to eventual champions Great Britain and 2-1 in the bronze medal match to Germany.