With the thunder of thousands of horsepower and millions of dollars of chrome between their legs, clad in group "colours", leather and logos, they have different affiliations throughout the country, but not everyone can join.
Female motorbike groups are becoming increasingly popular, as more women are donning the leather and becoming addicted to the petrolhead buzz.
Just don't call them a gang, says Bay of Plenty rider Trudy Green, one of the Wahine Riders, an all-female motorbike group.
"We're a sisterhood, not a gang. We ride hard, and we watch out for each other. In today's world, you have to have each other's back."
The 17-strong group comprises women from all walks of life including a hairdresser, fitness trainer, teacher, business owners, and mothers.
Riding together for three years, Green says it is more than a shared love of Harleys and speed that bonds the group.
"We all love to ride, that is our passion, but it is more than that. We are whanau - we help each other out whether one of the girls needs help moving house or painting the fence.
"We all go through challenges in life, ups and downs. These girls were there for me at a hard time. They literally saved my life."
These are no sisters on scooters.
Most of the group ride high-horsepower Harleys weighing more than 250kg. Green says Harleys and other powerful bikes are becoming more accessible for women not just because women have more financial freedom, but bikes are becoming more affordable.
"Back in the day when Harleys first came to New Zealand they were out of reach at $100,000, but now you can get a Harley for $12,000."
More women turning to two wheels
Motorbike companies like Harley Davidson are noticing an increasing demand among women for powerful and bigger bikes, says Carey Griffiths, President of the Institute of Advanced Motorcyclists.
"It is certainly evident as a rider that there's more women riding as opposed to being passengers."
According to figures provided by NZTA, as of 1 January 2018, out of 493,673 motorcycle riders in New Zealand, 92,783 are female (18.8 per cent).
Andrew Hardisty from East Coast Harley Davidson says women are "a growing market segment".
"We have a large customer base of woman riders and are hosting shop rides and events for women."
Hardisty said women are buying all models in the Harley-Davidson range, from 500cc, 883cc, 1200cc and up to the biggest engine size of 1868cc.
"Some ladies are coming in to buy a Harley with no experience while others are hugely confident and buy the big models."
He recently sold a new 2018 Harley-Davidson Fat Boy which is the largest H-D production engine platform to a female rider.
But as well as the big capacity bikes, they are seeing women buying in the Learner Approved category (Harley-Davidson Street 500).
"And then once they have confidence, and the appropriate license. [They] will migrate to larger bikes. There are a few ladies that ride big capacity bikes; they have typically arrived there by going through this process."
International Female Bike Ride Day
The camaraderie of female motorbike groups was celebrated last weekend when riders from all around the country came together to mark International Female Riders Day.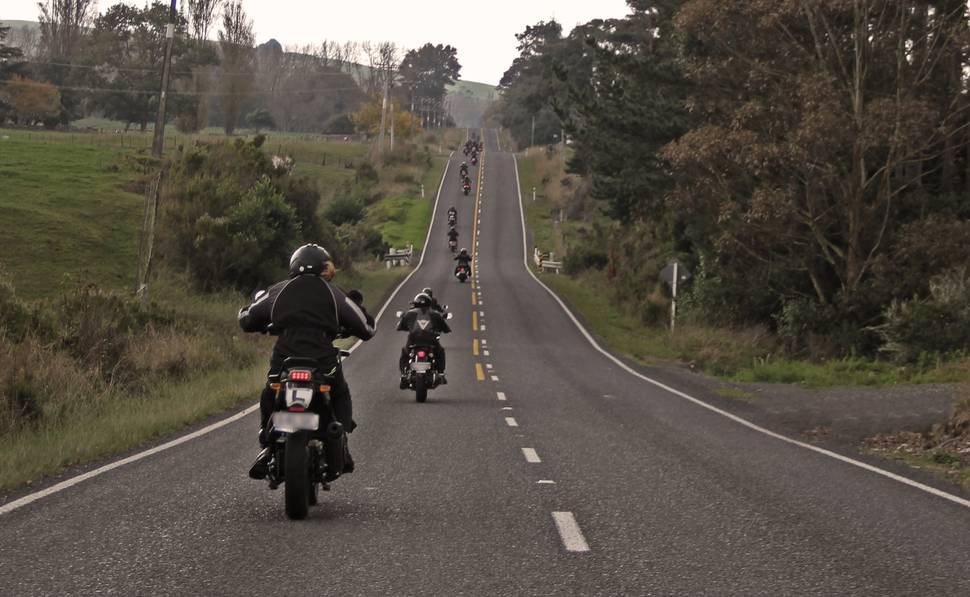 More than sixty riders including the Bay of Plenty group and its Rotorua counterparts, Witches on Wheels, took part in a ride organised by Aucklander Shayron Campbell.
It is the fourth time Campbell has organised the day and says the turnout increases each year.
With pit stops in taverns along the way, revving of the engines, and a few cold ones, the ride is about celebrating female empowerment and challenging stereotypes.
"People might have in their mind what a biker chick is, but they would be surprised."
Like Hamilton hairdresser Melanie Duff, a glamorous redhead with long purple and gold nails, and a leather jacket with Speed Queen in diamante letters.
"We ride bikes, but we are still women who like clothes and makeup, although the helmet is not great for hair. It is a great leveller, as when you are biking, you are all the same, it's not about looks or competition, and I really like that female camaraderie."
Duff, who started a bike group in Hamilton called Women on Wheels, says lots of mums join because they like the "quiet time".
"Which is funny because it is not quiet with the engine, but there's no one talking to you. It is your time.
Duff rides a Harley rocker and says she is addicted to "the buzz, and the noise, and the power".
Not even an accident that saw her tossed off her bike six metres in the air on her 45th birthday and whisked away by the rescue helicopter put her off.
"After the accident, I didn't ride for a while. Then I dropped down to a lower CC bike. But then I missed the power, and thought, nah, I am getting back on the Harley."
Opera singer Helen Medlyn, one of the Auckland riders who join the Bay groups at Mercer, also defies stereotypes, wearing silk dresses under the leathers.
She's just done a run on stage as Mother Superior in Sister Act, but her day job is working in Harley Davidson in Mount Wellington. She's been riding for six years, having discovered a passion for bikes as well as drama, she has even ridden her Harley on stage.
"I was singing in an opera and drove my Harley there, with my beautiful red costume on under the leathers. I drove it right on stage, stripped off the jacket and launched into the first notes."
Motorbike mindfulness
Medlyn thinks more women are drawn to biking because of its stress-busting benefits.
"They say it takes a tank of gas to clear your head."
Mother of five Manz Ngatai who started the Wahine Riders agrees riding takes the women away from "the pressures of everyday life".
"The mahi, we are mums, many single mums, we have all been through ups and downs, we come together and ride, and we korero.
"Our manaakitanga underpins everything we do, whether we are getting together for a casual Saturday ride, or supporting our kaupapa, riding for charity or with other groups such as Rats- Riders against Teenage Suicide."
Fellow Wahine Rider, Hiria McRae says this social element of motorbike groups is often overshadowed by historical "tensions over biking traditions".
McRae thinks people might be surprised at the "big hearts" in many motorbike groups.
"The Harley is our waka, and our kaupapa is making a difference. Our rides are mostly for charity or a cause. Only recently, we went around the RSAs giving them cheques.
"We ride for cancer, for suicide, to raise funds and awareness. We ride for people who are lost. We ride for people we don't even know."
The women are riding for their own empowerment too, says McRae.
When she was a girl, McRae dreamed of having a Harley and an Italian sportbike.
"But it wasn't the thing for girls. Just like having a career…while my brothers got land and were encouraged, all I was encouraged to do was find a husband, look after the family. "
A mother of three, studying for a PhD with a string of letters after her name already, the wananga tutor says she used to suffer severe anxiety before discovering motorbikes.
"I worked fulltime, studied, looking after the kids, it was hard. But when you are riding a motorbike, you have to focus so much on the road, the bike, the others on the road, your mind can't do all of this worrying, so it calmed me.
"It is definitely a type of mindfulness; you can't hear anything but the roar of the engine and just feel the wind on you."
The little girl who dreamed of a Harley has had two of them, and now rides an 800 cc Envy Agusta and says biking is for her symbolic of gaining freedom.
"Women are gaining freedom and challenging the norms, but New Zealand still has a long way to go. Putting on the leathers, getting out on the road, it is that rebel feeling, of yes, we can do anything.
"I am Maori, I am a woman, and I ride an Italian sportbike.
"And you know what? I buzz out on that."
Motorcycle licence holders by gender and stage
In the five years January 1, 2014 to January 1, 2018, licenced motorcycle riders went up from 487,241 to 493,673 (up 1.3 per cent).
Female motorcycle riders went up from 92,146 to 92,783 (up 0.7 per cent) and males went up from 395,095 to 400,890 (up 1.5 per cent).
Out of the 6432 total increase in motorcycle riders, 627 were female (9.9 per cent).
As of January 1, 2018, out of 493,673 motorcycle riders, 92,783 are female (18.8 per cent).
Please note the following about the data:
• The information was extracted from the Driver Licence Register (DLR) and is current as at May 8, 2018.
• The data is limited to current Class 6 (Motorcycle) licence holders as at January 1 for each of the years 2014-2018.
• Licence holders of indeterminate or no gender recorded were counted as female.
• Recoding as female was done to avoid identification of a small group in the data.
Source: NZTA