A visit to the Whangarei Hospital children's ward by three British Lions players was just what the doctors and nurses ordered.
Calling in to say hello, and even receive gifts from children who have not been able to run around themselves lately, were Lions' captain and flanker Sam Warburton, prop Kyle Sinckler and centre Ben Te'o.
Their visit late yesterday afternoon, after a scrum of press-the-flesh and throw-the-ball outings which included Whangarei Boys' and Kamo High schools, was met by a line-up of staff, including Northern District Health Board chief executive Nick Chamberlain.
Among those who had heard about the visit and made a fan-zone along the corridor, was one young star-struck doctor with a distinctly British accent who said he never imagined he would meet members of the "home counties" teams in Northland, New Zealand.
On hand to greet the three big rugby players and other officials, including Lions chief executive John Feehan, when they reached Ward 2 was the young patients' "ambassador", Katie Reed, who casually said when they asked, that she "just about lives here".
Reed has the obstructive airways disease bronchiectasis.
They also met Rosanne Woods, Ward 2 play specialist, who introduced the players to the young patients.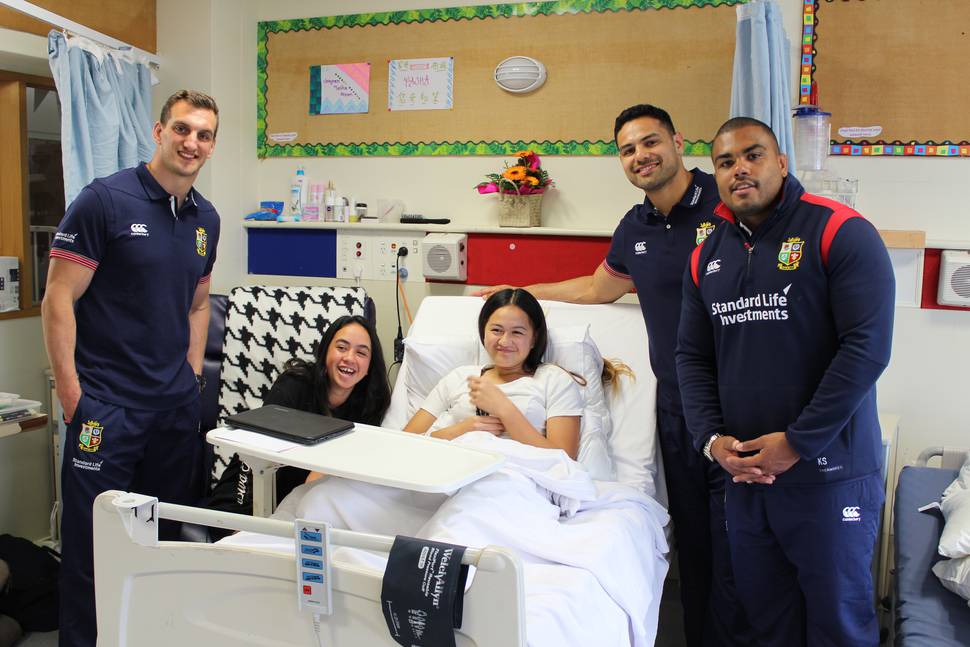 Among the patients were Jonyaran Edwards and Tasha Richards, who helped the ward's occupants put together a Kiwiana gift for the Lions team, the gift including flax weaving and a story board.
The England and Ireland team players' appearance in some of the patients' rooms had the children - from toddlers to teenagers - beaming from ear to ear, and their visiting families scrambling for selfies.
No photo bombing was too much for the gentle giants whose easy banter and obvious affection for the job they were doing showed a completely different side of the rugby players who reckon they don't want to predict anything about today's game, but watch out Baabaas (NZ Provincial Barbarians).
"Thanks for putting on this great weather and making us feel at home," Captain Warburton quipped.
When one nurse called out to Kiwi-connected Ben Te'o that she wanted a photo with him to show her friend who followed him on Facebook, Kyle Sinckler turned around and said, "Tell her to follow me!"
Also following the team on its New Zealand tour and on hand at the hospital was Scott Quinnell, a former Welsh international rugby league and rugby union player, and a camera team from Sky Sports, where Quinnell is sports commentator.
If any of the sick kids felt a little shy in the face of the friendly Lions and their attendant media scrum, they put on a brave - and very happy - face.