A Tauranga woman who watched fire rip through a house in residential Otumoetai today has described the intensity of the blaze.
Otumoetai resident Rose Thomas was driving to work when she saw smoke shortly before 9am.
''The colour of it was black... Our house burned down when I was a child and one thing I know about fires is if there's black smoke, it's not a good sign.''
Ms Thomas drove to the fire, worried it might have been one of the local schools.
"There was just so much smoke,'' she said.
"I asked if everyone was out and the lady from the Plunket rooms said 'yes'. Then the windows started to burst."
Mr Thomas said the heat from the fire was incredibly intense.
"I could feel the heat from on the road as I was driving past.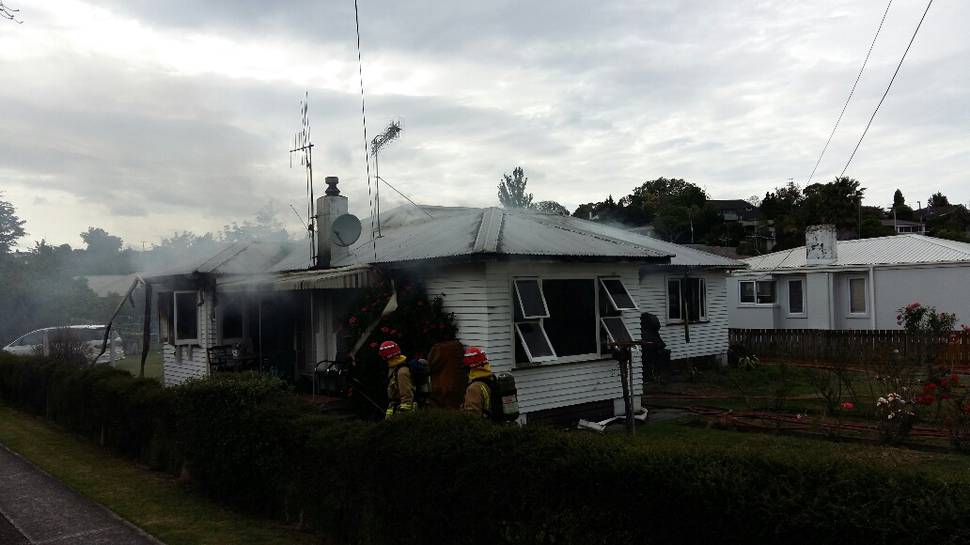 ''Whatever caused the fire caused it to take hold of the property very quickly. Honestly, the time it took, it went up exceptionally quickly.
''I'm just thankful there was no one still inside. You know how you hear of people running in to rescue people. There's no way you could have done that there. It was so hot. The place was thick with black smoke inside.''
Ms Thomas took several photos of the fire, capturing large flames licking out of the windows as the house burned.
Firefighters closed the road while they battled the blaze.
Fire service northern communications shift manager Jarron Phillips said the fire service had been dealing with multiple calls since 8.43am.
A Bay of Plenty Times reader said plumes of thick, black smoke could be seen from the Bethlehem roundabout.
She said fire trucks were blocking the road near Brookfield New World.
Another said they were completely under a cloud of smoke in a nearby street.
The road has now been re-opened.
Firefighters are working with police to establish the cause of the fire.