College prizegiving
Bream Bay College celebrated the achievements of its senior students at its end of year prizegiving last week.
Dux was Siobhan McDonald, who is heading to Waikato University next year to study a conjoint Bachelor of Law and Bachelor of Arts, funded by a $25,000 Waikato University scholarship.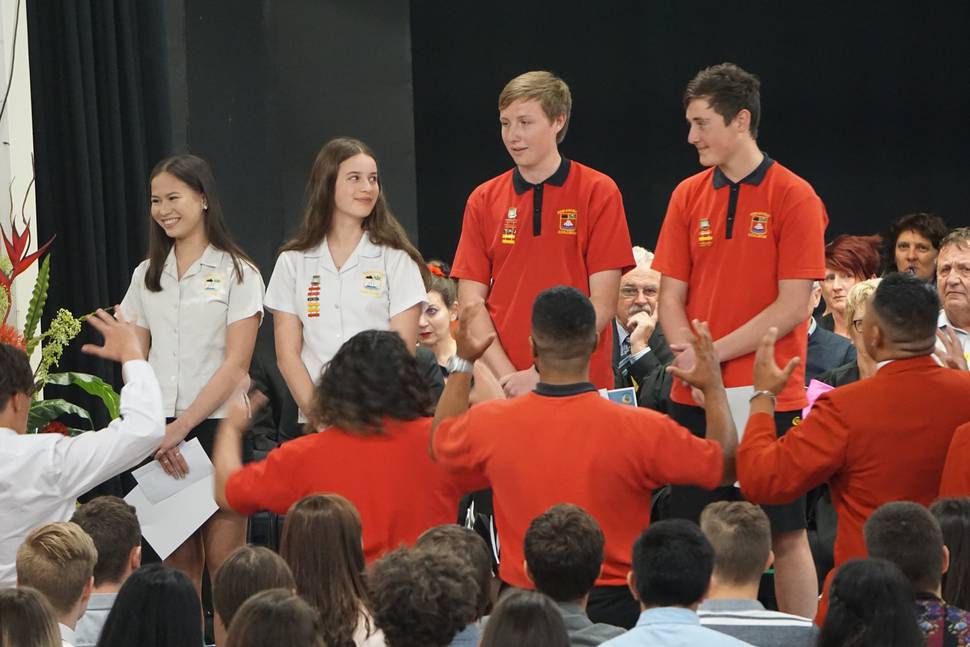 Proxime Accessit was Luke Murray, Dux Ludorum Paul Linton and the Dr McBirney recipient was Ceili Lea.
Next year's head students were announced at prizegiving: Nina Matenga, Jamie Lymburn, Jade Taiaroa and Cameron Wright.
Talent shines at fun run
Bella Earl's coach hoped she would blend into the crowd at Bream Bay College's fun run – "hiding in the tea tree" is the way Ian Babe described the intended approach for his charge, at the event which he planned as an opportunity to stretch her legs without any pressure.
But there is no hiding talent – the 13-year-old New Zealand under-15 cross country champion, unbeaten over 1500m this season, streaked in first in the 5km run well ahead of the next competitor, her 11-year-old brother Tommy.
Adult competitor Mike Swords came in third, some distance behind.
Renowned coach Babe, currently Athletics New Zealand president, came out of coaching retirement when he spotted Earl's talent 18 months ago at a parkrun event. Now 82, he hopes to guide her as long as he can, ensuring she doesn't over race and has time to still have time for fun.
"She's a good kid," he said. "She has a nice attitude and all the attributes of someone I like to coach." First 10km male runner home was Bella's dad, Adrian Earl, and first female was Janice Powell. Around 270 runners and walkers turned out for the day, a fundraiser for the college PTA.
Fireworks fun
Skies cleared, and the blustery wind dropped just in time for One Tree Point School's annual Fireworks Night fundraiser last Friday night. Leigh Dackers of the school's PTA says it was a fabulous night for the community.
She thanked the Ruakaka Fire Brigade for doing a great job keeping everyone safe and Signature Homes for providing fireworks for the seventh year in a row. The top raffle prize of $2000 travel was won by Norma Boland who was visiting friends at One Tree Point when she bought her raffle ticket at Land & Sea Café.
Dackers said they hope to raise $8000 from the event which will go back into school learning areas and projects.
Villy day out
This Saturday is Ruakaka's first "Villy Day Out", a day of fun for the whole community at the Ruakākā skate park, 10am-3pm. Prizes for the best dressed book character or superhero, dance competition, kapahaka, bouncy castles, entertainment, games, food and more. Head on down and join the fun.
Seeking good citizens
Ruakākā Library's Citizen of the Year nominations close on 23 November. If you know someone who should be recognised, pick up a nomination form from Ruakaka Library and let them know their community work is appreciated.
Call for Christmas parade floats
Get your school, clubs, groups, workmates together – it's time to start planning a spectacular float for one or both of our Bream Bay Christmas parades.
First up is the Ruakākā Christmas Parade on December 15, 10.30am start followed by free family fun organised by Marsden Lions at the Ruakākā Town Centre from 11am, prizegiving at 12pm.
Marsden Lions are looking for local businesses to support the parade with sponsorship and entering floats. They're grateful to the sponsors who have already come on board – a first prize of $1000 from Orrs Unichem Pharmacy Ruakākā and a walking category prize of $150 from Ruakākā Liquor Centre.
They need sponsorship for second and third place floats, plus a second-place walking category.
To register a float, or if your business would like to be involved in the popular community event, contact Andrea Bradley 0211203633 or email marsdenlions@gmail.com .
Waipu's Christmas Eve parade kicks off at 7pm with prizegiving in Caledonian Park around 7.30pm. First prize is $1000, second $500, third $300 with $200 for best new entry, best business and best club or community group (one prize per entry). To register contact Anita Carr on 094321155 or anita@northpine.co.nz .
Parkinsons group get festive
Waipu Area's Parkinsons Support Group will wind up their year with a festive lunch at Waipu Golf Club on November 16. Meet at 11.30am for a tee competition, lunch at 12pm, cost $20 each. RVSP by November 12 – friends and family are welcome to come along too. Contact Barbara Leslie free phone 09 437 6881.
Art n Tartan up close
Check out the fabulous wearable art creations from this year's Art N Tartan show at this weekend's Up Close exhibition at Waipu's Celtic Barn 10am-2pm Saturday and Sunday. Entry by gold coin.
Examine the 20-plus costumes, talk to the designers and learn how they created their pieces.
Entry forms for 2019 will be available (these will soon also be on the Waipu Museum website to download) and there's a raft of new categories to spark the imagination: Absolutely Plaidulous, Untapped Tartan Talent, Don't Stop Me Now, Art's Desire Accessories, Canny Celtic Creatures. All entries must contain visible and obvious tartan, which can be painted, engineered, stitched or woven. More details available at the exhibition and on the entry forms.
■ Email Julie Paton at moojoy@xtra.co.nz if you've got Bream Bay news to share with Northern Advocate readers.