A weekly round-up of news snippets, events and oddities from the Bay of Islands and around the Mid North
Celebrate Matariki with a night of lights
Oromahoe School is celebrating Matariki – the Maori New Year – this Saturday with a one-of-a-kind festival transforming the school grounds into a place of magic and enchantment.
The Light Festival, from 4pm to 8pm this Saturday, will feature all manner of lights and lanterns, live music, possibly some wandering minstrels, warming food and drink, wood-fired pizza, crafts and a huge range of home-made cakes and slices.
Visitors are invited to buy a lantern made by the students and join a lantern walk around the school grounds at 6pm with plenty of surprises en route.
You can exchange your New Zealand dollars for the festival's own currency on arrival.
The Light Festival started 10 years ago when parents wanted to organise a fundraiser that would stand out from the usual summer galas. It has since grown into the school's main fundraiser and one of the Mid North's most enjoyable mid-winter events.
Dress warmly because all the activities take place outdoors. Bring a torch to find your way back to your car; gumboots may be useful for the lantern walk.
Parking is on Oromahoe School Rd, off State Highway 10 between the Paihia turnoff and Pakaraka, and in a paddock near to the school.
Dancing with the (Northland) Stars
If you can't stand David Seymour's twerking on telly any longer but you'd still like watch a bunch of people you know trying to learn dancing, this weekend's Battle of the Ballroom could be for you.
The fundraiser for Hospice Mid-Northland will see 16 well-known Bay of Islands residents competing for dancefloor glory at the Turner Centre in Kerikeri.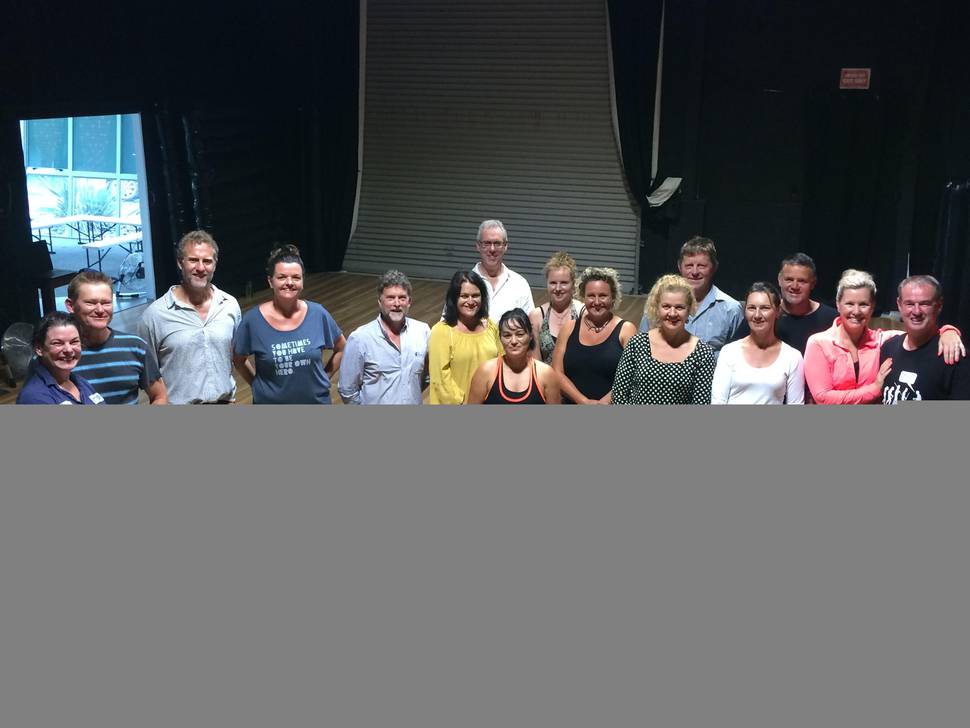 Contestants include Deputy Mayor Tania McInnes, Kerikeri GP Simon Bristow, community cop Rob Drummond and Paihia events manager Anika Whapshott, along with a DoC ranger, business owners, an astrophotographer and a primary school teacher.
Unlike the TV show, in Battle of the Ballroom the ''stars'' will be paired up with other amateur dancers, not with an instructor.
Comedian Jackie Clarke, Kerikeri actor/musician Troy Kingi and real-life Dancing with the Stars judge Alison Leonard will make up the judging panel while TV personality Mike Puru will be the MC.
All 450 tickets to Saturday evening's black-tie event sold out almost immediately, but we are reliably informed that a few tickets remain (as of this column's deadline yesterday) to Saturday's matinee session.
The 16 contestants will perform at the 11am-1.30pm matinee, along with five junior couples, but it will be a showcase rather than a contest.
Kerikeri dance teacher Leona Burrell put up her hand to be the lead instructor after a family member received hospice care last year. She has been joined by three other tutors, two of them Latin dance specialists from Spain. Training has been taking place over the past 12 weeks.
The event has already proved so popular the organisers are pledging to bring it back in 2020, when it could be spread over a few days to give more people a chance to watch the action.
Hospice Mid-Northland hopes the dance-off will raise $40,000. The proceeds will help provide care for the terminally ill and their families from Towai to Taupo Bay.
Matinee tickets cost $20 for children, $40 adults or $300 for a table of 10. Call (09) 407 7799 or email fundraising@hospicemn.org.nz to book.

Wearable arts come to Kaeo
Whangaroa College in Kaeo is putting on a show this weekend in which the students have been challenged to create wearable arts costumes using a minimum of 75 per cent recycled materials.
The senior students have been busy creating ball gowns and formal wear while the juniors have been making costumes fit for heroes and heroines. The show is open to other schools too with entries from homeschooled kids and Te Kura o Hato Hohepa Te Kamura up the road in Waitaruke.
The idea behind the show – which will also feature singing, drama and dance – is to allow students to showcase their creativity, an opportunity they don't get often because of the school's isolation.
The Trash 2 Flash Wearable Arts Show will run from 4-8pm this Saturday in the college hall off State Highway 10. Entry is just $2.

School fundraising for SPCA
The kids of Bay of Islands International Academy (formerly Te Tii School) will be holding a fundraising "mini-market" this Friday, June 22, with proceeds split between the school and the Bay of Islands SPCA.
Items for sale will include Pokemon cards, food, lemonade, pet toys and children's drawings, with entertainment featuring a live band, dance and games. Humans will be able to test their skills on a dog agility course.
The fundraiser is the culmination of a study unit focusing on the work of the SPCA. The students will also hold a wheels day and a mufti day tomorrow to boost the kitty. The event will run from 1-2.30pm at the school grounds on Purerua Rd.

Movie rides crowd-sourcing wave
A movie screening at Cathay Cinemas in Kerikeri tonight celebrating World Oceans Day has been made possible by crowd funding.
The documentary movie, called Blue, was made in 2017 and features a series of ocean advocates defending habitats, campaigning for smarter fishing, combating marine pollution and fighting for the protection of keystone species.
Paihia swimming instructor Karen Markin said she wanted to organise a screening of the film to raise awareness of marine conservation issues among her swimmers.
The screening was crowd-sourced which meant it would go ahead only if enough people, in this case 40, pre-booked and paid for their seats.
The initial idea was to fill the 50-seat cinema but when tickets sales hit 50 two weeks ago the cinema offered the use of the larger, 150-seat theater. Tickets are still available but need to be booked via the Demand Film website, https://tickets.demand.film/event/5053. The screening starts at 6pm; tickets cost $18.50 plus $1.95 booking fee.
1080 meeting in Kaeo
A community meeting about planned 1080 drops in Far North forests is being held in Kaeo Rugby Club rooms on Whangaroa Rd from 7pm tonight. The guest speakers will be filmmaker Clyde Graf and Waikato regional councillor Kathy White, both anti-1080 campaigners.

Grants for Paihia groups
Community trust Focus Paihia is offering grants totaling $10,000 a year to arts, culture and sporting groups.
To apply for a share of the contestable fund you need to email info@focuspaihia.org.nz with the name of your group, the group's history, why you should receive the grant, and the amount of money you need and how it will be spent.
Applications will open on July 1 and close on July 31 each year.
The grants are being offered because Focus Paihia believes helping locals involved in art, culture and sports will make Paihia an even better place to live, work and visit.

Focus on waste
Focus Paihia's next "focus on waste" meeting will be held at the Memorial Hall on Williams Rd from 5.30pm on Monday, June 25. The aim of the meetings is to provide information to the Paihia community, raise awareness of waste issues, and support future waste-reduction projects around town.

Track cutters needed
Conservation group Bay Bush Action is looking for volunteers to help cut a new trap line to protect kiwi deep in the forest behind Paihia.
The new line will be 6km long and have about 70 traps. The lines are cut by hand so volunteers need to be keen and fit. Email baybushaction@gmail.com to find out more.
"We supply the loppers, you supply the mahi," a group spokesman said.

Honour for Matu Clendon
A stalwart of the eastern Bay of Islands community for the past 60 years has received one of the country's highest honours.
Matutaera Te Nana Clendon, better known as Matu, was named an Officer of the New Zealand Order of Merit for services to Maori in the recent Queen's Birthday honours.
Although currently living in Auckland, the Ngati Kuta kaumatua maintains strong ties to the Bay and has served Te Rawhiti Marae for the past six decades, fundraising and contributing to the restoration of this important community facility.
He has been a member of Te Rawhiti Maori Committee, has chaired the 3B2 Ahuwhenua Trust for 40 years, and has overseen conservation projects and pest eradication in the Bay of Islands.
He played a significant role in the establishment of Te Rawhiti Enterprises Ltd, which in 2007 purchased the Canterbury, a decommissioned Royal New Zealand Navy frigate. The vessel was scuttled in Deepwater Cove as a dive attraction and an artificial reef for fish.
Clendon was instrumental in forming the World Melayu Polynesian Organisation and led a trade delegation of Maori to Malaysia in 2011 to sign a Memorandum of Understanding between New Zealand and Malaysia regarding mutual eco-tourism ventures with 32 ancestral nations in the Pacific. He is currently the organisation's deputy president.
He is also active in kohanga reo, helping to establish a total-immersion childcare centre in Manurewa in 1996.
Clendon was born and raised on Moturua Island in the Bay of Islands, which was owned and farmed by his family until they were forced off by a Bay of Islands County Council ratings sale in 1968.

"Parking director" farewelled
An informal celebration of the life of Kerikeri identity John Williamson will be held at the Old Packhouse Market at 2pm today.
Williamson died peacefully on June 10 at the Kaikohe Care Centre after a battle with cancer. In recent years he was best known for his antics as the market's parking director.
Close friend Judy Hyland described him as a ''unique individual with a joy for life''. Most stallholders called him a friend and remembered him for his kindness, stories and wit. He was also known for his intolerance of poor parking.
''Customers will remember him as the friendly but sometimes crazy parking attendant waving his orange stick around, usually helpful but sometimes frank with his assessment of their parking abilities,'' she said.

U3A art exhibition
U3A (The University of the Third Age) Bay of Islands is holding an exhibition of works by its members to prove that, like wine, creativity can be enhanced and perfected with age.
The show will be officially opened at 5.30pm today in the Turner Centre Theatre Bar and will be open 9am-4pm weekdays until the end of August. Free entry.

Battle of the school bands
Four Mid North bands will take to the stage at Whangarei's Forum North this Friday in the Northland final of the Smokefreerockquest.
Reflecks (Kerikeri High School), Rillet (Broadwood Area School, Te Kura Taumata o Panguru), Good Morning Waipapa (Kerikeri High) and Jinx (Springbank School, Kerikeri High) will compete against eight other high school bands from around Northland for a chance to head to the nationals in Auckland in September.
Awards will also be presented for the top three bands, musicianship, best song, lyrics, style and people's choice, as voted by text.
Tickets are $20 for adults and $10 students at the door; start time 7pm.

Keep up with outages
One of the certainties of winter in the Far North is that there will be power cuts.
One of the other certainties is that every time there's a power cut Facebook will be flooded with posts asking why the power's out and how long it will last.
Well, you can now find out yourself – or be the first to know and be that person posting smug replies on social media – via Top Energy's web-based outage centre.
The web page at outages.topenergy.co.nz provides a map showing all current power cuts, their causes (if known) and estimated duration.
By clicking on "subscribe" and entering the ICP number shown on your power bill you can also subscribe to automatic text message alerts if there's a power cut in your area.
Top Energy has also made an Outage App compatible with Samsung and Apple phones and other mobile devices. It can be downloaded free from Google Play or iTunes.