A national teams racing event absent from the New Zealand yachting calendar for a decade has been revived by a band of Kerikeri sailing enthusiasts.
The New Zealand Open Team Racing National Championship fizzled out in 2008 due to a lack of hosts and organisers.

That was until Kerikeri sailor Reuben Corbett, along with some dedicated volunteers, decided it was high time the event was reinstated.
Their efforts came to fruition during Queen's Birthday weekend with 10 teams of six sailors from around the country hosted by Kerikeri Cruising Club.

Described as "on-water chess", the sport involves a team of six in three boats racing against one other team at a time, using a combination of boat speed, handling and tactics to reach the finish line in a winning combination. Each race takes about seven minutes.
The goal is to accrue 10 points or fewer in any combination. Finishing first, second and third, or first, third and fourth are examples of winning combinations.
Corbett said wild weather at the start of Queen's Birthday weekend didn't stop sailors travelling from as far away as Christchurch, Nelson, Auckland and Whangārei.
However, it did delay the start of racing until noon on Sunday, which meant volunteers had their work cut out making sure a round robin of 45 races was completed by nightfall.
On Monday the second round robin, semifinals and finals were settled by early afternoon, with Kerikeri's Team Kiwi Racing taking out the trophy with eight wins from nine races in the round robin, three wins from three in the semifinals, and three from four in the finals.
However, those results didn't reflect how close the racing was or the tension among supporters on shore, Corbett said.
Team Kiwi Racing had a perfect lead-in to the nationals having recently competed against the world's top crews in the British Open Team Racing Championship, he added.
Competitors ranged in age from 12 to mid-30s with female sailors making up 25 per cent of the fleet, a growing trend Corbett said he'd like to see continue.
Team Kiwi Racing was made up of Ethan Manning-Harris, Frankie Dair, Maeve White, Shae Donahoe, Josh Berry and Reuben Corbett.
The other placings were: 2 Thievery; 3 Team Elephants, 4 Reach Arounds; 5 Murrays Bay Sailing Club B; 6 Mongoose Racing; 7 Murrays Bay Sailing Club A; 8 Bow Downs; 9 Roofless Roundups; and 10 Nelson.

Corbett, who came up through Kerikeri Cruising Club and Kerikeri High School's sailing programme, has recently returned to Northland after a stint as training manager at the Royal New Zealand Yacht Squadron.
The national championship will again be held in Kerikeri in 2019 with the main sponsor, GJ Gardner Homes, already signed up for another year.
The trophy was donated by Warkworth-based Core Builders Composites, builders of the Oracle boat which won the 2010 America's Cup. It consists of a pulley block from the winning boat mounted on a carbon fibre base.
Matariki in Kaikohe
Matariki – the Maori New Year – is being celebrated in Kaikohe with an exhibition of home-grown artistic talent.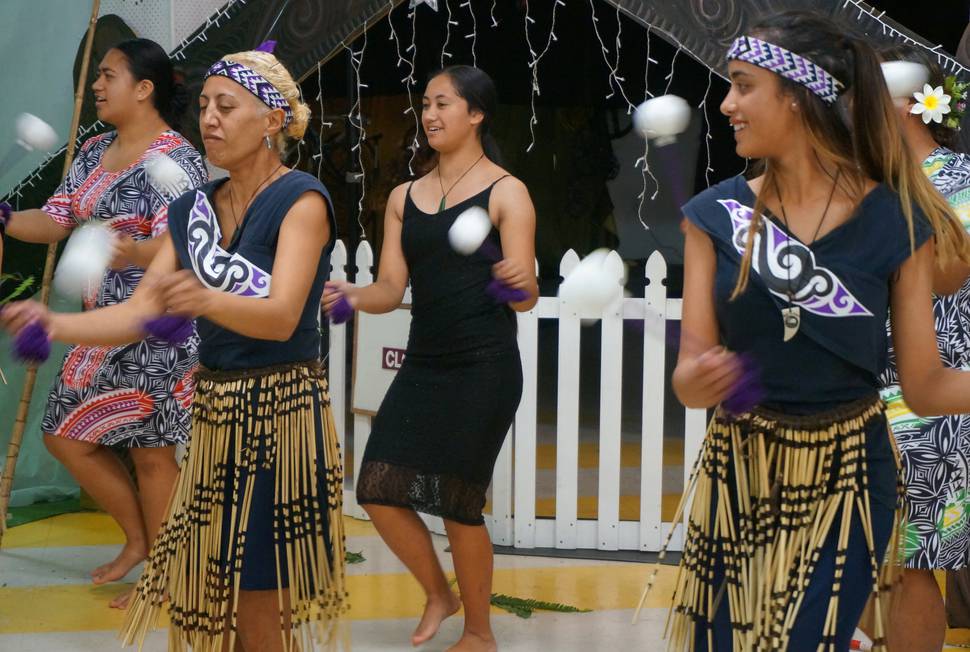 The second annual Matariki Community Art Event is being held at Te Pū o Te Wheke Arts, at 81 Broadway, until the end of June. The gallery hours are 10am-2pm Tuesday to Saturday.
Many of the artworks are inspired by the Matariki star cluster, also known as Pleiades or the Seven Sisters, and were made on-site by local artists and members of the public in the weeks leading up to the June 1 opening.
The roughly 50 people who turned out for the opening were welcomed with a performance by Moko o Rāhiri kapa haka group and enjoyed free barista coffees, healthy kai, face painting and a black-lit glow tunnel.
Admission to the exhibition is free but koha is appreciated.
Plastic-free Kerikeri
Inspired by the success of a similar group in Kaeo, Plastic-free Kerikeri is holding a sewing bee from 9am to noon on Saturday, June 16, to make re-useable shopping bags from recycled fabric.
The sewing bee will take place at Cornerstone Church/Whare Karakia o Manako on the corner of Kerikeri Rd and the Heritage Bypass. All welcome; bring fabric and a sewing machine if you can.
RSVP by emailing barbarabelger@gmail.com or check out the Facebook page #PlasticFreeKerikeri for more information.
Top musos in Northland-only tour
Three big names in Kiwi music – Tiki Taane, Ria Hall and Laughton Kora – are playing a Northland-only, three-show tour starting this Friday.
All artists will perform solo sets from their own back catalogues as well as new material and some special collaborations.
Tiki Taane needs no introduction – his blistering solo set stole the show at last year's It! Festival in Paihia – while Ria Hall released her debut album Rules Of Engagement in 2017, describing it as an album about "culture and colonisation, conflict and compromise, love and war".
Laughton Kora is well known from the family reggae band Kora but this is his first time touring and recording under his own name.
All three artists have worked together before, most recently on Hall's album.
The shows are this Friday, June 15, at the Turner Centre, Kerikeri; Saturday at Te Ahu, Kaitāia; and Sunday at the Opononi Hotel, South Hokianga. Tickets from eventfinda.co.nz.
Taane and Hall will also perform tomorrow night at the Butter Factory in Whangārei without Laughton Kora.
Hospital chair fundraiser
Service clubs and businesses around the region are busily fundraising for recliner chairs for Northland's hospitals.
In particular Bay of Islands Hospital in Kawakawa needs four New Zealand-made Romeo Recliners for a new 20-bed ward, due for completion in August 2018.
The chairs cost $1520 each and can be used by patients but are aimed in particular at visitors caring for sick friends or relatives.
Donations can be made by businesses, clubs, families or individuals, who can give the full cost of the chair (in return for naming rights); join up with others and split the amount required to buy a chair; or give what they can afford, to be pooled with other donations.
For information contact Greta at greta@northlandfoundation.org.nz or 021 558 224. The fundraiser is supported by the Northland Foundation.
Healing movie
In 2015 Tanya Filia (Ngāpuhi, Ngāi Tahu) was told she had just two months to live. She turned to traditional Māori healing and is still alive today.
The self-funded, 32-minute documentary He Oranga Pumau tells her story and is part of a campaign to make rongoā Māori and natural therapies more accessible, including a push for equal recognition of rongoā Māori in the New Zealand health system. The film will be shown at Kaikohe Memorial Hall, Memorial Ave, at 10.30am this Friday, June 15.
Winter wellness expo
A wellness expo in Kaikohe Memorial Hall this Friday and Saturday will feature 30 natural health providers under one roof offering workshops, mirimiri, reiki, readings, crystal taonga, naturopathy and more. The opening hours are 10am-4pm; gold coin entry.
Kākā return
Three sightings of kākā – a rare bush parrot related to the more famous kea – have been reported in the Bay of Islands in the past month.
Two were in the Bay Bush Action pest control area in the hills behind Paihia; the other came to the public's attention when it flew into a window at Ōpua School, briefly stunning itself.
Bay Bush Action has donated five packets of WindowAlert Decals which are designed to be stuck on to windows where they reflect ultraviolet light visible to birds.
Digital learning at Waitangi
The Waitangi Treaty Grounds has been selected by Te Papa as one of just three facilities around the country to deliver its digital learning programme, Raranga Matihiko-Weaving Digital Futures.
The programme aims to expose students to innovative digital technology and increase access to other exhibitions and collections. Students taking part are tasked with solving real-world problems designed to enrich their knowledge of their own communities and regions.
Treaty Grounds chief executive Greg McManus said it was "an amazing opportunity" for students in the Far North to access state-of-the-art learning that most schools could only dream of.
"We are very proud that Te Papa has chosen Waitangi as the first venue outside of Wellington to introduce the programme."
Raranga Matihiko is fully funded by the Ministry of Education and provided at no cost to schools. Costs covered include teacher release days and transport to and from Waitangi.
The Treaty Grounds' two-year contract with Te Papa includes a salary for a full-time teacher based at the lab.
Taipa book launch
Former Taipa Area School teacher Liz van der Laarse will launch her latest novel aimed at teenagers and young adults, Cuz, at 4pm today in the school staffroom.
Cuz is set in the wilds of Fiordland National Park and contains reference pages on edible native plants, maps and a glossary of te reo Māori used in the story. Signed copies will be available for $20 cash or cheque. All welcome.
Like Cuz, Van der Laarse's previous books Trouble Patch (2000) and Not Even (2002) have credible rural settings with action and events country kids can easily relate to.
The author lives in Cable Bay with her husband Max, also a former Taipa Area School teacher.
Mark your diaries
Dates have been announced for what is surely the Bay's most enjoyable, and unusual, winter festival.
Russell's Birdman Festival will take place on Friday, July 13, and Saturday, July 14, two days of fun, food challenges and questionable costumes leading up to the Birdman jump on Saturday afternoon. Go to russellbirdman.co.nz for more information.
If you enjoy quizzes and charity auctions you should also mark your diary for the Bay of Islands Vintage Railway's Fun Trivia and Auction night on August 18 at the Copthorne Hotel in Waitangi.
Thank you!
Many thanks to Lindy Laird and my other colleagues who kept Bay News Bites going while I was subjecting the services of Northland District Health Board to thorough testing over the past few months. I am also very grateful to the staff of Whangarei Hospital – nurses, doctors, surgeons, anaesthetists, health care assistants, tea ladies and everyone else in Ward 4 – for their unfailing professionalism, skill and empathy when it was most needed. Thank you.
■ Do you have news or an upcoming event you'd like to see in this column? Send it to us, including your full contact details, to baynews@northernadvocate.co.nz