The family who lost everything in a house fire in Maungaturoto recently are opening their charred home to the community to warn others of the dangers of not having smoke alarms.
Furne Papuwai, her husband and two teenage daughters were in the house at the time it erupted into flames, she says.
It was decided to open her home this weekend to educate others.
"If the community can learn anything from it, like I did that night, then it will be worth it, it's about helping out the next person and educating everyone."
Maungaturoto chief fire officer Paddy Thornton said the family was lucky to get out alive.
"They woke up with the sound of windows crashing in the heat, if they had smoke alarms it would have woken them earlier. It's quite a miracle they got out alive as I understand some of them had blistered ears as a result of the heat."
Thornton encouraged the community to come out and support the open home, especially if they don't have smoke alarms.
"We are going to use the open home to make people aware of how in a real short time people can be fine and then suddenly devastated with the total loss of a house.
"We will be taking down names of those who are interested in us installing smoke alarms for them on the day.
"If anyone wants a smoke alarm installed all they have to do is approach a member of the brigade."
There will be a collection on the day – for donations to go to the family - along with a sausage sizzle fundraiser.
The family's next door neighbour Diana Moore is also encouraging the community to support the family and make donations where they can.
"They are living in their garage at their Hurndall St property, so there are lots of things they need.
"What was happening was that a lot of people were offering to donate second hand clothes and furniture. The thing is because it's early days, they don't know exactly know what they need and there isn't the space to store it.
"So I just suggested to them and encouraged the community to instead donate money and vouchers rather than items they don't currently have the room to store."
Moore said the family was very humble about receiving any donations and initially said they didn't want them.

"I decided to help them anyway, just as anyone would in that situation, this family have lost everything."
Moore said a donation box has been set up at the local 100% Electrical store where members of the community can drop off cash or voucher donations, "and then we'll pass it on to the family".

Moore encouraged the community to drop off meals if they can as the family have no way of cooking in their garage.
Meals can be dropped off to the family in their garage at 194 Hurndall St – Maungaturoto.
Mrs Papuwai said she was grateful for all of the support.
"I just want to say thank you to the community. I've never felt so, I feel the word is loved and I can't express how much it means to us.
"There was this one particular old man, he walked up to me and I didn't know him, he gave me $10 and that generosity was so welcomed, and I have no words to describe how it made me feel."
The House Fire Open Home is Saturday at 194 Hurndall St Maungaturoto from 10am until 2pm.
Dynamic first aid course – aims to save lives
An instructor who has trained the Prime Minister's Diplomatic Protection Squad in First Aid has now trained up 20 people from not for profit organisations throughout the Kaipara thanks to sponsorship gained by Volunteering Northland.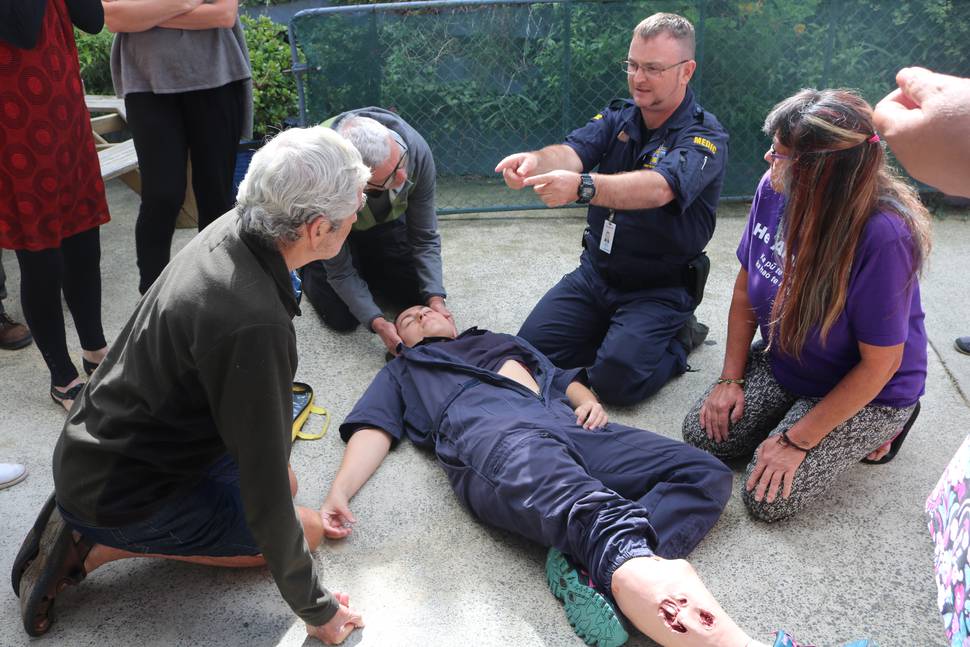 Triple One First Aid instructor Simon Townsend said, "It's not your average First Aid course".
By that, what he means is that he aims to make his course, "interactive and dynamic," creating scenarios as realistically as possible for the response required.
"It's about making it so real, that they actually feel like they are there doing it, then they should be able to attend to it properly, if that day ever came."
The interactive course saw participants take part in more than 20 emergency scenarios based on real life events that Mr Townsend had experienced as a member of the ambulance service, his career spanning 25 years.
From choking hazards to car crash victims and people on fire, Townsend said his goal was to ensure members of his class were engaged and would know what to do in an emergency.
His motto is – "don't wait for an emergency to happen to have an action plan".
Scouts Dargaville representative Rebecca Davidson said the instructor was really engaging.
"He set up scenarios very realistically for the response required."
The course was provided through sponsorship gained by Volunteering Northland at a subsidised cost of just $30 per person instead of the usual $225.
They were also supported by the local fire and emergency services which gave them a training room at the Dargaville Fire Station free of charge.
Eight non-profit organisations from throughout the Kaipara region took part in the 12-hour course, which was spread across two days last week.
The coolest place to be these school holidays
A cool but not cold experience was had by many avid ice skaters who turned out in their droves for a spin and twirl on an artificial ice rink.
Ice Skate tours visited Dargaville and Maungaturoto these school holidays, supported by the Kaipara District Council, to provide the community with an experience to remember.

Ice Skate Tour travels around New Zealand with what it calls state of the art, artificial ice rinks.
It looks like ice and has a 97 per cent gliding capacity as natural ice.
But this was the first time it had come to the Kaipara. Surrounded by an inflatable boarding and helmets and gloves provided at no charge (both compulsory for kids), it's the safest possible way to try ice skating.
More FM completed the experience with bubble machines and music.
Check out iceskatetour.co.nz for more details as it continues to travel around Northland.
Moving and a grooving launch in Ruawai
Little Kiwis Move & Groove is a new programme to support the health and wellbeing of 1-5 year olds and their guardians through dance and music.
It's founder Pahi resident Diane McKinstry said she was looking forward to its launch next Tuesday in Ruawai.
"Little Kiwis Move & Groove was dedicated to moving to and celebrating the people, the artists and the music of New Zealand.
There is also an element of promoting the appreciation, conservation and enjoyment of NZ's beautiful, natural environment.
"We have a lovely community venue, the Ruawai-Tokatoka Hall which has recently had renovations and is very well managed.
The local Plunket nurse for Dargaville and Ruawai is excited about this being available for young families to enjoy."
There will also be sessions in Waipu on Thursdays and in Paparoa on Fridays.

McKinstry has a background in teaching, parent and childcare education.
"I live in Pahi with my husband Steve, our two cats and our dog. We moved here two months ago and love it!
"I want to share my passion to encourage children and adults to move to music as it has so many benefits for us - social, emotional, musical, physical and more. Most importantly, it is fun."
For more information contact Diane, manager and reg. teacher on 021 292 4105 of email littlekiwismg@gmail.com
■ Email Rose — if you have news that you would like to share with Northern Advocate readers. Rose.stirling@gmail.com.