Ash Collier is a self-taught resin jewellery maker helping people remember important moments and people in their lives in a unique way.
Some may find it macabre, but others see the jewellery as a way of remembering loved ones. The Whangarei mother makes beads, rings and pendants containing breast milk, ashes, placenta, umbilical cords, locks of hair, embryos, clothing, flowers, sand and more.
Waipu woman and frequent customer Katie Palmer has four beads and a pendant and has had other items made as gifts for close family.
"There's nothing more special than this stuff really," Mrs Palmer said.
One of her beads contains breast milk and a lock of her daughter Cherry's hair, while another has the ashes of her grandma. Cherry has a matching one to that.
"Me and my grandma were really close. I really miss her and it was really special to be able to have a piece of her. That's really precious to me, I love being able to have her with me," Ms Palmer said.
Another bead contains locks of hers, her husband's and their children's hair. The fourth is pink and blue to represent Cherry and son Charlie and contains breast milk.
She is really proud of the pendant which contains breast milk and part of Charlie's umbilical cord.
"I wasn't supposed to be able to have kids." Mrs Palmer needed surgery before Cherry, but was able to conceive Charlie naturally.
"For me this symbolises what we went through to have kids."
She also struggled to breastfeed, but eventually managed to do it.
"It took a lot of work, it was really a big thing for me."
Mrs Palmer also wants to get a ring made out of one of the flowers from her wedding bouquet.
Ms Collier has been making the precious keepsakes for around two years, but before that spent months "behind the scenes" teaching herself and perfecting the techniques.
Her Facebook page - ICE Handcrafted DNA Jewellery - is filled with examples of her work.
She has a goldsmith who makes the silver and gold bases which she fills.
She originally had a Facebook page selling candles and moisturisers but was looking for something more so decided to try making resin jewellery.
"First time I posted it, I had people immediately, about three or four different mums come to me saying 'would you make breast milk jewellery'.
"That's when I sat down and I practised with a friend's [breast milk] and trained myself."
The requests grew from there. Ms Collier said the breast milk, placenta, umbilical cord and those types of inclusions are preserved and pre-dried before being sent to her.
She said a lot of time people who came to her were grieving, and she got to hear a lot of stories - happy ones and sad ones.
"Ashes jewellery or locks of hair from a passed love one or something like that, it brings them comfort because they've obviously lost that person, they're never going to be able to see them again, so to know they have a certain piece of them with them at all times, it makes them I guess feel comforted that they're always going to have them there," she said.
"They're always going to be able to look down at this piece of jewellery and have a memory."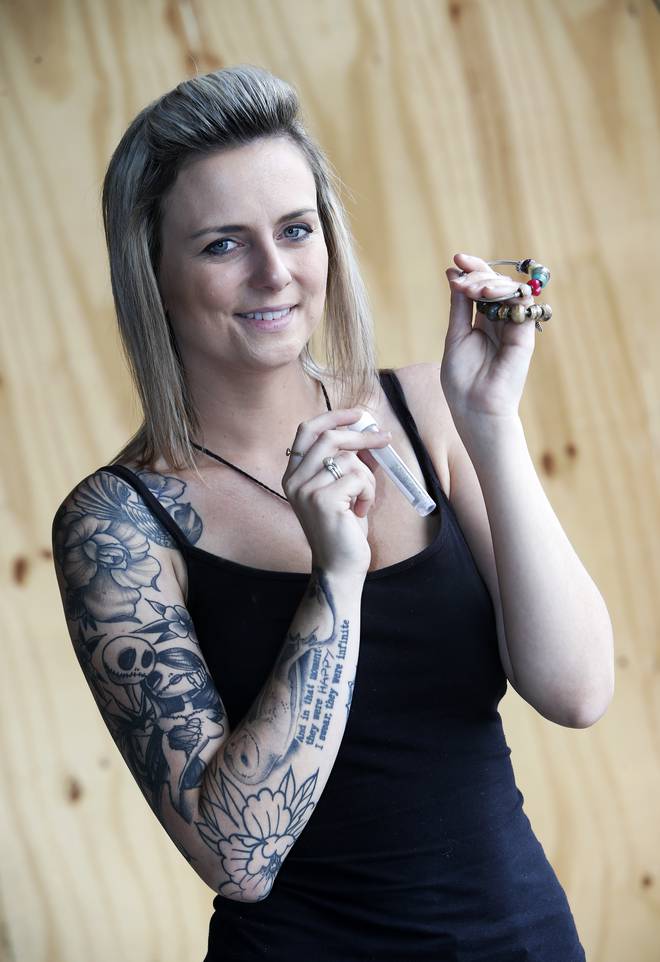 She said a lot of mums who struggled or were told they could not breastfeed came to her to get jewellery made to symbolise overcoming that. Ms Collier gets a minimum of 30 orders a week from all over the world.
She also does castings of the hands and feet of babies. That started with her own sons. After the second one three and half years ago she started doing it as part of her job. Not long after, she started getting requests for castings of babies who had died.
Ms Collier does these for free and families are often referred to her through other organisations.
She said the families did not always get a long time with their baby, and the casting meant they could study the fingerprints later, or see how the baby had toes like its dad.
Ms Collier said while she wished it was a situation no family had to be in, she liked being able to provide them with one last tangible memory of their baby.