Project Runway
winner Sean Kelly, 24, can finally speak to his family now that the cone of silence has lifted and the world knows he has won.
The young designer from Hawera was chosen from thousands of hopefuls before the launch of season 13 of the hit New York TV show and has been on "lockdown" ever since.
Read more:
• Spoiler: How far did our Project Runway designer go?
• Lee Suckling: Five young guns killing it in fashion
• Kiwi designer to walk the talk on hit TV show
Contestants on the show agree not to speak with family or friends while the series is being filmed so they don't give details of episodes away before they are screened.
Sister Hannah Kelly told the Chronicle in July that it was difficult not being allowed to talk to her brother as they had watched the show together while growing up.
The show has only been available on New Zealand TV screens since the Vibe channel picked it up and started screening it this month.
The family were having to download episodes and dad John Kelly said he was proud of the way the way his son had dealt with criticism he received from the judges in the early episodes where he "stumbled a bit".
Things really picked up for Sean when he won the challenge to design a dress for model Heidi Klum to wear to the Creative Arts Emmy awards in August and photos of Ms Klum in the distinctive blue and black fringed dress made waves around the world.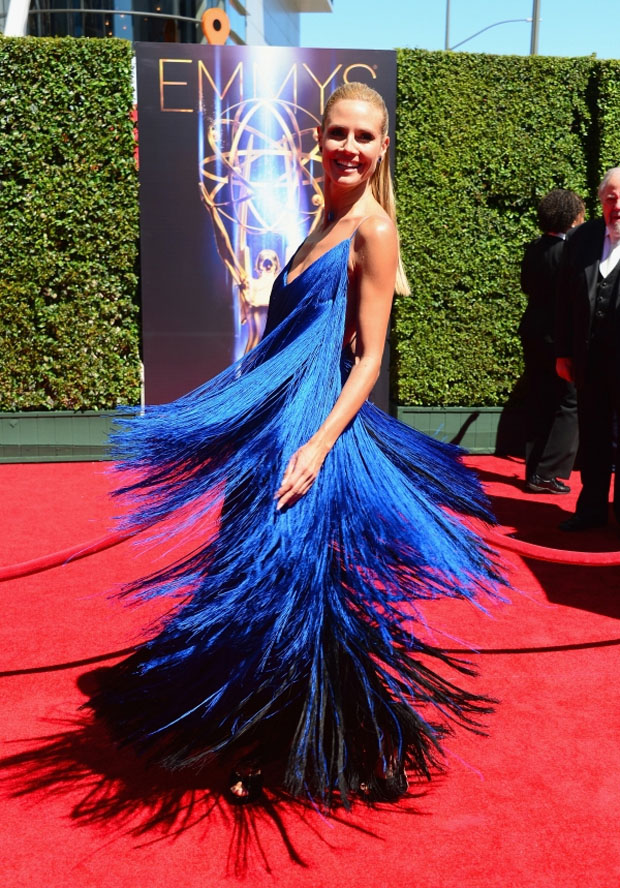 Heidi Klum wears Sean Kelly's design at Creative Arts Emmy awards in Los Angeles.
Sean has now been declared the Project Runway winner since his New York Fashion Week collection was judged best of the four remaining contestants on the show.
The lad who grew up on a South Taranaki farm and begged his mum Margaret, who didn't sew, for a sewing machine from the time he was 13 and made patterns from newspaper is now the toast of New York.