Hopes of escaping the capital early for the long weekend have been dashed with State Highway 1 on the Kapiti Coast now not set to re-open before 8pm.
The NZTA said due to the dangerous materials spilled, extraction of the crashed truck and clearing of the lanes was a complex operation.
Motorists were being asked to delay all unnecessary travel.
Earlier, SH2 was completely blocked earlier today at Remutaka Hill after two trucks became stuck on a corner.
The road has since fully reopened in both directions but NZTA is asking motorists to expect delays as congestion eases.
A vehicle has also broken down on the Featherston side of the Remutaka Hill, blocking the road there.
NZTA is expected to provide an update on SH1 on the Kapiti Coast before 2pm.
State Highway 2 was also closed near Waihi in the Bay of Plenty after a three-car crash shortly after 11am. A police spokeswoman said one vehicle was blocking the highway.
In another incident, two people were arrested after a police chase on State Highway 2, near Kawerau. A police spokeswoman said the driver of a black Subaru failed to stop for police at Matata about 11.20am.
The car was speeding and had a broken windscreen but was stopped with the road spikes on Military Rd near Kawerau.
Between Rotorua and Taupo, the northbound lane Broadlands Rd has was also closed for a time in the morning after a car crashed and rolled.
In Northland, a fully laden logging truck rolled, trapping the driver on a private forestry road.
Police said the truck crashed on Ruapehu Rd in a forestry block about 30km north-west of Dargaville at 12.10pm.
SH1 is closed until further notice following an early morning truck crash near Pukerua Bay on the Kapiti Coast.
The truck and trailer unit carrying hazardous substances rolled on State Highway 1 north of Porirua, leaking chemicals on to the road and closing the road for most of the day.
NZTA Systems Manager Mark Owen said motorists need to appreciate that Paekakariki Hill Road is a tight, steep and windy road and people need to drive with caution, watch for oncoming traffic on the tight corners and also allow extra time for their travel.
"Holiday weekends are always busy and with the increase in traffic on the road and with this added road closure we are expecting more congestion and delays through this area.
"We ask motorists to consider delaying their travel and where possible, consider leaving once the road has reopened and the traffic is lighter."
Once SH1 is open it will take some time to clear the truck from the road.
The highway is closed in both directions between Pukerua Bay and Plimmerton after the single-vehicle incident at 3.45am.
Police are warning the road could remain closed until late this afternoon.
Fire and Emergency New Zealand (FENZ) was seeking advice on how best to deal with the chemicals, a spokeswoman said.
The truck driver suffered minor injuries.
Witnesses said there was a large emergency service presence at the scene, with major detours in place.
The detour for the road closure on SH1 is via Paekākāriki Hill Rd but is only suitable for light vehicles.
Police said trucks were being stopped from travelling north and south on the detour.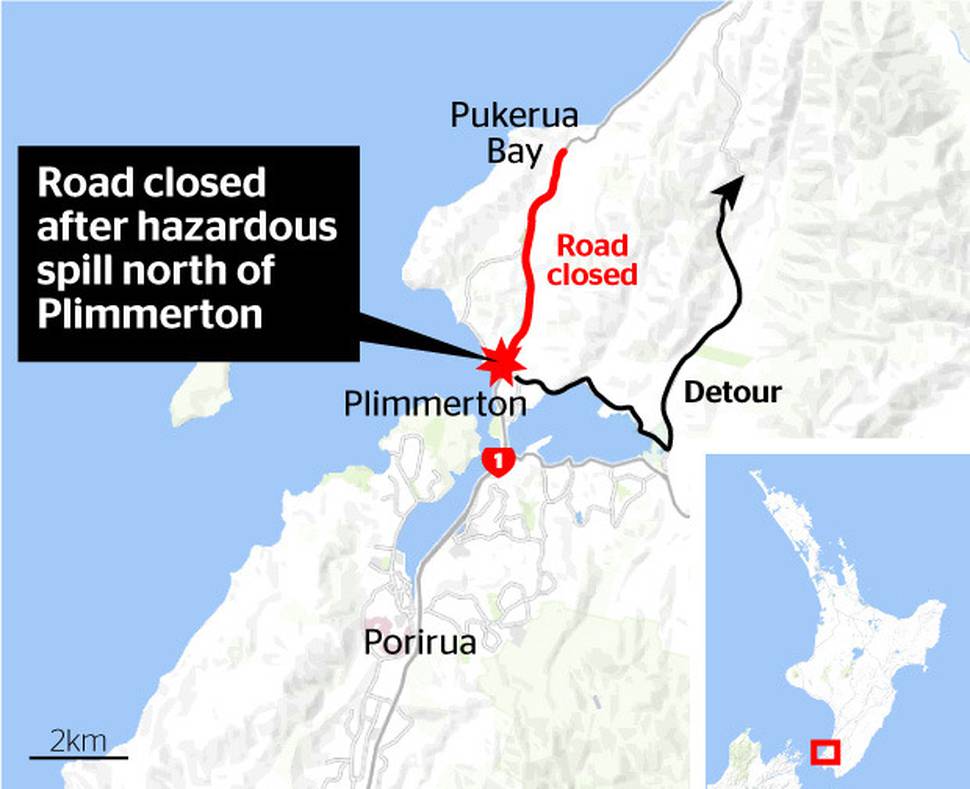 Cars are u-turning at the roundabout near Palmers Garden Centre in Plimmerton.
Local resident Grant Patterson says the road up the coast was quiet.
"There are no cars on the road at all on the way to Pukerua Bay from what I can see and there are about 10 trucks jammed in at the weigh station."
NZTA regional transport system manager Mark Owen said the incident was going to have a significant impact throughout this morning and probably the rest of the day.
"Obviously we are very conscious that lots of people want to head out of town for the long weekend so we'll be working through the morning to work out what the plans are."
Those in the Paraparaumu and Waikanae areas have been advised to work from home if they can.
Ian Lyall, the owner of Brentwood Transport Limited, a freight transport company based in Lower Hutt, managed to make it through to Wellington from Kapiti just before the road was closed this morning.
"I leave home around 3.15am so I was just in front of it.
"I got here which I'm quite lucky about I guess, I'm going to Australia today. My son's still stuck in Paraparaumu but he's going to jump on a train, get into town and I'll pick him up."
Lyall said it is a major inconvenience and he feels sorry for everyone sitting in the traffic.
"Plenty of headaches for people travelling away for the weekend I'd imagine. Unfortunately not good timing."
Lyall said normally they would send one or two trucks up the Kapiti Coast, but today they were having to go over the Remutaka Hill Road and through Wairarapa instead.
"It has Palmerston North freight on it so it has to get there today. Will probably add about half an hour to the journey."
The NZTA said it would provide its next update by 2pm.
The planned closure of Paekākāriki Hill Road has been cancelled for today and the road will remain open.
Owen said crews would work with truck drivers at both ends of the road closure.
"Typically we just stack them up and they'll just have to wait until we get more advice about what the options are."
The detour route had been scheduled to close today from midday until 9pm to keep holidaymakers safe.
That was due to the risk to drivers from both the steep, winding road and merging with holiday traffic on State Highway 1.
Owen said Paekākāriki Hill Rd was tight and torturous and not a highway.
He said motorists needed to be patient and careful.
"There are some fairly blind corners on that road and we want to try and keep the speeds down and keep that route open and safe for everyone that needs to use it."
Meanwhile, several crashes have been reported across the Auckland transport network meaning delays for commuters trying to get to work on time ahead of the long weekend.
Crashes have been reported on the Northwestern Motorway and Southern Motorway.
Northern Motorway
Traffic heavy for citybound between Tristram Ave and Onewa Rd.
Free flowing for southbound.
Southern Motorway
Traffic heavy for citybound between Papakura and Takanini then between Penrose Rd and Greenlane.
Free flowing for southbound.
Northwestern Motorway
Heavy through Royal Rd due to a crash blocking middle lane linked to the Southern Motorway just after Newton Rd, causing delays back to Rosebank Rd.
Westbound and Waterview Tunnel is free-flowing.
Southwestern Motorway
Southbound traffic is heavy through Maioro St and Queenstown Rd.
Freeflowing for northbound and Waterview Tunnel.