Rovers v Wanderers
Rd 16, Central League
Park Island, Napier
Frankly there is nothing whimsical about the second Hawke's Bay derby in the beautiful game in Napier tomorrow.
Thirsty Whale Napier City Rovers are leading the Ultra Football Central League for a reason and the Building King Havelock North Wanderers are last for a reason so to expect anything otherwise would be wishful thinking.
As the Fifa World Cup in Russia showed this month, anything can happen but only to within the ambit of quantifiable reason of upsets occurring.
When the final whistle goes after the 2pm kick-off at Bluewater Stadium, Park Island, player/coach Bill Robertson and his Blues will claim three points to maintain their three-point buffer on the ladder. That's assuming defending champions Advance Electrical Western Suburbs maintain their winning form in second place over third-placed Stop Out Sports Club at Endeavour Park, Wellington, in a match that starts half an hour later.
Facing relegation, coach Chris Greatholder will be hoping his troops will show they have become a tad more savvy in their debut season in the premier winter league and will post a better return than the 6-1 drubbing they had received at the hands of the Rovers at Guthrie Park, Hastings, in round seven on May 6.
Maybe a fertile mind, if granted the licence, could perhaps have mapped out a kinder plot to the encounter, had the moon and stars aligned with the sun.
That is, if the Blues had already secured the league crown then they could have gifted three points to ensure two Bay teams remain in the equation.
While the suggestion drew grins from Robertson and Greatholder — no one is suggesting anyone would have contemplated throwing a game — there would have been nothing stopping the former from fielding fringe squad players and resting the pedigree import stallions, including golden-boot contender Martin Bueno, of Uruguay.
"That would have been nice," says a softly spoken Wesley Cain, the speedy Rovers winger who celebrates his goals with multiple somersaults.
However, Canadian import Cain makes it abundantly clear complacency isn't in the favourites' repertoire.
"The worst thing you can do is put your foot off the gas when you still haven't crossed the finish line," says the 24-year-old hailing from Guelph in Ontario who hasn't been part of the Blues contingent watching the villagers play at Guthrie Park when their times don't clash.
Cain has relished his debut with the Rovers and feels like he's still at home in a culture that encourages collectiveness over individualism. His individual skills, agility and probing crosses from the flanks have delighted the Blues faithful all winter as they look likely to claim the Central League crown this season.
His last side in Canada were KW United in Waterloo, Ontario, where he spent four years, including footing it in the third-tier premier development league to help them win a title.
Cain spent two years in the academy and reserves grade with Major League Soccer (MLS) campaigners Vancouver Whitecaps but he endured heartache when he didn't make the muster.
On reflection he accepts he wasn't mature enough for the step up to the MLS but isn't giving up the dream because he believes he moulded a better template since then.
The season with Thirsty Whale Hawke's Bay United last summer was his maiden professional stint.
Cain isn't sure whether he will be in coach Brett Angell's mix for the 2018-19 ISPS Handa Premiership (national summer league) because he is committed to the winter league.
"I always like to have another go but at this stage I don't have anything at all," he says, revealing he can go back to Canada and easily return if the situation arises.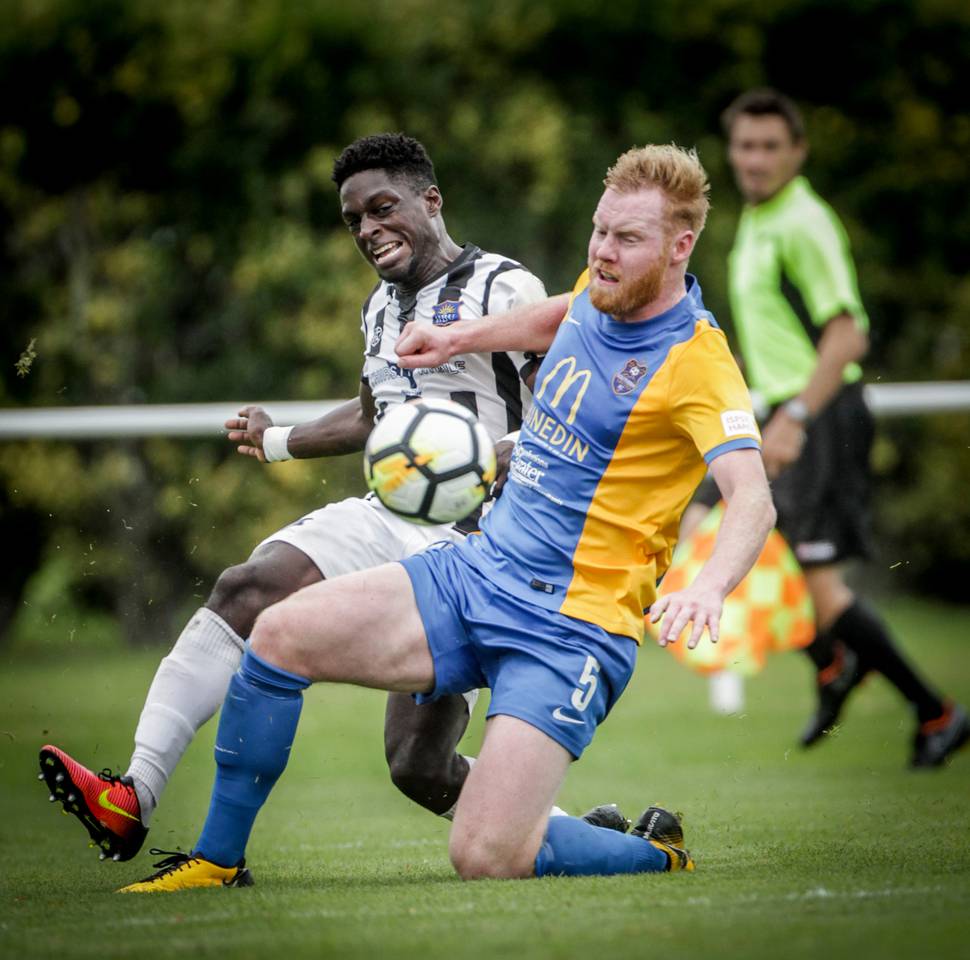 He is a few units shy of obtaining a degree in communication studies at Wright State University in Ohio, after winning an American soccer scholarship but not graduating.
His parents, credit union manager Tracy and Calvin Cain, who runs a manor (halfway house) for needy people, have had considerable influence in his playing career. His Canada-born mother visited the Bay for a week to watch him play last month but the Jamaica-born father couldn't find time off work to join her.
"My father moved to Canada when he was 19 so he played soccer for some colleges and men's league teams around the country," he says.
Cain's brother, Travin, 27, who played the game in the lower divisions, followed the footprints of their father who had a chance to go back to his country of birth to play semi-professionally but turned it down because raising his family took priority.
The Rovers player went through the provincial age-group teams, travelling to play within his country as well as overseas. He went on to represent Canada in Jamaica during the 2011 Concacaf Under-17 Championship, helping them qualify for the age-group Fifa World Cup in Mexico.
Incidentally his speed comes from his mother who was a good track-and-field competitor and, it seems, the flair from his father.
It was she who got the boys into gymnastics with Cain following his brother and finding traction with a sport that offers base suppleness and fitness beneficial to myriad codes.
"I used to say I was Spiderman," he says.
Cain's partner, Alisia Mar, of Waterloo, has been living with him in Napier since April.
"It's much more comfortable with her living here," he says of Mar who has sacrificed the Canadian summer for the New Zealand winter, which is remarkably mild compared with the northern hemisphere one.
Asked if he has anything to add, Cain says: "Oh, no, not much but just 'Go the Blues'."