Indoor Premier Results
Nottingham Castle Rangers 44 vs University of Waikato Premier 58
Verdettes Marist Premier 52 vs Waikato Diocesan Open A 45
FTNC Premier 72 vs St Paul's Collegiate Open 24
FTNC Premier Reserve 45 vs Hamilton Girls' High Premier 54
Iwi Karaearea Premier 34 vs St Peter's Premier 38
University of Waikato Premier Reserve 24 vs Verdettes Marist Old Girls 77
The third week of the indoor premier netball competition had three particularly close games.
St Peter's Premier only narrowly won against Iwi Karaearea Premier after a slow start.
At the end of the first quarter Iwi Karaearea was up by two goals and at half time they still led by a goal with the score 21 goals to 20.
St Peter's had a strong third quarter to move into the lead by four goals and the final quarter was a draw.
The final score was 38 goals to 34. Overall a great game to watch and very close.
For St Peter's the players did really well as it was another week of having only four original members of the team with three other players as replacements.
Annlies Kalma at centre and Katie Te Ao at goal defence picked up multiple intercepts and loose balls and controlled the game well.
The players maintained their composure against strong opposition. For Iwi Karaearea the players came out firing and put what was practised at training into place during the game.
This is a team with quite a few new and young players but they worked well with the more experienced players.
Amra Simek at goal shoot presented strong angles when moving and confidence when putting up the shots.
The mid court feeders also impressed particularly Georgia Pompey at wing attack who stepped up her game this week. This gives St Peter's their third win.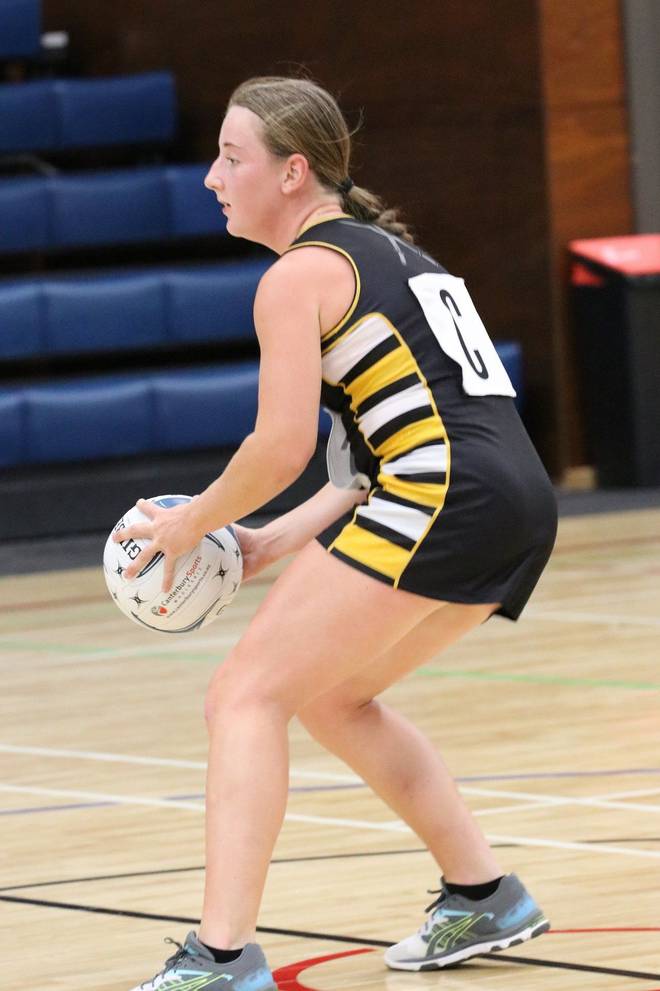 Verdettes Marist Premier also had a close and tight game against Waikato Diocesan Open A. Marist Premier started well to lead by four goals at the end of the first quarter but Waikato Diocesan were able to claw back a goal by half time with the score 26 goals to 23.
Marist Premier had a more comprehensive third quarter to be ahead by seven goals at the end of the third quarter and the final quarter was a draw.
The final score was 52 goals to 45. Overall a creditable performance by both teams.
For Waikato Diocesan they played the game well but unfortunately the team failed to capitalize on the opportunities they had.
There were moments of brilliance and areas which the opposition highlighted as ones which the team will need to work on. A good first win for Marist Premier.
Hamilton Girls' High Premier also had a close game against Fraser Tech Netball Centre Premier Reserve. Hamilton Girls trailed by a goal at the end of the first quarter but by half time they led by five goals with the score 26 goals to 21.
They were also dominant in the third quarter to lead by 10 goals but FTNC Premier Reserve won the final quarter by a goal to narrow the gap to nine goals.
The final score was 54 goals to 45. For Hamilton Girls', TeAo Oliver-Samuels and Phillipa Hokianga had a strong defensive game making the opposition work for every goal.
Pani Potts, one of the more experienced and senior players had a high work rate at centre and wing attack skilfully feeding the shooters.
Armanee Shepherd impressed at goal attack getting shots, tips and intercepts. For FTNC Premier Reserve the team is younger players so they are still working on strengthening vital links within the team to be a cohesive team.
At times the team let themselves down by working hard to get defensive turnovers only to throw the ball away.
Emma Wilke at goal attack kept the team in the game with her accurate shooting and there was also solid performances also from Paula Bent at centre and Caitlin Judd at wing defence.
Waikato University Premier took half a game to come into their own against a strong Nottingham Castle Rangers performance.
Uni Premier led by three goals at the end of the first quarter and increased this to lead by four goals at half time.
The score was 29 goals to 25. Uni Premier then had a great third quarter to lead by eleven goals and they won the game 58 goals to 44.
A great game to watch and a game that the score did not necessarily reflect the calibre of the game. That makes three wins from three for Uni Premier. This gave Hamilton Girls their first win.
Verdettes Marist Old Girls also won their third game and they were ruthless against Waikato University Premier Reserve in a game where they led from start to finish.
The half time score was 36 goals to 13 and the final score 77 goals to 24.
A skilled game from the experienced team with the players interchanging positions showing their versatility. Some nice phases of play by the Uni Premier Reserve team but they were just out classed on the night.
FTNC Premier also as expected had a big win over St Paul's Collegiate Open. FTNC Premier led from start to finish with a massive third quarter where they restricted St Paul's to just two goals.
At half time the score was 32 goals to 15 and the final score was 72 goals to 24. Great performance by FTNC Premier and credit to the St Paul's team who never quit.
There is now a break, with the next games on Thursday, 2 May.