It's not every day that a girl from Tauranga gets the chance to collaborate with fashion designers she admires to create couture garments worn by major music celebrities.
New York-based, Tauranga-born artist Jess Johnson daydreamed of an opportunity to collaborate with the flamboyant Australian fashion label Romance Was Born.
Her dream came true in 2015 when the fashion label's designers Anna Plunkett and Luke Sales asked Johnson to collaborate with them on their winter collection.
Johnson first came across the label when she purchased a dress of theirs to wear at her wedding. The relationship blossomed from there, with Johnson eventually meeting Plunkett and Sales in 2015.
The idea of a collaborative partnership made sense with Johnson's unique geometric, sci-fi style artwork meshing perfectly with the label's ostentatious design.
The resulting collaboration, titled Mysteria Wysteria, is an in-your-face fashion forward collection that has been worn by the label's celebrity clients including SIA and Grimes.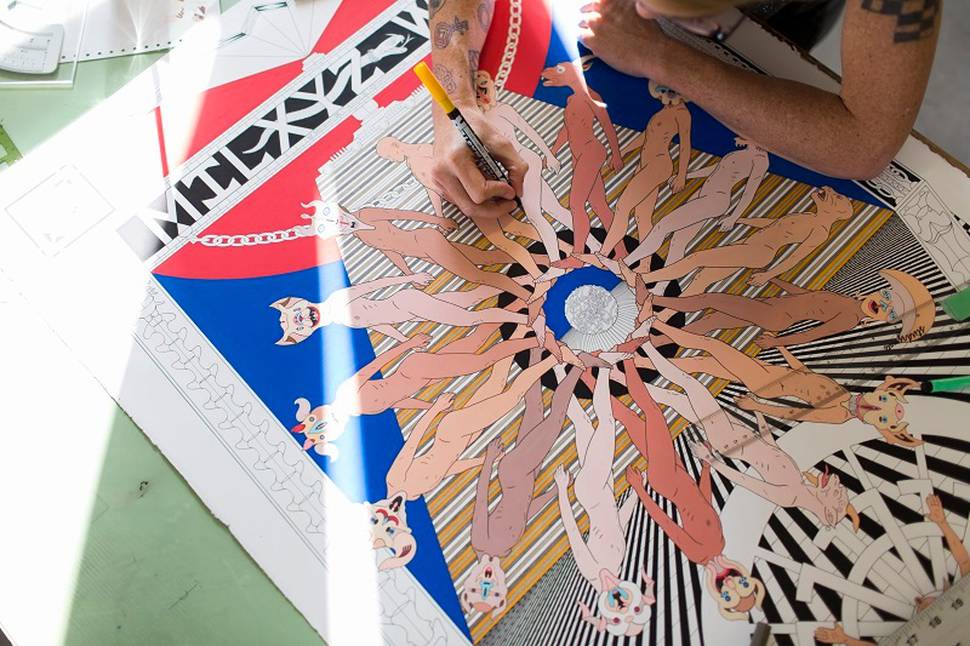 "The artist Grimes also wears a number of the collection pieces which is a buzz for me. I've been a big fan of her music so it's a weird thing having this tangible connection to her physically and seeing my artwork sitting next to her skin."
Though Johnson daydreams of couture collaborations, you are more likely to find her in her arts studio in a comfy patterned tee with well-worn denim.
She likes to support other visual artists by buying their printed tees, which she often spots via Instagram.
"I like buying affordable pieces directly from artists as this way you are getting something very limited and unique, as well as directly supporting an artist you like."
While Johnson now exhibits internationally with gallery representation in New York, Australia and New Zealand, she does not forget her 'small town' origins.
Johnson lived in Tauranga until the age of 17. She then spent 12 years living and working in Melbourne before moving to New York, but she credits growing up in the Bay with igniting her curiosity in "worlds beyond her realm".
This has resulted in an art practice heavily influenced by science fiction and technology.
"I think the defining aspect of growing up in Tauranga pre-internet was a sense of isolation from the rest of the world, which engendered a huge curiosity for worlds outside my own. I found these windows to other worlds through books and movies and would devour anything detailing highly fantastic imaginary worlds."
What began as an interest in creating fictional worlds in drawings and installations, morphed into building virtual worlds with 'tech whiz' Simon Ward.
"I met Simon Ward in 2014 when a mutual friend introduced us. I already knew Simon as a video artist who made really cool music videos for a bunch of New Zealand bands I liked (Disasteradio is a favourite). He told me he was a fan of my artwork and suggested we work together on animating my drawings."
The resulting relationship led to Johnson's biggest career highlight so far: a solo show in collaboration with Ward for the National Gallery of Australia, titled Terminus. The biggest exhibition Johnson has created to date involves a gallery-size, purpose-built immersive environment that includes a five-part virtual reality environment.
Johnson and Ward's 'hallucinatory' 3D animation, a digital video titled Webwurld, is on display at the Tauranga Art Gallery, along with the Alien Dress from her collaboration with Romance Was Born.
Jess Johnson is one of eight artists taking part in the Tauranga Art Gallery exhibition Children of Mallarmé: Fashion, Art & Collaboration which is on now until September 16
Events
A season of fashion and art at Tauranga Art Gallery. Stay warm and dry while experiencing these textile-focused exhibitions that feature artists and fashion designers:
Children of Mallarmé: Fashion, Art & Collaboration
Until September 16
Evan Woodruffe: The World is Porous Until October 28
The Future of Art of Fashion Talk
August 30, 5.30pm-7.30pm
Join the fashion-forward panel at this Groundswell talk as they review and discuss the future of art and fashion collaborations. For more information visit artgallery.org.nz/events
Art for Kids Fashion Event
September 8
In support of the Art Bus, connecting local school children with art, the Tauranga Art Gallery is holding an exclusive fashion and art fundraiser. Tickets will be very limited so sign up for the Tauranga Art Gallery newsletter at artgallery.org.nz to be kept informed