Seven Western Bay projects have won accolades at the 2018 Waikato/Bay of Plenty Architecture Awards.
The awards jury recognised educational, commercial, interior, housing and small architecture projects in Tauranga and Te Puke "designed with meaningful connections to wider communities". The awards were held on Friday night.
The overall list of 21 award winners also included buildings and projects in Hamilton, Rotorua, Taupo, Cambridge and Coromandel Peninsula.
There were revitalised urban parks and commercial buildings, education and sports facilities, cultural and community centres, as well as houses "that add to the region's history of inventive residential architecture".
Babbage Consultants won an Education Architecture Award for a new gymnasium for ACG Tauranga in Pyes Pa.
"This valuable new asset for an independent school delivers on the client's request for a highly durable, low-maintenance building to stand the test of time — and teens," the awards jury said.
Tauranga's First Principles Architects received two awards.
The jury said the firm's Tauranga Intermediate School project, which won an Education Architecture Award, was "a good example of a well-planned modern learning environment with a variety of spaces suitable for different pedagogies".
First Principles Architects won a Commercial Architecture Award for Mangatawa Tari, a building for the management and operational staff of Mangatawa Papamoa Blocks.
It was inspired by Kopukairoa, Mangatawa and Hikurangi — three whales whose stories feature in the lore of Tauranga Moana and Te Arawa iwi.
The jury said the building was "functional, culturally fitting and strongly connected to a special site".
Two Western Bay offices received Interior Architecture awards.
An office for Seeka in Te Puke by Architecture Page Henderson "illustrates how a clean, pristine and modern approach to the refurbishment of a derelict 1970s building can increase staff satisfaction, morale and productivity," the jury said.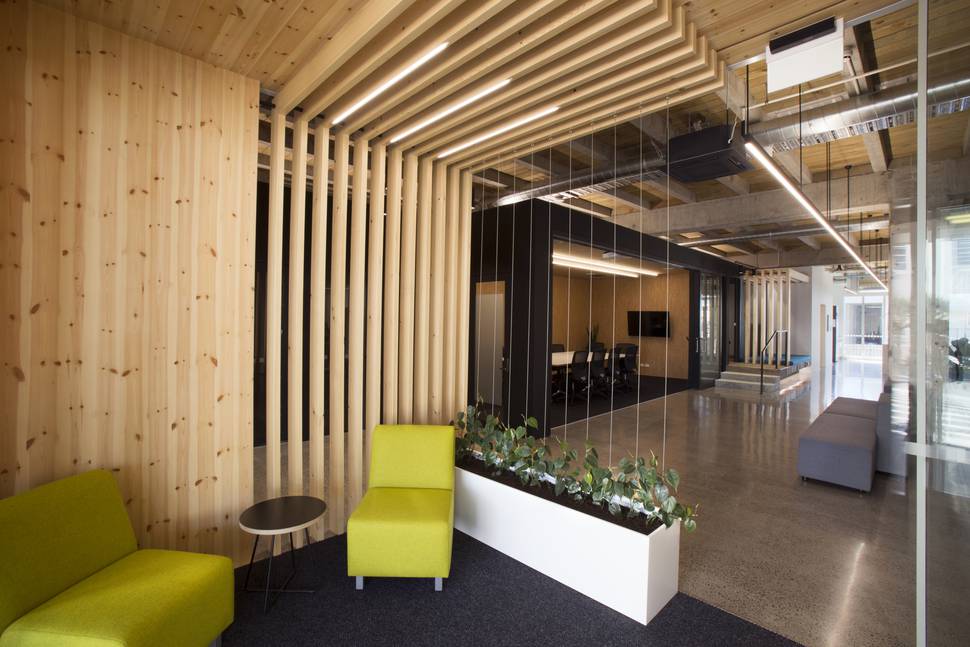 Stufkens + Chambers Architects' converted a former Tauranga bank building at 53 Spring St into a shared corporate office environment.
"The architects have delivered a cosy boutique atmosphere with well-detailed junctions between old and new," the jury said of the award-winning project.
Stufkens + Chambers Architects also won an award for Small Project Architecture for Promenade, a temporary installation built for Tauranga Art Gallery's ''Future Machine'' exhibition.
It was "a successful collaborative project designed to encourage the public to consider the role of art and architecture as integral components of dynamic cities," the jury said.
John Henderson Architecture designed Walton House, near Tauranga, which won a Housing award.
"From a cohesive collection of complementary wood tones and textures a warm and generous environment has been created," the jury said of the project, which was a celebration of timber, sourced and milled locally on the clients' farm, outstanding detailing, craftsmanship and workmanship.
The architecture awards are part of the peer-reviewed New Zealand Architecture Awards programme run by the New Zealand Institute of Architects (NZIA) and sponsored by Resene.
Taupo architect Gavin Robins convened the awards jury, which included New Plymouth architect Murali Bhasker and Hamilton architect Megan Scott.
All winning projects are eligible for shortlisting in the New Zealand Architecture Awards, which will be announced at a November event in Wellington.