Drivers and pedestrians are being urged to be patient and vigilant ahead of the AIMS Games which start next weekend.
The annual tournament will run from September 8 to 13 with more than 11,500 athletes from 369 schools, from all over New Zealand and the Pacific descending on Tauranga.
This will mean an increase in traffic during the day, particularly before and after school hours.
The NZ Transport Agency has advised motorists to plan their journey before heading out in the Bay of Plenty during those dates.
Drivers are advised to account for extra time while travelling during the week.
There will also be a temporary 50km/h speed limit throughout the Baypark to Bayfair Link project as construction of two new flyovers and improvements to the roundabouts continued.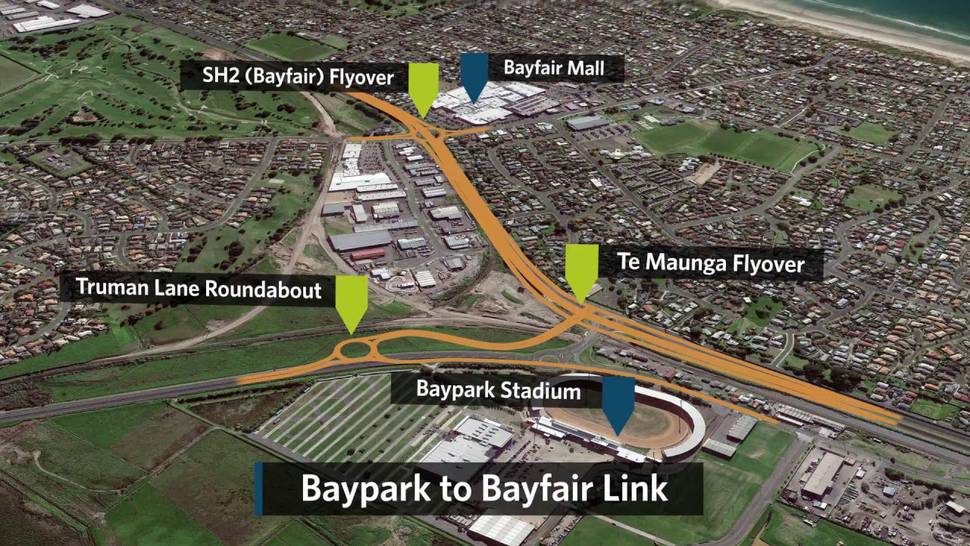 AIMS Games competitors and supporters are reminded to use the designated footpaths and crossings through the construction site.
Motorists are reminded to slow down, keep a safe following distance, and stay focused.
Other traffic in the district
CBD
Durham St:
• Durham St traffic will be two-way from Spring St to the car park building and will remain one-way from the car park building to Elizabeth St.
• Traffic was diverted to the west side of Durham St through to Smiths Cycles.
• Best access to Durham St is from Wharf St and access from Elizabeth St onto Durham St is closed until further notice.

Durham Lane:
• Bongard Centre to Cameron Rd and Spring St to Cameron Rd is open.
• Durham St to Bongard Centre is temporarily closed for the reconstruction of the lane.
• The access from the University of Waikato to Cameron Rd is open to traffic.
Beyond the city centre
Mission St:
• Minor improvement works have started outside The Elms: installation of additional parking bays, a new bus bay, footpath extension to Cliff Rd and no parking behind the kerb.
• Weather permitting, works are due for completion by the end of September.
Seventh Ave and corner Seventh Ave/Devonport Rd:
• Remedial works to a new wastewater drain and the reinstatement of road berm. • Weather permitting, work is expected to be complete month.
Maunganui Road:
• Works are in progress on Maunganui Rd between Hull Rd and Hinau St.
• It will be safety improvements: a shared footpath/cycleway next to Blake Park, improved drainage, car parking, crossing facilities and landscaping.
• Temporary traffic management will be in place and motorists should expect delays.
Domain Road:
• Reconstruction works continue on Domain Rd with the relocation of underground services and installation of culverts at the Wairakei Stream.
• Safety improvements to the roundabout on Papamoa Beach Rd as well as drainage improvements and concrete works.
• Temporary traffic management will be in place and, at times, diversions.
Welcome Bay Road:
• Welcome Bay Rd, towards Welcome Bay roundabout, will be reduced to one lane for a 500m section, until June next year for pipeline construction for the Waiāri water treatment plant.
• Find out more at Tauranga.govt.nz/waiāri.
McFetridge Lane:
• Work upgrading the road is progressing and is due for completion this month.
Matapihi:
• Works on the new wastewater pipelines in road reserve in Matapihi, Puwhariki, Waikari, Hungahungatoroa, Matapihi Station and Waikari Rd is in progress.
Pyes Pa Rd:
• The north-bound lane will be closed on Pyes Pa Rd between State Highway 36 at Tauranga Cemetery roundabout and Kennedy Rd with work on the safety Guardrail installation and repairs to existing barriers.
• A detour is in place through Kennedy Rd and the work is due to finish in September.
128 Gloucester Rd to Oceandowns Reserve:
• There are vehicles entering and exiting the reserve while earthworks and changing shed construction occurs.
There is an interactive map which shows the works throughout the city: https://taurangacc.maps.arcgis.com/apps/webappviewer/index.html?id=59bbf2e2e26e466aaff82252dd47e126