Hockey in Tauranga continues to go from strength-to-strength with more people getting involved in the game and the quality of players improving.
This has been shown in the Tauranga Hockey Association's results locally and nationally and the achievements of all those involved in the sport have been recognised at the association's awards evening at Club Mount Maunganui.
The evening was designed to recognise achievements throughout the season and reward the players, supporters, officials, coaches and volunteers who have worked hard to create a successful year.
Commonwealth Games gold medallist Amy Robinson and international umpire Kelly Hudson were the guest speakers and in reply to their MC Lavina Good's questioning, gave some insights on what it took to improve year-on-year and become a top-level athlete and umpire.
Taking out the big awards at the end of the night were Bayleys Otumoetai's Hugh Gilmer, who was named Tauranga Men's Player of the Year, and CMS Mount Maunganui's Abbie Johnston- awarded the Tauranga Women's Player of the Year.
They had big seasons for their club teams with both athletes playing for the combined Tauranga/Bay of Plenty teams at National Seniors Tournament. Johnston has also just been named in the New Zealand Maori team.
The International Player of the Year was awarded to a player who has participated in the Black Sticks or Junior Black Sticks over the past 12 months and has had at least a two-year affiliation with the association during their career.
Samantha Carlton scooped that prize, having a stellar season on the world stage, including winning a gold medal at the Commonwealth Games.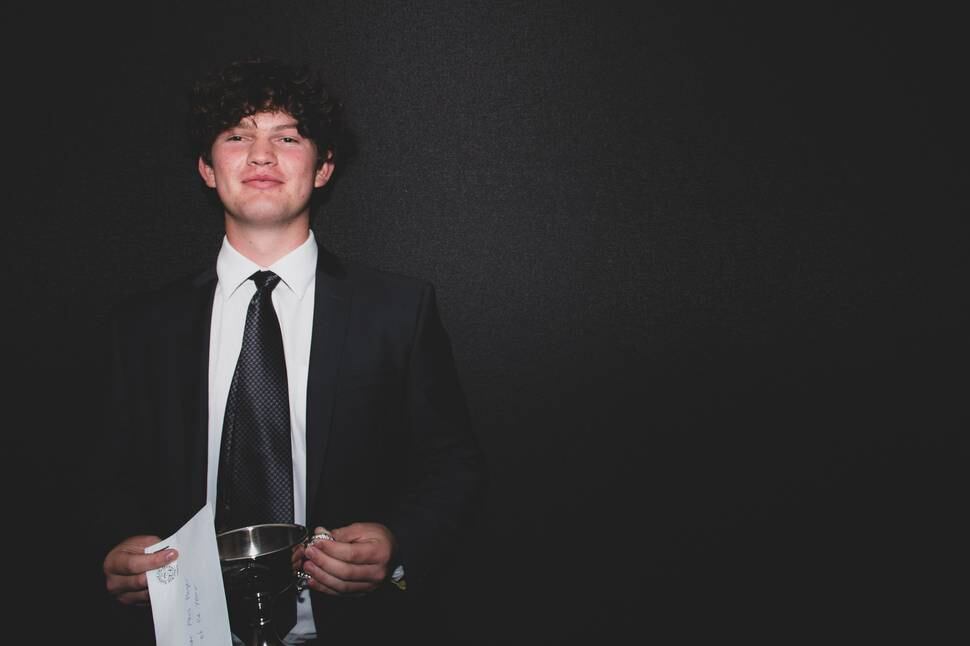 The Junior Player of the Year Awards went to Madeline Fleming (Bethlehem College) and William Gourley (Tauranga Boys' College) who both had strong seasons for their schools and then went on to represent the Midlands Under 18 teams at national tournament.
Gourley's U18 team won bronze at the national tournament and Fleming has been selected in to the NZ U18 development camp, along with Ruby Evans.
Male and Female Coach of the Year went to Emma Phelps and Lincoln Churchill.
This year THA re-named their Volunteer of the Year Award to the Bill Webb Volunteer of the Year Award.
Webb is a long-standing volunteer for THA and his list of roles and duties over the year is lengthy. He received a standing ovation when he came forward to present his award.
The Bill Webb Cup's inaugural recipient was Phil Gillanders for the work he put in to the game throughout the season, including coaching primary, intermediate and U13 development representative teams. He also umpires and is an umpire mentor.
One of his biggest contributions is his commitment to primary school hockey where he spends five hours at the turfs every Saturday during season.
- Supplied content
Tauranga Hockey Association Awards Evening
Player Awards
Tauranga Women's Player of the Year: Abbie Johnston, CMS Mount Maunganui
Tauranga Men's Player of the Year: Hugh Gilmer, Bayleys Otumoetai
Tauranga Junior Women's Player of the Year: Madeline Fleming, Bethlehem College Midlands U18 Women: Madeline Fleming: Bethlehem College
Tauranga Junior Men's Player of the Year: William Gourley, Tauranga Boys' College
Midlands U18 Men: William Gourley, Tauranga Boys' College
International Player of the Year: Samantha Charlton
Intercity Grade
Tauranga Women's Intercity Team of the Year: CMS Mount Maunganui
Tauranga Men's Intercity Team of the Year: Tauranga Old Boys
Tauranga Women's Club Intercity Player of the Year: Kate Savory, CMS Mount Mauganui
Tauranga Men's Club Intercity Player of the Year: Abir Mukherjee, Tauranga Old Boys
Senior Reserve Grade
Merryweather Cup winners of the round 1 Women's Competition: Mount Thunderbirds
H Grey Cup winners of round 2, Division 2 Women's Competition: Otumoetai Gold
McCrae Barry Cup winners of the round 2 Women's Competition: Otumoetai Diamonds
Kiwifruit Cup winners of the round 1 Men's Competition: Mount Maunganui Sliders
Kent Cup winners of the round 2 Men's Competition: Mount Studs
Baywide Competition winners: CMS Mount Maunganui Women
Coaching Awards
Small Sticks Female Coach of the Year: Keri Ann van Doorne, Katikati Primary School
Small Sticks Male Coach of the Year: Phil Gillanders, Golden Sands School
Secondary School Female Coach of the Year: Juliet Dunlop-Fraser, Katikati College
Secondary School Male Coach of the Year: Denym Clarke, Bethlehem College
Female Coach of the Year: Emma Phelps
Male Coach of the Year: Lincoln Churchill
Umpiring Awards
Female Umpire of the Year: Taela Eggers
Male Umpire of the Year: Hugh Lees
Junior Female Umpire of the Year: Kate Sharpe, Te Puke High School
Junior Male Umpire of the Year: Ethan Fraser, Katikati College
Service to Umpiring: Barry Prestney
Volunteer of the Year: Phil Gillanders
Roy Osman Trophy (contribution to Masters Hockey): Mark Graves