Kiera Waite rode faster than she ever has this week, with her dad in her heart and his words of advice in her head.
As the 12-year-old lined up at the start line on the first day of BMX at the AIMS Games in Tauranga, she was fully focused.
"Go 110 per cent and win," she said she told herself. Her head was clear.
That was something her dad taught her. But he wasn't there this week to see his girl fly.
Cameron Waite died suddenly on August 7. He was just 36.
"When I'm racing or training I think about winning and after, I think about other stuff," Kiera told the Bay of Plenty Times Weekend yesterday.
"Just throw it all away until my racing's done," she said.
But that is not easy. The past month has been "hard" and "emotional" for Kiera, her mum Karlee and brother Cale, 8.
"Because we're sad and then we're angry, then we're happy, and then we're guilty that we're happy, and then we're sad," Kiera said.
"I still think I'm still kind of waiting for him to come back."
BMX was their thing – Cam and Kiera's shared passion. They travelled all over to train and race and spoke about it non-stop.
Kiera, who goes to Otumoetai Intermediate, has dreams of reaching the Olympics and Commonwealth Games and trains about four times a week. Her dad was a tough and dedicated coach.
"If I had a bad race, he would give me a tune-up, and then I would go back for a second race, and I'd be good again," she said.
Cam was a young BMX talent, like his daughter, and was well known and liked in the BMX community. He was an admired and respected club coach.
He has "a million trophies" at home and was a member of the Mighty 11's, a junior test team that takes part in a trans-Tasman series each year.
Kiera was one of the first second-generation Mighty 11 riders.
Her best friend Jaydah-Lily Lees was the other one and her dad, Hayden Moore, also a former Mighty 11, was good friends with Cam.
The four of them were close.
Jaydah-Lily and Hayden – and the whole BMX community – has rallied around the Waite family since Cam's death.
"Hayden is amazing. He's like my dad now – my BMX dad," Kiera said.
"He takes me everywhere, and they come down from Whakatāne like four, five times a week."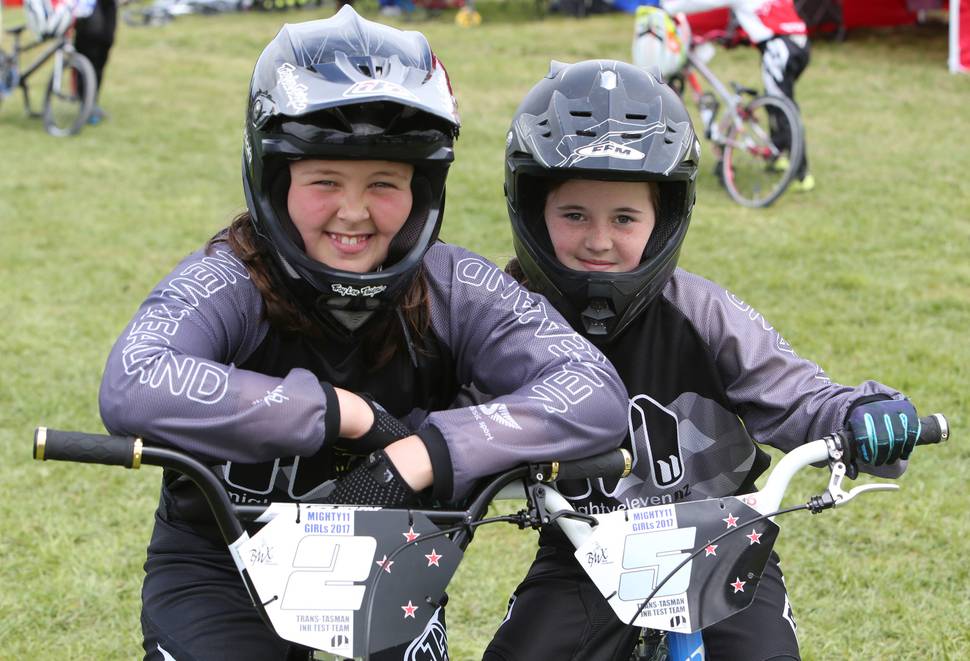 The day her dad died, Kiera went to the track. Friends have been keeping her busy and active.
"Such a cool bunch of people. All the older girls rallied around and made her feel so special," mum Karlee said.
She said the response from the BMX community in Tauranga, and nationwide, had been overwhelming.
Karlee said they've transformed her from a spectator into a proud BMX mum.
"I've always just stood back and watched, but they've just been so cool."
The Tauranga BMX Club on Cambridge Road took care of catering for the funeral.
And on the way to the funeral home, the family stopped at the track with Cam for one last visit.
"And I got to sit on the back of his work truck with him, while we watched all my friends ride," Kiera said.
This week the club did everything it could to help.
There was VIP parking for the Waite family at the track, tickets to the AIMS opening ceremony and, at the prize-giving on Thursday, a young rider organised a haka. There were speeches.
Karlee said the family stood in the middle of the track "and had this big bawl".
It was an emotional end to an emotional week.
She said everyone at the track had so many nice things to say about Cam. He was the life of the party; his absence was felt.
Karlee said if her husband had been watching Kiera ride this week, he would have been shouting "Go, girl, go girl" from the side.
"She did awesome; smashed her own personal record," Karlee said.
Kiera beat her fastest time by whole seconds. It was the best she has ever ridden.
She finished fifth in the Year 7 girls time trials, and fourth in the Year 7 girls racing.
"I just thought I need to make him proud and go 110 per cent," Kiera said.
"He was pushing me."