There were only a five local government jobs Marty Grenfell would leave Whakatāne District Council for.
Chief executive of Tauranga City Council was one of them.
On Monday the former area commander of Wellington police began his leadership of the organisation behind New Zealand's fifth largest city.
Two weeks earlier he sat down for an interview in his Whakatāne District Council office.
I was not sure how it would go. Grenfell had stayed loyal to the standard-issue police haircut, what if he had also retained a policeman's taciturn approach to reporters?
I had been warned over email by a Whakatāne District Council PR that he would not answer questions about specific issues facing Tauranga City Council.
I wondered if I would be coming home with little more to write about than his CV and my own observations.
His lively answer to my first question ("how old are you" - tactless but necessary as I often forget it) told me that would not be the case.
"BLIMEY! Do I have to answer that?"
Grenfell, 55, was a relaxed and cheery subject, despite describing himself as a "reluctant participant in these types of interviews".
"I'd rather, without noise and fanfare, get on and do the job."
He gave reasons for his reticence on a few topics, among them his views on issues publicly dogging Tauranga City Council.
From the outside, the city appeared to be "creaking" under the pressures of growth, he said.
"I'll be able to give you a better idea after I've been in the job three or four months. For now it's about going in there without predetermined views and being open to what I see and hear."
Bella Vista?
"Things are what they are. I can only draw some views at this stage from the outside looking in.
"It will only be when I get in among it that I can understand the true state of the various issues and challenges the city faces."
He said he did not believe it was the chief executive's role to come up with a vision for the town. That was for the community to decide with its elected members.
"I'm not employed to lead the city on a visionary mission. I'm employed to develop an organisation that can deliver on the city's vision."
He wouldn't reveal any cracking tales about his time fighting crime on the front line, either.
Why top cop chose councils
Grenfell was raised in the Hutt Valley, north of Wellington City.
He grew up playing rugby and was encouraged to join the police by a couple of older guys on the team.
"As a young man it sounded like an exciting thing to do."
He spent the first dozen or so of his 21 years on the force moving around the country, shifting between the investigative and uniformed branches, seeing "the best and worst" of New Zealand society.
The career provided great opportunities for his family, he said.
A father of four now-adult children, married to Clare for 32 years, he did not mind the shift work of those early years too much as it provided family time a day job would not.
He moved up through the police ranks to become Wellington's area commander - a prominent role in a "highly political environment".
One of the people he worked alongside was then-Wellington City Council chief executive Garry Poole.
After Wellington, Poole led Tauranga City Council for five years before elected members, seeking a change of direction, chose to drop him this year and hire Grenfell.
Back in their Wellington days, Poole played a role in setting the policeman on the path to local Government.
In the late 1990s, Wellington's downtown had a bad reputation, with a public survey finding only 35 per cent of people felt safe there at night.
Poole and then-Wellington mayor Mark Blumsky went to see Grenfell. The two organisations agreed to work together on the problem, implementing 31 initiatives in three years before conducting another survey.
The number of respondents who said they felt safe at night jumped to 70 per cent.
"It got me thinking about what can be achieved when two large organisations find that common ground and put their effort into it," Grenfell said.
"That got me interested in local government and its ability to impact communities."
The tipping point came a couple of years later after a six-week immersion in one of the most motivational environments on the planet: an Olympic village.
Grenfell travelled to Athens on secondment to the New Zealand Olympic Committee in 2004.
"Imagine spending six weeks living in the village, eating, sleeping, going through a daily routine with a couple of hundred people who were energised, who were positive, who wanted to get out of bed every day and be bigger, faster, stronger.
"I came back from Athens questioning whether I was challenging myself or whether I was just going through the paces."
He decided to give local government a crack and took two years' professional development leave without pay.
He took a job with Upper Hutt City Council in 2005, then, leaving the police safety net behind, in 2008 he took a more senior role with the Hutt City Council.
Whakatāne honeymoon
The move to Whakatāne District came in 2011. Grenfell described his seven years as the organisation's chief executive as "one big honeymoon".
"I sometimes quip that in this role I feel semi-retired. Not because of the lack of demand on the role - it's so dynamic and changing - but because of the quality of the time spent outside this job."
Every so often he would duck out early and go fishing.
"I'd go and take the tinny out off Ohope. I'd spend a couple of hours out there in solitude catching tea."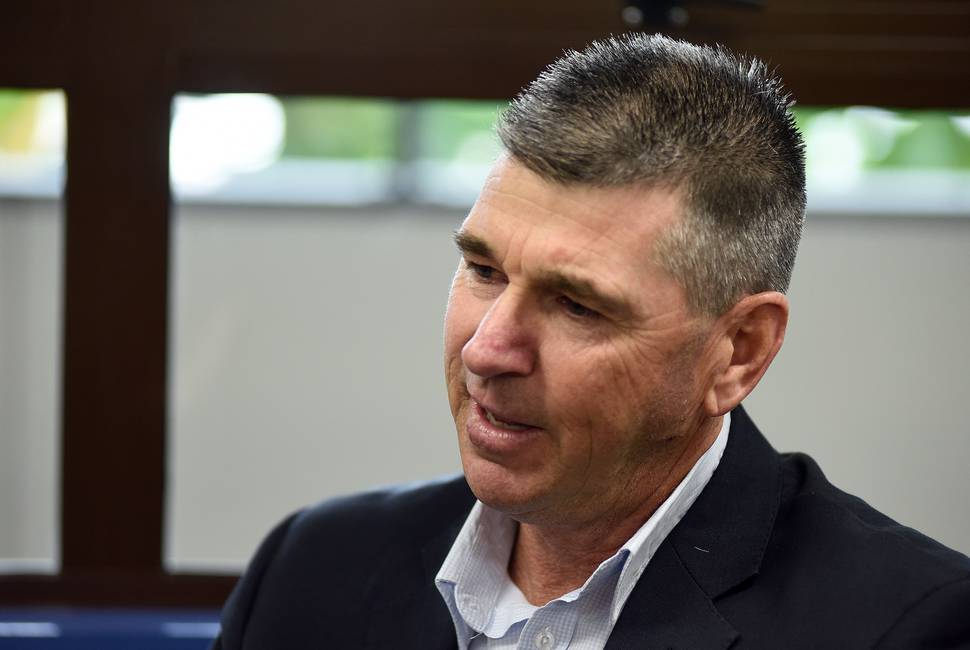 He and Clare lived on a 2ha block they were developing. It overlooked Ohiwa Harbour, the Ohope spit and out to sea.
"She's a far cry from opening the curtains in the Hutt Valley where you'd be seeing the mist and the clag and the hill."
He spent weekends building fences and retaining walls or on the end of a hedge trimmer.
"That's a release for me, to spend a weekend slogging my guts out on the property."
The kids having flown the coop, for their move to Tauranga the couple sought out "a little love shack" in Mount Maunganui.
Grenfell said they were looking forward to seeing what opportunities the bigger city had to offer - including the fishing - but he wanted to make progress on the work front first.
"I'm going into a job that's going to be very demanding. Unless I can get that right, I don't know how much I'll be able to enjoy anything else."
Edgecumbe
Grenfell's time in Whakatāne was not without hard days.
April 17, 2017, was one of them.
Early that Thursday morning the flood-swollen Rangitaiki River pushed through a 44-year-old flood wall and forced Edgecumbe's evacuation.
Grenfell had started work at 7am after about two hours sleep; the previous night spent monitoring a flood threatening Whakatāne township as Cyclone Debbie bore down.
The town made it through the night, but Grenfell felt it was not over.
Then came the call that the Edgecumbe flood wall was looking vulnerable.
"We called for the evacuation of that town minutes before that wall went.
"It was more a self-evacuation supported by services, as opposed to an evacuation by services. It was remarkable that it was achieved without loss of life given the devastation to some of those properties."
The job that followed was a tough one. About 315 families could not return to their homes. Many were angry and looking for someone to blame.
"When you go through a situation like that the whole team approach is so important," Grenfell said.
"It's about how an organisation responds and draws on its resources, and the sense of common purpose as you respond and work to get the community back on its feet."
Grenfell said the council was still working with around 30 families who either could not or did not want to return to their homes.

On leadership
Asked about his leadership style, Grenfell said he liked to think he was "reasonably inclusive".
"I've learnt that leading from the front and not taking people with you can be a lonely and vulnerable place to be."
Leading by example and symbolism were also important, he said.
Among the photos on the wall facing his desk was an image the smiling, sweaty 153-strong team the council fielded in the 2015 Sovereign Tri Series event in Tauranga.
"We were recognised as having the greatest participation of all the organisations in New Zealand and awarded a $25,000 prize."
He pointed out another photo of the big cheque being handed over.
"We donated it to the Kirsty Lang Family Trust. Kirsty worked with us for a number of years. She was the breadwinner of the family, and she died of cancer probably six months before that event. We were able to donate that cheque to her husband and two children.
"I guess it's about giving people a common purpose, energising and motivating them to achieve it and then celebrating afterwards."
Nearly two decades ago, he saw two speakers who showed him the kind of leader he wanted to be.
They were Hekia Parata and Pita Sharples, giving commentary, he said, would have been considered radical at the time.
"It made many in the audience uncomfortable, but what I saw in them was two speakers who spoke with absolute belief and conviction,'' he said.
Another person also spoke, and Grenfell says you could tell they were saying words they hadn't written and didn't believe.
"If you had to compare who you would follow, I'd follow Hekia and Pita in a heartbeat."
Letter writers, take note
In Whakatāne, Grenfell sought to build relationships with the council's "protagonists".
"When I first started I tended to pick up the phone and track down people who wrote letters to the editor and say let's catch up and have a cup of tea; I'd like to discuss your letter.
"Tony, the mayor, and I used to go to these morning tea meetings where it became an opportunity for people to queue up and vent.
"Seven years ago there might be a dozen or 15 people lining up ... now we have to go and solicit people to come and have a coffee with us."
He imagined his first few months in Tauranga would involve "a lot of hot drinks ... and doing a lot of listening".