Voting is open to decide which of the seven Indulge Ultimate Makeover competition finalists wins a pamper package from Hair to Stare At
Annemarie Quill catches up with the finalists after their makeovers.
Seven women from the Bay took part in the Indulge Ultimate Makeover competition last Saturday, having a hair and makeup makeover day at Hair to Stare At salon in Bethlehem, which has just expanded to include a beauty salon along with its hair salon.
The seven finalists were chosen by Corina Conn, owner of Hair to Stare At, along with the team from indulge and The Hits and ZM radio stations.
Owner Conn said they were all deserving for different reasons and it was going to be tough to pick an overall winner.
That decision will be left to the public vote. The public will be able to vote for their favourite finalist until June 15.
The winner will receive an Ultimate Girls' Day Out pamper package at the new Hair To Stare At salon for themselves and five friends, and two runners-up will win a free cut and colour.
The winner will be announced on June 22 on The Hits Bay of Plenty daytime show with radio announcer Will Johnson, along with Conn.
Conn has met many women who have struggled for "me time" among commitments of children, family and work.
She says making time for yourself is important for wellbeing and confidence.
"Everyone knows how good you feel even just after a haircut or blow dry or getting your brows done. Everyone deserves to be pampered, not just for the look on the outside, but how it makes you feel."
Jemma Bidois, 34
Te Puna
Mum and admin assistant Mother of five Jemma suffers from chronic myeloid leukaemia which she was diagnosed with nine years ago when she was a mother of one and pregnant with her second child.
"It was a shock diagnosis which came up in an antenatal screening, and they expected me to terminate so I could begin treatment. I said no way that is not an option. A month later I found out that my second baby was actually twins."
She started treatment when they were just 8 weeks old and continues with oral chemotherapy today. Her eldest is 12, the twins 8, and she has had two more children, aged 4 and 8-and-a-half-months.
Her condition causes constant fatigue but she still works part-time. "I have good days and bad days, but I love being a mum."
Jemma says she would like to win the prize to pay it forward to her friends.
"It is not like I am temporarily unwell - I will be like this forever and I have amazing friends who are always there for me, help out when I am tired, with the little things that mean so much."
Krystle George, 35
Te Puke
Mum and healthcare assistant Mum of two Krystle is busy planning her wedding to Cameron (Cam) in January next year who surprised her with a proposal by enlisting her daughter to help pop the question.
The wedding will take place at Oropi Hall and while that and the dress are sorted, Krystle has the big issue to sort out for the day - hair for herself and three bridesmaids.
She said the makeover competition was a good opportunity to get ideas as the salon offers wedding packages both for the big day itself and hen's and pamper parties.
Sulu Delaibatiki, 34
Tauranga South
Mum and night worker Mum of four boys Sulu has been juggling working nights but recently had to give up work due to childcare commitments.
She was nominated by her friend who says Sulu never does anything for herself and is fully focused on her kids and in any spare time helps others.
Kylie Furlong, 32
The Lakes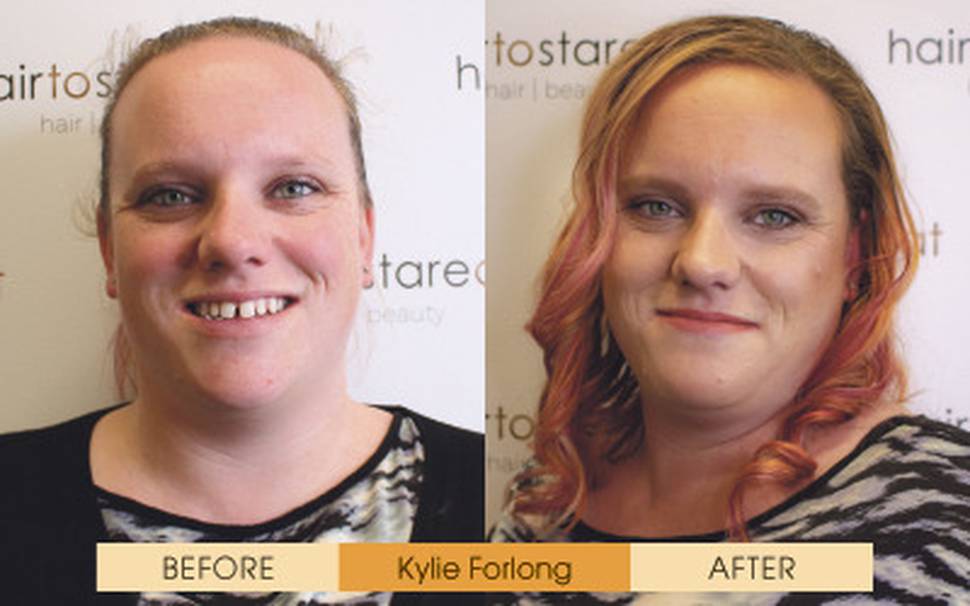 Mum and teacher Kylie actually nominated her teacher friend Holly for the makeover.
"She had hurt her back and I thought she deserved some pampering."
But when Holly got the call, she turned it around and said she wanted Kylie to have it.
A fulltime new entrant teacher, Kylie has a 6-year-old son and a 2-year-old daughter.
"Yes, that means I am with children often more than 14 hours each day so it can be exhausting sometimes, but I do love kids so that is good."
Life has been trying for her son who has recently been diagnosed with ADHD and Asperger's.
The family has recently been fundraising for him to have a therapy dog. The labradoodle, Murphy, is bred by a local breeder as a placid dog and Kylie hopes her son will be able to take him to school for support.
She says the makeover has been a lovely break. "As any mum knows it is always full on so it is nice to get some me time."
Renee Hollard, 36
Pyes Pa
Mum and part-time personal assistant After her marriage fell apart, Renee put her focus on keeping life as normal as possible for her children, 8 and 9. She has an amicable relationship with her former partner, but says for a while she had lost herself, piling on weight since having children.
"It just crept up."
In the last year she has lost 30 kilos and is now focusing on healthy eating and exercise, "doing something for me".
Looking back at what a tough time she went through, she and thinks women need to learn to be kinder to themselves.
Summa Ottley, 24
Maungatapu
Early childhood teacher Summa has suffered from crippling eczema since she was 15, which affects her life.
"I have to watch my diet and stay away from dairy and wheat, and also choose clothes carefully - anything in wool would be too itchy."
The itchiness is debilitating and she can suffer from extreme flares. As a teenager it eroded her confidence and it still affects her, although over time she has built resilience.
"It is why I like working with young children too, to help them grow self-esteem and see life is not about looks, even though I know first-hand it is hard not to care what people think and feel self-conscious."
She says she sometimes still feels people are looking at her, and relies on good makeup to cover her symptoms.
"I get dark circles and have scars so makeup gives me confidence."
Tassia Van Rooyen, 41
Welcome Bay
Fulltime mum A busy mum to five daughters, aged 20, 17, 9, 8 and 6, Tassia's first husband and the father of her two oldest girls tragically killed himself. She remarried and had two more daughters, and then the family fostered another baby girl.
Tassia had to give up working when she was diagnosed with Crohn's disease. Around the same time her sister-in-law was diagnosed with bowel cancer and passed away two years ago aged just 36, leaving two children, then just 7 and 4.
It would have been her sister-in-law's birthday on the day Tassia got her makeover.
"Life has been hard with so much grief and loss, but happy times too with all the girls."
On just one wage with a busy family and a chronic illness, it is rare Tassia has time to herself. This year she has had two surgeries but is upbeat about the future.
"I feel very looked after today, and it is lovely just to sit and relax with other women."