Bay of Plenty is one of six "surge" regions identified as needing early investment in a $3 billion regional investment fund unveiled by the Government yesterday.
Tauranga and Bay of Plenty leaders have welcomed the news and have outlined what they think the local priorities should be for future fund projects.
The structure and first projects under the Provincial Growth Fund were announced in Gisborne by Regional Development Minister Shane Jones, Prime Minister Jacinda Ardern, NZ First leader Winston Peters and a cohort of other ministers.
Bay of Plenty did not have a specific package announced yesterday, but a spokeswoman for Jones said there would be Bay of Plenty announcements in the coming weeks.
Western Bay mayor Garry Webber said the regional initiatives the district council was most concerned about involved the Western freight corridor – both road and rail – into the Port of Tauranga, State Highway 29 over the hills from the Kaimai Range into Tauranga, and parts of the Tauranga Eastern Link.
"If you want freight to get to the port, we really have to do something regionally to make sure the port doesn't end up as Auckland is now because they didn't think about it 50 years ago."
He said the council had been meeting with MPs and politicians regularly about the area's biggest issues "to make sure we're up there ahead of everybody else".
There is likely to be a closer investigation of a commuter rail link between Tauranga, Hamilton and Auckland – the so-called Golden Triangle – as part of the new fund.
Tauranga mayor Greg Brownless said fixing roads and transport in Tauranga were more of a priority, especially the intersections causing the city's traffic congestion.
He said those issues were "choking the city up" and while the commuter rail link would be great long term, it was not the short-term solution that was needed.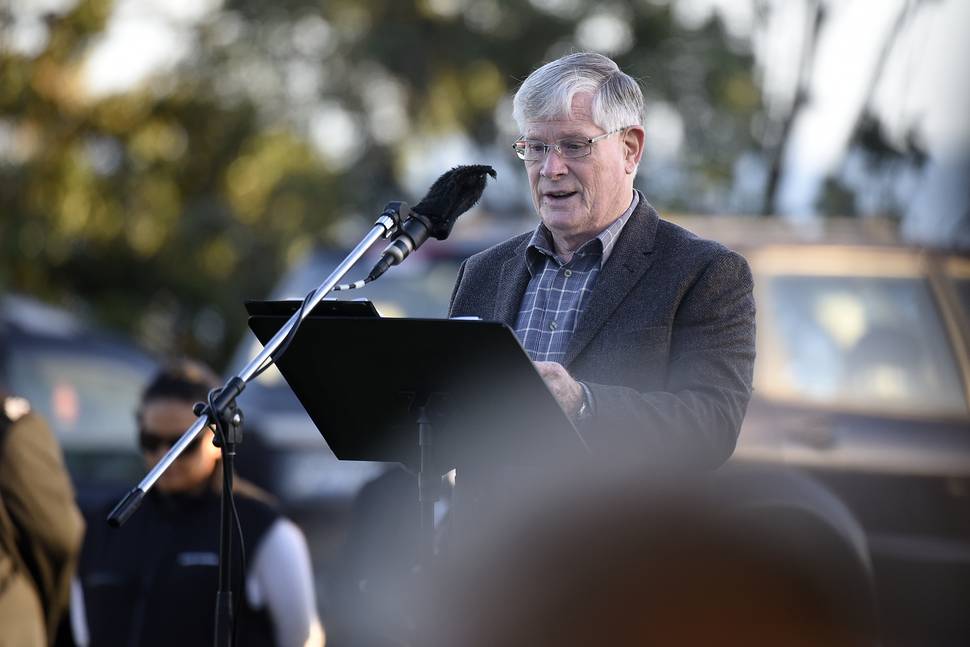 Something that did get the green light yesterday in Bay of Plenty was $250,000 for a feasibility study for rail in Kawerau.
The study would look at options for creating an inland hub to connect exports from Murupara and Kawerau to rail.
The Provincial Growth Fund kick-started with $61.7 million worth of grants and the first regions to benefit from it were Northland, East Coast, Hawkes Bay, Manawatu-Whanganui and the West Coast of the South Island.
All provinces are eligible for funding (outside the three main cities), but particular priority will be given to those five regions as well as Bay of Plenty.
The $1 billion-a-year fund is aimed at boosting growth and creating jobs in the regions.
Jones said the fund of $3 billion over three years was now "open for business" and yesterday's announcements were just the beginning.
"We are being bold, and we are being ambitious because this Government is committed to ending the years of neglect. Nearly half of us live outside our main centres. If this country is to do well, then our provinces must thrive."
He said the first round of projects would create more than 700 direct jobs and 60 indirect jobs. Once private sector investment was included, it should equate to more than $344 million of investment.
Jones also announced a working group on trucking and rail in the upper North Island would investigate the future of the Ports of Auckland and whether Northport was a possible replacement.
Nigel Tutt, the chief executive of economic development agency Priority One, questioned why the Port of Tauranga was not part of that investigation.
"Particularly given it's the most efficient and best port in New Zealand. Why would you do that when you've got a fantastic deep-water port here that has all the transport links around it already?"
As for future fund projects, Tutt said his agency would be putting forward some proposals in the next month.
"We're a growth region but we still need government investment, so we are after projects that develop highly skilled jobs and boost high-tech initiatives in the economy."
Chairman of the Bay of Connections regional growth strategy Doug Leeder said the region stood to benefit significantly from the fund.
He said there were also opportunities for Bay of Plenty to capitalise on "the ambitious target" to plant one billion trees.
Jones said yesterday up to $180 million of the $3 billion fund would end up being spent on his plan to plant one billion trees over the next 10 years – and it could see some Landcorp farms converted to forestry.
He said after the Budget in May the new Forestry Service, to be located in Rotorua, would be established.
-Additional reporting NZ Herald