Business owners near the site where an elderly woman was killed while crossing 9th Ave say the road is a busy one that needs a controlled crossing.
Molly Heapy died on Thursday after being hit by a four-wheel-drive while riding on her mobility scooter, exiting the Cameron Rd roundabout on 9th Avenue.
The collision happened shortly before 12.30pm on February 15, and, despite efforts to try and save her, the 90-year-old woman died at the scene.
Some nearby retailers said traffic lights in the area were a must.
Tauranga City Council spokesman Marcel Currin said the council planned to erect traffic lights at the intersection of 9th Ave and Cameron Rd to create safer conditions for everyone.
The project, which had already been in the pipeline, was still in the design phase and had been scheduled to commence in the next financial year, he said.

Acting Senior Sergeant Wayne Hunter, said the Serious Crash Unit was continuing to investigate the exact circumstances surrounding the crash and it was too early to say whether the vehicle driver would face charges.
"Police offer their sympathies to the friends and family of Molly at this sad time."
Bunches of flowers were left at the scene of the crash yesterday, including red roses.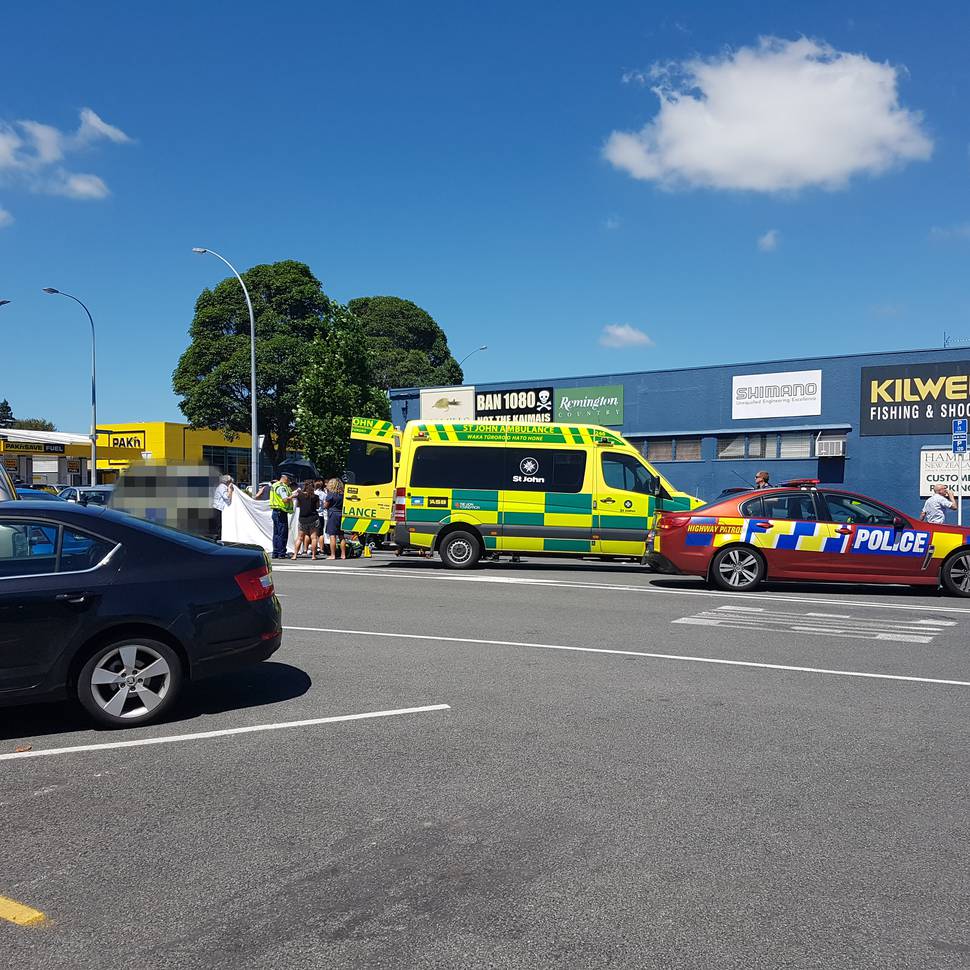 Sian Rowlands, who owns The Hair Co. Tauranga salon and helped at the scene, said this was a "dangerous intersection" and something needed to be done.
"It was horrible and so sad as the lady was bleeding heavily and we all tried to do something but nothing could be done to save her," Rowland said.
Lauren Cooke, owner of the Gluten and Allergy Free Shop on the corner of 9th Avenue and Cameron Rd, said there had been so many close calls outside her shop.
She and her customers "cringed" every time they heard brakes screeching or a loud bang.
People crossing this road often felt unsafe including herself and the speed of some vehicles was "scarily" fast, Cooke said.
"I often have to run to get across in time ... It's just a bad intersection and it definitely needs to have a controlled crossing," she said.
"Putting in traffic lights may be a pain the arse for some people but we have to do something to slow the traffic down so the area is safer for everyone," Cooke said.
Hamills New Zealand store owner Stacy Whiteman said traffic lights were a priority to make the area safer for everyone and to help slow motorists down.
A funeral service for Molly Heapy will be held at the Hillsdene Chapel, 143 13th Avenue on Monday from 1pm, followed by a private cremation.