Two serious crashes and multiple minor incidents on the road in Tauranga over the weekend have emergency services urging people to drive to the conditions.
Western Bay of Plenty acting head of road policing Sergeant Wayne Hunter said there were several minor crashes which involved people not driving to the conditions – not keeping their distances and travelling "far too fast" in wet weather.
"We had several where people lost control going around roundabouts because they're just pulling out of them too fast."
Read more: Three people hospitalised after two-car serious injury Tauranga crash
Serious crash shuts down on Tauranga highway
On Sunday three people were taken to Tauranga Hospital – one in a serious condition and one in a moderate condition – after a two-vehicle crash near the Poike roundabout.
A stretch of State Highway 29a was closed for several hours as a result of the crash, and it is understood firefighters were called to assist in cutting a person out of a vehicle.
"Drive to the conditions, if it's wet, allow more distance and also reduce your speed," Hunter said.
The Fire Service's Bay of Plenty coast area commander Murray Binning said he received feedback from an officer who was concerned about some of the crashes he attended over the weekend.
Some of the incidents were as a result of excess speed and excess alcohol, he said.
"We don't give out driving messages or safe road messages, that's the job of the police, but Fire Service inevitably become involved in these incidents and end up picking up the mess," Binning said.
"So we're as concerned about it as police obviously.
"It was a wet weekend in the Bay of Plenty and people still go about their business and drive normally as though they're driving on dry roads, but they're not. They're driving on wet roads and sometimes in quite dangerous conditions."
Another serious crash on Sunday on Turret Rd left one car on rocks.
A witness said the car was travelling west when the driver allegedly attempted a U-turn into the eastbound lane and collided with another vehicle.
It was pushed towards the edge of the road and ended up nose-first down the causeway's rocky breakwater, the witness said.
Meanwhile, a car went off the road and crashed into a power pylon in Greerton yesterday.
No one was injured in the incident, which occurred on Oropi Rd at the intersection of Fraser St and Glenlyon Ave just before 1pm.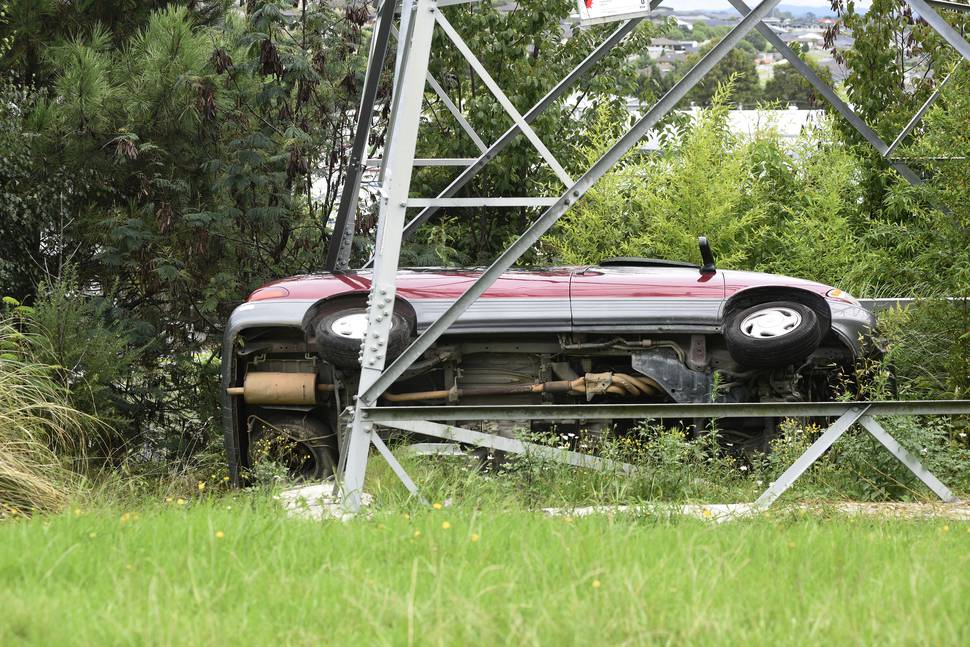 The NZ Transport Agency reminded all road users in the Bay of Plenty to take extra care during wet weather yesterday.
It said contractors were out checking all flood-prone areas and were monitoring roads for potholes.
The agency's journey manager, Nigel D'Ath, said road users should plan ahead and check weather and road conditions before they travelled.
"...choose the safest route if you have the option and if possible avoid travelling in extreme weather and road conditions," he said.