Mana was the theme at Tauranga's Waitangi Day dawn service as optimism about the future rose with the sun.
A crowd of hundreds gathered at Hopukiore (Mount Drury) to mark the birth of modern New Zealand and the signing of Te Tiriti o Waitangi in 1840.
"Mana is a Maori term used to describe power, prestige, authority and for the purpose of today's event, we use mana to express leadership," master of ceremonies Turi Ngatai told the crowd.
There were people of all ages and ethnicities gathering on the grass bank overlooking the podium, with waves rolling in behind it at Mount Main Beach.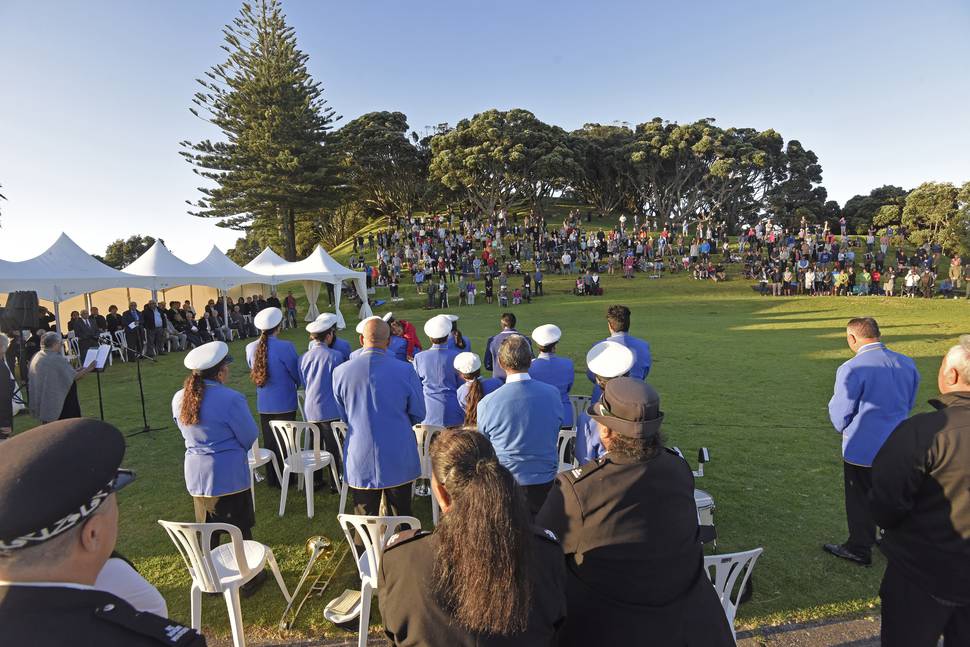 To the east, a fiery orange sunrise lit up the morning.
"We set a clear intention of mana or leadership in this year's celebration of Te Tiriti o Waitangi here in Tauranga Moana," Ngatai said.
"Today we gather together under the mana of the signing of Te Tiriti o Waitangi. Today we honour and remember our leaders that signed the agreement to bring together two peoples in peace."
The Ratana Band got things under way about 6.30am and a mihi whakatau (greeting speech) by kaumatua Kihi Ngatai followed.
There were karakia (prayers), hymns and church blessings.
There were also speeches by some of the city, community, civic, iwi and rangatahi (youth) leaders.
Tauranga's mayor, Greg Brownless, said in terms of his own commitment to mana and leadership, he saw the importance of having better working relationships with iwi, hapu and tangata whenua.
Western Bay mayor Garry Webber urged everyone to commit to adding their own leadership skills and mana to empower communities to work even harder to build "an even better New Zealand".
Councillor Matemoana McDonald, who represented the Mauao Maori Constituency and attended on behalf of the Bay of Plenty Regional Council, delivered a speech that touched on the ongoing debate surrounding Maori wards.
"I would like to start with Maori representation on local government – a topic which has become the focus of public and media discussion."
She said the regional council was proud to have led the way in New Zealand for Maori representation, having been the first to create Maori wards which led to the election of three Maori ward councillors.
"Twelve years later, the contribution that these Maori councillors continue to make for the betterment of our environment and our people – both Maori and non-Maori – surmounts any perception that this representation is a recipe for apartheid and separatism."
Following the speeches, an open forum allowed people in the community to share their own reflections and hopes for the future and several people took the opportunity to do so – both in te reo and English.
Ellis Bryers, when he got up to speak, believed te reo would be spoken in every school in New Zealand.
"But it's not going to be driven by government and someone saying you have to do this, the choice is from not just the schools, but the community themselves."
The singing of the national anthem, performances by Waiata International Group and Ratana Band, and some final words by kaumatua Huikakahu Kawe closed out the event.
Sitting on the grass bank: What does Waitangi Day mean to you?
"I believe the Treaty of Waitangi is the founding document of New Zealand, so it's important to celebrate it, just as we would celebrate Anzac Day. It's important to recognise that it's a national day and to be a part of it."
Marian Nielson, 44, Welcome Bay
"It's important to us because it keeps us close to our heritage and our culture. It helps us see what our ancestors went through to get us to where we are now."
Te Awhitu, 20, Kawerau
"I'm here because I feel like I need to pay more of an interest in Waitangi Day and the cultural significance behind it. I just feel like it's more of a respect thing as well – honouring it and everything."
Zara Smith, 22, Brookfield
"We're here to support our national heritage. It means to us that we are all honouring the Treaty and it's for everybody concerned."
Brent Borell, 59, Te Puna