Tens of thousands of visitors who poured into Tauranga have contributed to one of the city's biggest and busiest weekends of the year.
Tauranga's accommodation providers were bursting at the seams as crowds of people arrived for the 177th celebration of Auckland Anniversary Weekend. The long weekend provided an action-packed lineup of events while sunny weather also played its part.
Accommodation New Zealand Bay of Plenty chairman Tony Bullot said the city had sold out of beds with many people enquiring at the weekend forced to look elsewhere to stay.
Read more: Bay of Plenty mayors happy to share Auckland Anniversary
Survey reveals falling confidence in Bay of Plenty's economic prospects
"We are full. Everybody's happy. The only frustration is that it would be nice if the events would be spread out. There's a lot of big events on."
Such events included sold-out One Love festival, the packed ENZED Stadium Jet Sprints Cup and the T20 cricket match between the Black Caps and Pakistan.
"The One Love festival is enough to full Tauranga on its own anyway," Bullot said.
The music festival offered camping at Baypark Stadium with buses to and from the festival.
Many of Bullot's customers were people who went to the festival last year and booked ahead for this time around, he said.
Bullot said some accommodation providers were careful with who they picked because they sometimes brought a "party crowd". Some providers also only accepted bookings if they were for two or three nights only.
"People tend to make a pretty full weekend of it, eating and drinking. Most of them, they are coming with friends, and it's a good, fun weekend away."
Tourism Bay of Plenty chief executive Kristin Dunne said the long weekend was likely one of Tauranga's most significant and busiest.
"I would imagine that because it's the last long weekend before the school holidays end and people are taking advantage of the short week," she said.
"It's so great to see so many events on with such a broad range of activity. Whatever you're into this weekend, you can find it - whether you're a petrol head, speed freak or sports fan."
Tourism Bay of Plenty was looking for funding to invest in better research that could accurately reflect how many people were in town in real time. Currently, accommodation figures are provided about a month after the fact, she said.
Mount Mainstreet manager Ingrid Fleming said there had been a great vibe from visitors, particularly athletes competing in the Eastern Regional Championships at Main Beach.
Alfresco dining had been especially popular at night, but eateries and retailers were well prepared, she said.
"It's that time of year, and it's a long weekend. Everybody knows they are going to be busy."
Nearly 14,000 people attended the jet sprints.
Jet sprints event director Pip Minnell, One Love organiser Pato Alvarez and Bay Oval Cricket Trust general manager Kelvin Jones could not be reached before publication last night.
Feeling the love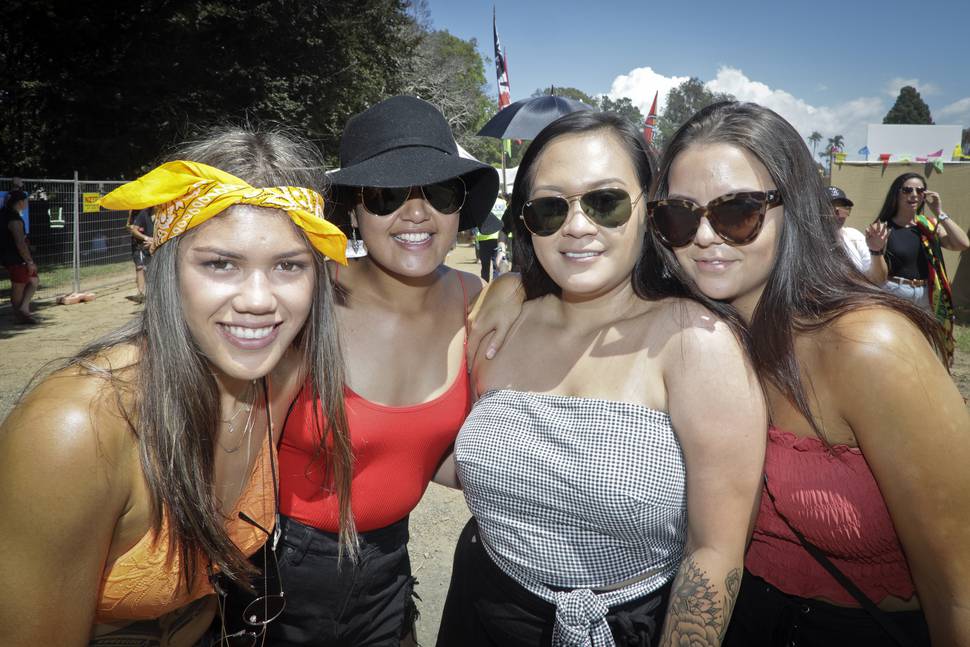 Thousands of revellers braved searing heat to enjoy one of summer's largest reggae and roots festivals in Tauranga at the weekend.
At One Love in Wharepai Domain, people set themselves up on beanbags, foldup chairs, hay bales and picnic blankets to relax and soak up the sweet sounds, eat some great kai, and enjoy the summer of love.
Revellers came from far afield, including visitors to the region from overseas, as well as Kiwis who had travelled to Tauranga for the long weekend from other cities.
Roimata Hipango from Hamilton was there with friends Lily Matenga, Lily Haerewa and Jessie Tamehana, all from Wanganui.
Hipango was dressed in a khaki skirt, knitted orange lace bra and an orange bandana.
"My friend is a stylist, so she got me ready."
The girls were looking forward to seeing all the acts but in particular 1814 and Ardijah.
"We are going to have a great time, the sun is shining, great music, we will have some drinks, dance and get on the remark," said Matenga.
- Annemarie Quill