One of the most important tournaments on cricket's world stage begins in the Western Bay in January.
The ICC U19 Cricket World Cup opening match is between defending champions West Indies and New Zealand under the new lights at Bay Oval. It is one of seven day/night games, including the final, at Bay Oval in the tournament that runs from January 13 to February 3.
Six other venues will be in use to cater for the 16 teams competing across 48 matches in the 12th edition of the tournament and third on New Zealand soil after 2002 and 2010.
Former Black Caps bowler and ICC U19 Cricket World Cup ambassador Kyle Mills was in Tauranga yesterday to promote the tournament. He showed off the impressive world cup trophy and ran skills sessions with Bay of Plenty Cricket junior coach Darrell Leabourn at Greenpark School, Papamoa School and Pongakawa School.
Another school visit is planned for next Wednesday.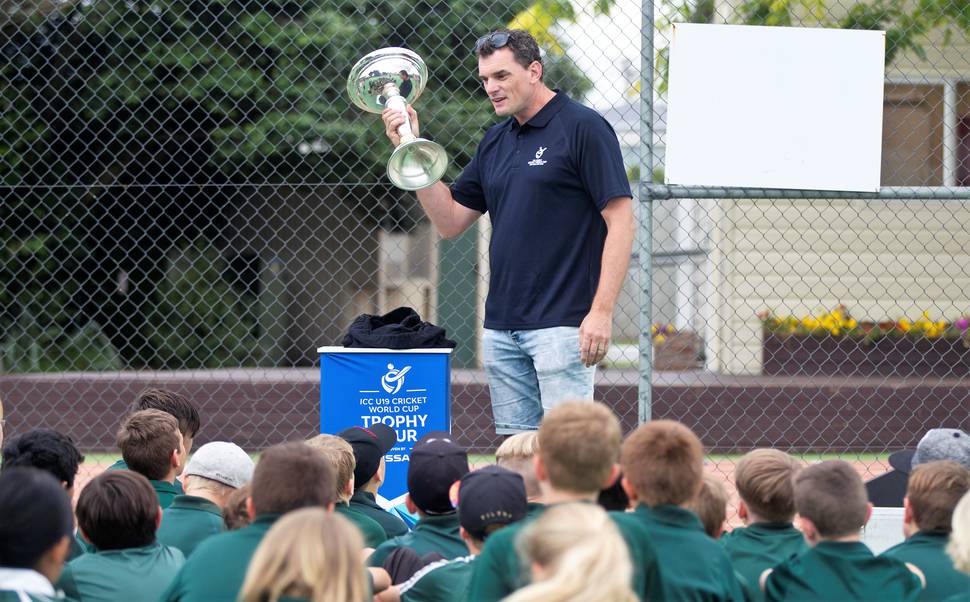 "This is the third time we have held it so New Zealand obviously does a pretty good job at hosting it. The platform of the world cup is amazing as the international stars of the game are going to come through this event," Mills said.
"I was fortunate enough to go through it in South Africa in 1998. It is an added advantage for the New Zealand boys to play at home. For some of them, it will be a stepping stone to greater honours but for some it may be their last international experience."
Past alumni of the tournament include current international captains Steve Smith (Australia), Virat Kohli (India), Kane Williamson (New Zealand) and Sarfraz Ahmed (Pakistan).
Mills remembers playing for Auckland at the old Blake Park venue, which is next door to Bay Oval but light years away in terms of facilities and playing conditions.
"It is amazing the transition and in reality it hasn't been a long time to be in a position now where day/night cricket and international cricket is played there," he said.
"It will give the region a whole bunch more exposure because now New Zealand Cricket has the platform and facilities to have day/night cricket here."
Mills says Black Caps Williamson and Trent Boult, who both went to school in Tauranga, are massive role models for all the kids playing the game here.
"Kane and Trent are not just good cricketers, they are fantastic people and ambassadors for the sport. They're actually world class cricketers as well you know so shows what they are doing down here is pretty successful.
"To come from an area in the age group of these kids we are with today and you see people like (Williamson and Boult) from the same schools you go to and played on the same parks you play at, that must give you huge motivation.
"I am sure the kids look up to those two guys with a lot of admiration."

ICC U19 Cricket World Cup 2018
Bay Oval matches, 50 over, day-night games all starting at 2pm
Sat Jan 13 New Zealand v West Indies
Sun Jan 14 India v Australia
Tue Jan16 India v PNG
Wed Jan 17 West Indies v South Africa
Fri Jan 19 India v Zimbabwe
Sat Jan 20 New Zealand v South Africa
Sat Feb 3 Final