Some of the Bay of Plenty's selfless and generous citizens were honoured for their community service at the annual Kiwibank Local Hero Awards in Tauranga.
Twenty-one locals, including 10 from the Western Bay of Plenty, were presented with their Local Hero medals by mayor Greg Brownless at a special ceremony at the Classic Flyers Museum tonight.
These awards are part of the 2018 Kiwibank New Zealander of the Year Awards which will be announced at a gala event in Auckland in February.
Among the Local Hero Awards recipients was Emirates Team New Zealand America's Cup helmsman Peter Burling, who is currently competing in the Volvo Ocean Race .
Heather Burling, who collected the award on her son's behalf, said it was humbling for him to be honoured among so many "amazing" other recipients.
"It's amazing so see so many people here today who have made such a fantastic contribution to their communities, especially for the Bay of Plenty," she said.
Percy Jones, 93, from Otumoetai, said he was humbled and honoured to have received this award for doing something he loved.

Jones finds time to consistently give back to the community in any way he can, including being involved with the Otumoetai Community Garden for six years.
Among the well-kept garden is an area called Percy's Lane where he has grown passionfruit, parsley and sweet peas which he gave away to other people.
"I'm more at home in my garden and just love sharing what I know with other people."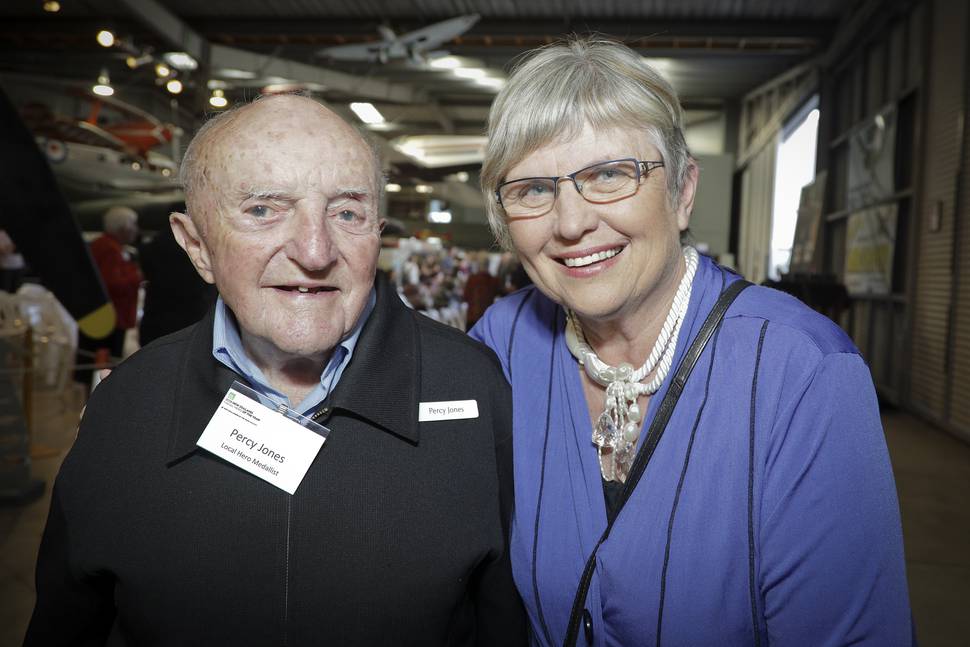 Councillor Catherine Stewart, who nominated Jones, said he was the sort of person who "flew under the radar" and did not like to seek the limelight.
"Percy is a quiet, unassuming, gentle sort who is an amazing, generous senior citizen who richly deserves this award," she said.
Whangamata stalwarts Ian Feasey, 79, and Diane Norris, 74, said they were "stunned" when they learned they had been nominated as local heroes.
Norris was recognised for her tireless work as organiser and mainstay for Alzheimer's Waikato Support Group, Whangamata Community Church, and regularly visiting the sick.
"I don't do this to receive awards, I just love helping other people. I'm really shocked and humbled to be recognised for doing something I enjoy," she said.
Feasey's award recognised his involvement with Lions Club of Whangamata, Waireka Place Reserve and Whangamata Senior Net group over more than three decades.
"I feel really humbled, particularly when I see lots of other deserving people out there who should have got awards too," he said.
Brownless described this year's recipients as "selfless, loving and dedicated" people" who have all affected our community in unique ways.
The positive difference they have made to the lives of other cannot be understated, he said.
"Many of these medal winners are unsung heroes, whose selflessness has had a profound effect on the lives of so many in the community."
The other 2018 Kiwibank Local Heroes for the Bay of Plenty are:
Local Heroes Tauranga: Bob Mankelow, Youth Search and Rescue stalwart; Denny Spee, Tarnished Frocks and Divas; Steve Campbell, Youth Search and Rescue founder and several other volunteer roles; Marty Hoffart, co-founder Environmental Education for Resource Sustainability Trust; Shaun Smith, lifeguard; Leona Smith, fundraiser of events such as Ladies Long Lunch and the Tauranga Police CIB Charity Auction; Donal Boyle, lifeguard; Cliff Osborne, business mentor and tutor, and health advocate Whangamata and Eastern Bay Local Heroes; Kathleen Young, animal advocate; Dianna Te Riini, Edgecumbe food drive organiser; Lesley David-Jones, St John veteran; Dale Walker, Land S&R member and sports events organiser; Wini Hahipene-Geddes, creator of Ngati Awa Volunteer Army; Berice Julian, Girl Guide captain and sports coach and manager; Joseph Ngametuangaro, youth mentor; Matthew Bryson, Edgecumbe beautifier and teacher; Tautini Hahipene, Ngati Awa Volunteer Army member.