A Tauranga house sold twice within one month for a profit of $70,000 was one example of the nearly 200 homes in the city bought and then resold within a year.
Last year 51 houses exchanged hands twice or more within a six month period, and three were resold within a single month, according to CoreLogic data.
This practice, called "flipping", was loosely defined as properties sold twice or more within a single year for profit.
Flipping can mean buying a property and doing it up or sitting on it for a relatively short time until the market is more favourable and then selling it on.
Interesting examples from CoreLogic included a modest property in Papamoa which was sold on May 6 for $370,00 then resold on June 6 for $440,000 - a profit, or loss, depending how you look at it, of $70,000 in just one month.
The number of houses 'flipped' within a year equated to 4.92 per cent of Tauranga's property transactions in 2016, where high net migration from Auckland and a shortage of housing pushed up prices to an average of $672,000.
However, CoreLogic senior research analyst Nick Goodall said Tauranga was seeing less flipping than during the lead up to the previous housing market peak in 2007.
He said while there had been increased coverage of flipping in the media there has not been a massive increase in the prevalence of flipping.
"This could be in part due to the introduction of the 'brightline test' to ensure short-term capital gains are taxed."
The brightline test applied to properties bought and sold within two years and was to help determine if the gains on the sale of a property were taxable.
Two transfers happening on the same day were called "contemporaneous sales" and were not illegal, but without full disclosure from the real estate agent, it could draw the attention of real estate watchdog the Real Estate Agents Authority, Mr Goodall said.
"For the very short-term it's unlikely any improvements have been made, it's simply a buy, hold and sell - some with intention of doing so, others through necessity," Mr Goodall said.
Flipping in practice was not illegal - though there were ethical concerns if less-educated vendors were taken advantage of.
Property investor and Rent Pro manager Dan Keller said vendors could be left feeling gutted after selling their properties only for them to be flipped and sold for much more.
"It's technically a legitimate business, as long as tax is being paid. Property traders see an opportunity and they capitalise on that."
Mr Keller compared it with buying and selling cars.
"If you buy a property and you improve the value of it, by changing it from a three bedroom to say a four bedroom, then you have put money and sweat into it. Just like if you buy a cheap car and fix it up and sell it on for profit."
Property traders know the market very well, and vendors who have not done their homework or have been given bad advice could be taken advantage of, he said.
Jeremy O'Hanlon of homes.co.nz said in Tauranga's housing market it was tempting for people to speculate on property with a quick buy and sell.
"It's important that we don't vilify everyone who flips property, as there are those who work hard to bring rundown homes to a more liveable standard."
However, vendors looking to buy or sell need to do their research to understand what properties sold for and what nearby homes were selling for.
The Real Estate Agents Authority announced it would be ramping up crackdowns on house-flipping by investing in new technology to track properties which have been quickly resold for huge profits.
Agents who failed to disclose to a vendor any links with future buyers could face misconduct charges and lose their licence.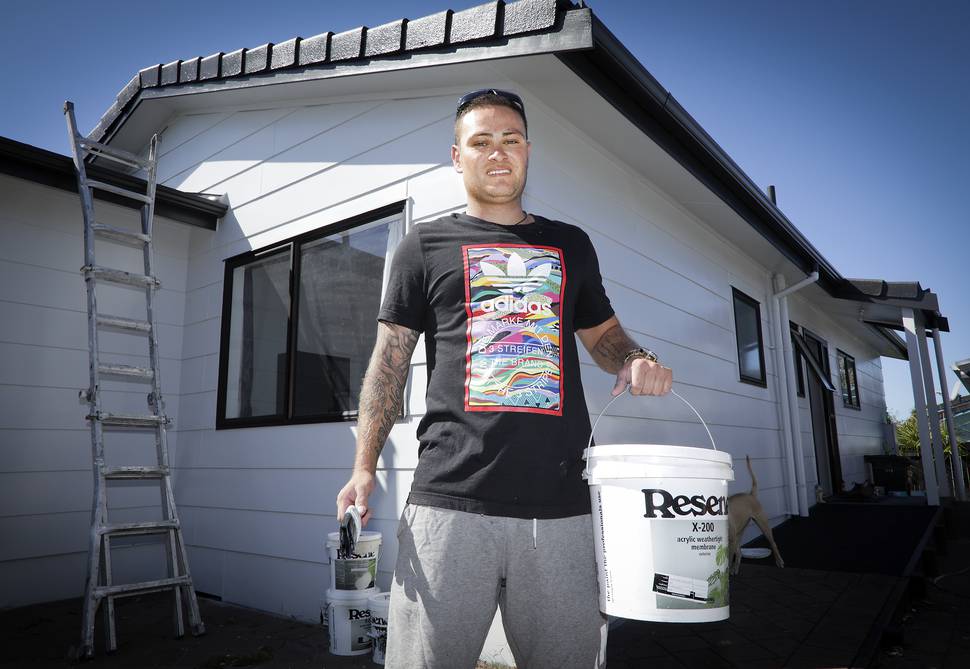 FLIPPED
Ricky Parry bought the Lyn Grove home for $440,000 in June last year - knowing full well the seller was selling it for $70,000 more than he bought it a month earlier.
Buying it was a way for Mr Parry "get my foot on the property ladder."
The three-bedroom, two-bathroom house was going back up for sale next week, looking much different to what it did when Mr Parry bought it.
"It was an absolute dump with yellow walls and horrible lino on the floors."
Mr Parry, a painter by trade, had totally renovated the home and hoped to make a tidy sum reselling it, aiming for $500,000.
While he had been doing it up himself with some help, he and his partner had lived in the house.
He hoped to use the money to buy another place and would not rule out buying another property to do up and sell for a profit.