5.50pm:
The Bay of Plenty men's side have ended pool play on a low note losing 21-17 to Taranaki after leading at half-time.
Bay of Plenty went in 12-0 up at the break after tries from Regan Ware and Danny Kayes - both converted by Rotorua's Isaac Te Aute.
In the second half Bay of Plenty looked shell shocked as Taranaki came racing out the blocks. Taranaki scored three quick tries- two from captain Jason Ormond and Liam Blyde also dived over. Trinity Spooner-Neera converted all three. Bay of Plenty's Ware scored his second off the game with a few minutes remaining but it was too little.
Bay of Plenty men still have to wait to see if they have made the National Sevens Cup quarter finals for tomorrow.
Meanwhile the Bay of Plenty women sailed through to the Cup quarter finals after beating Wellington 33-0 in their final Pool C match - after victory in their other two day one fixtures.
Bay of Plenty were leading 21-0 at half-time thanks to converted tries from co-captain Kelly Brazier, Lavinia Gould and Sapphire Tapsell.
In the second half Bay of Plenty surged ahead with tries from Michaela Blyde and a converted try from Rebecca Kersten. Rotorua's Autumn Stephens who impressed earlier in the day missed her side's final match after sustaining an injury against Hawkes Bay.
Bay of Plenty women will now face the best third place finishers in tomorrow's Women's Cup quarter finals.
Earlier
3.45pm: Bay of Plenty men have won their second Pool C game, beating Tasman 28-17 in a dominant display. Bay of Plenty led 14-5 at half-time after converted tries from Kayes and Te Aute. Tasman's captain Trael Joass slid over for his side.
In the second half Bay of Plenty extended their lead to 28-5 with Ware diving over and Scott Curry - Te Aute successfully kicked both to maintain his accurate conversion rate. The home side then took their foot off the gas allowing Tasman to finish with a more respectable scoreline after tries from Jesse Pitman and Sam Chamberlain.
Meanwhile the Bay of Plenty women's side made it two pool wins out of two - thrashing Hawkes Bay 42-5 in Pool B. They were 21-5 up at half-time thanks to converted tries from Stephens, Blyde and Tapsell with Hawkes Bay's captain Shaylee Tipiwai sliding over.
In the second half Bay of Plenty completed their crushing win with two stunning converted tries from Brazier and Kersten also scored another converted try in the last play of the game.
2.35pm: Latest results. Men's: Tasman def Taranaki 28-19. Wellington def Horowhenua Kapiti 31-7. Auckland def Otago 19-12. Waikato def North Harbour 17-10. Hawkes Bay def Southland 24-21. Northland def Manawatu 33-5. Counties Manakau def South Canterbury 55-0.
Women's: Manawatu def North Harbour 33-5. Waikato drew Otago 12-12. Counties Manukau def Tasman 45-0. Canterbury def Taranaki 24-10. Auckland def Wellington 31-0.
12.30pm: The Bay of Plenty men lost their opening Pool C game 19-17 against Canterbury, in a closely fought contest. Canterbury opened the scoring early on through a converted Jesse Houston try and were leading 12-0 shortly after thanks to Filimoni Waqainabete powerfully breaking through.
Bay of Plenty did make it all square at 12 all at half-time thanks to an impressive converted try from Te Aute and Adam McGarvey also dived over.
In the second half Bay of Plenty pushed 17-12 ahead through Curry who caught a beautiful looped through kick on the try line which Dan Hollinshead converted. But with the clock ticking down Canterbury's Daniel Fransen dealt the killer blow breaking through the middle for a converted try.
In the women's pool Bay of Plenty won their opening match in thrilling fashion against Auckland. They won 24-19, grabbing the victory with the last play of the match.
Bay of Plenty had been trailing 14-0 early on after converted Auckland tries from captain Naill Williams and Tasha Davie. But Stephens scored an impressive try, sprinting down the left wing from the half-way line, converted by co-captain Kelly Brazier. Auckland went in 19-12 at half-time though with Lara Diamond-Brahne touching down on the hooter.
In the second Bay of Plenty's Brazier led from the front and touched down early on before pacy Blyde scored a try to make it 19-17 to Auckland. Then cheered on by loud home support Bay of Plenty kept attacking with Kersten finally making the break through with a converted try in final play.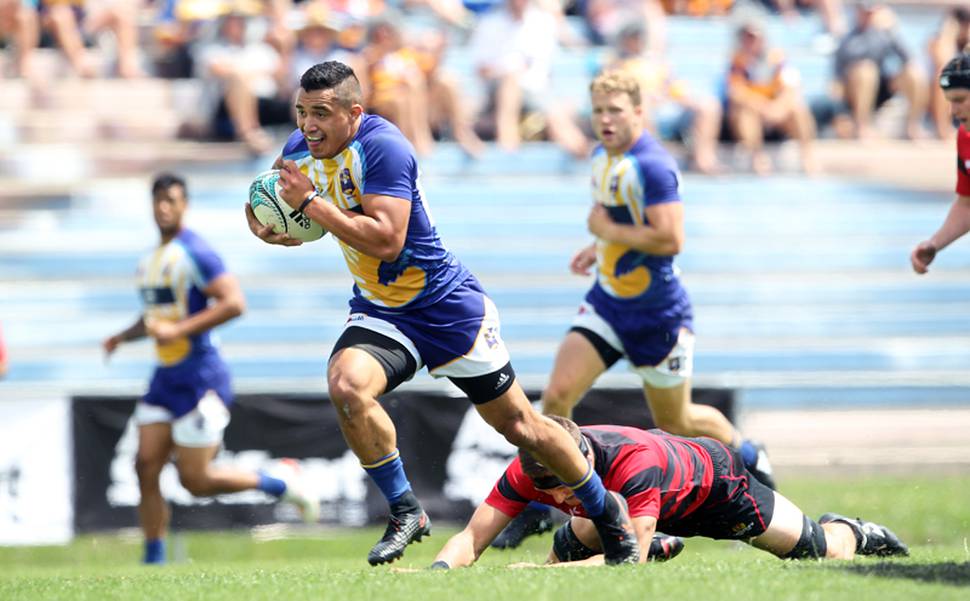 10.50am:
First game in men's Pool A, Waikato have beaten Southland 24-14 and in the women's first match-up Counties Manukau thumped Taranaki 40-5 in Pool C.
Rotorua is set for two days of thrilling sevens action when the 2017 Bayleys National Sevens kicks off.
There will be 28 teams taking the field at the Rotorua International Stadium with the games split between two pitches today and tomorrow.
The first men's pool match will kick off at 10.25am today with on-form Waikato taking on Southland on field 1, in Pool A, whilst in the women's draw Counties Manukau face up against Taranaki, in Pool C, at the same time on field 2.
Bay of Plenty women's team, coached by Victoria Grant, get their pool play underway at 11.25am playing Auckland on field 2, in Pool C.
And the men's team, coached by Paul Tietjens, kick off theirs at 11.45am against Canterbury on field 1, in Pool C.
The official welcome and opening ceremony, which will include all the teams, will certainly be one not to miss and will start at 2.05pm on field 1.
There will also be plenty of familiar rugby faces in the crowd including All Black Nehe Milner-Skudder and Black Ferns Sevens silver Olympic medallist Sarah Goss. For most of the day they will be at the ACC sports smart tent as ACC ambassadors.
Also in attendance will be All Blacks Sevens head coach Clark Laidlaw, who will be travelling from the UK to attend the event and Black Ferns Sevens head coach Allan Bunting with places are still up for grabs for the 2016-2017 HSBC World Sevens Series.
-More to come
Full 2017 Bayleys National Sevens draw here