Temperatures have soared in Tauranga, with one weather station recording 30C.
Lines outside ice-cream shops and parking problems at Mount Maunganui seemed to prove yesterday was one of the hottest for the Bay this spring.
Yesterday, MetService recorded temperatures up to 25.3C at Tauranga Airport, after rising from 23.8C on Tuesday.
Private weather stations across the Bay were heating up too with 26C recorded in Ohauiti, 29C in Omokoroa and Te Puke and 30C in Welcome Bay.
Private weather stations are monitored by members of the public but temperatures are listed on MetService.
Pam Tapp drove over from Matamata to spend time with her granddaughter Maddi at Pilot Bay yesterday.
It was first real beach day for Maddi, 20 months, from Ohauiti.
The family built sand castles, blew bubbles and basked in the sunshine.
"We have been loving the sun after the long winter, it's the first real summer day for Maddi," she told the Bay of Plenty Times.
Mount Maunganui had great resources for its locals and she would come over a lot more over the summer to spend time with Maddi, she said.
Really, it's no different from driving down from Katikati or Te Puke, it only takes between 35 and 40 minutes. It's been a gorgeous day.
"Everything comes alive when the sun comes out," she said.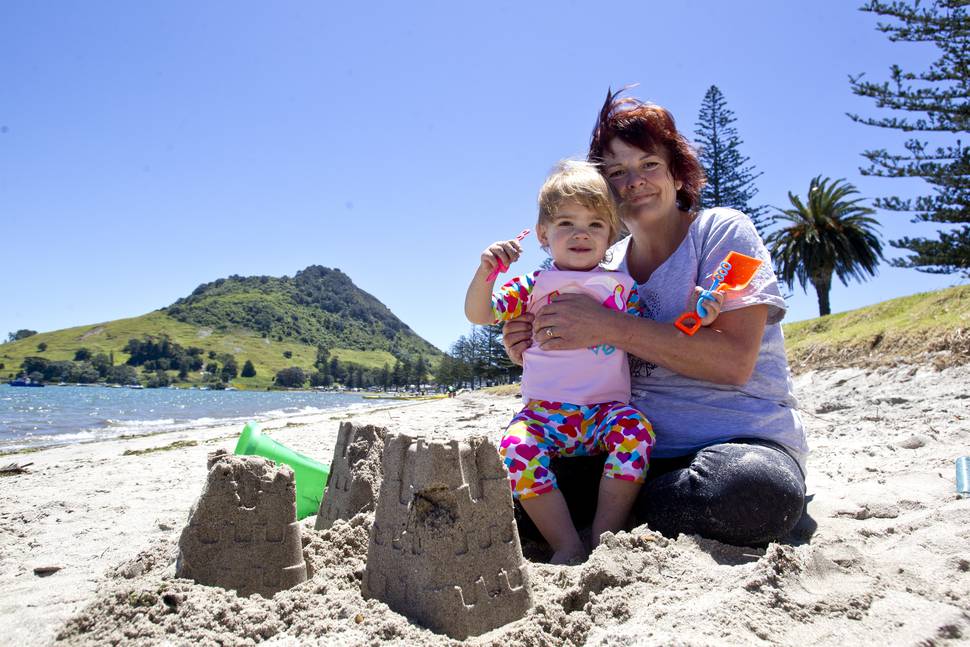 Four-year-old Lucy Evemy was also seen splashing around in the waves at Mount Maunganui Main Beach.
MetService Meteorologist Claire Flynn said MetService recorded a high of 25.7C at Tauranga Airport on Wednesday.
Yesterday reached 23C with Thursday's temperature supposed to drop back down to 22C and 20C on Friday.
Ms Flynn said the hot weather had moved across to the top of New Zealand from Australia and should stick around until Friday when morning showers and afternoon rain was predicted.
Temperatures were about normal for this time of year, she said.
Monte Gelato gelato technician Jamie Vuglar said there had definitely been an increase in gelato lovers since Sunday.
The busiest time for the Mount Maunganui based shop was between 1 and 2pm, straight after lunch.
"There is so many people around at the moment, we've sold a lot of ice-cream over the last few days."
Another Monte Gelato gelato technician, Amanda Harvey, said their busiest time of year was normally between December 26 and January 10.
The wet, warm weather this year meant the busiest winter for the store since it opened eight years ago, she said.