Friends and family are what keep 101-year-old Tauranga resident Gwen Walker going.
Surrounded by flowers, cake, balloons and a big crowd of friends and family, Mrs Walker celebrated her 101st birthday yesterday.
The dining area of Aspen rest home in Tauranga was packed for her birthday bash and Mrs Walker's table was mobbed with wellwishers delivering gifts, a hug and a kiss.
The picture of grace and calm, Mrs Walker took it all in with a big smile.
Given a glass of lemonade mixed with wine to celebrate, Mrs Walker said it tasted like water and wanted "some of the real stuff".
"I didn't eat my vegetables and I used to have a couple of gins occasionally," she joked when asked about her secret to a long life.
"It's the people I know that keep me going, they are so special to me.
"It's unusual for people my age to have so many friends," Mrs Walker said.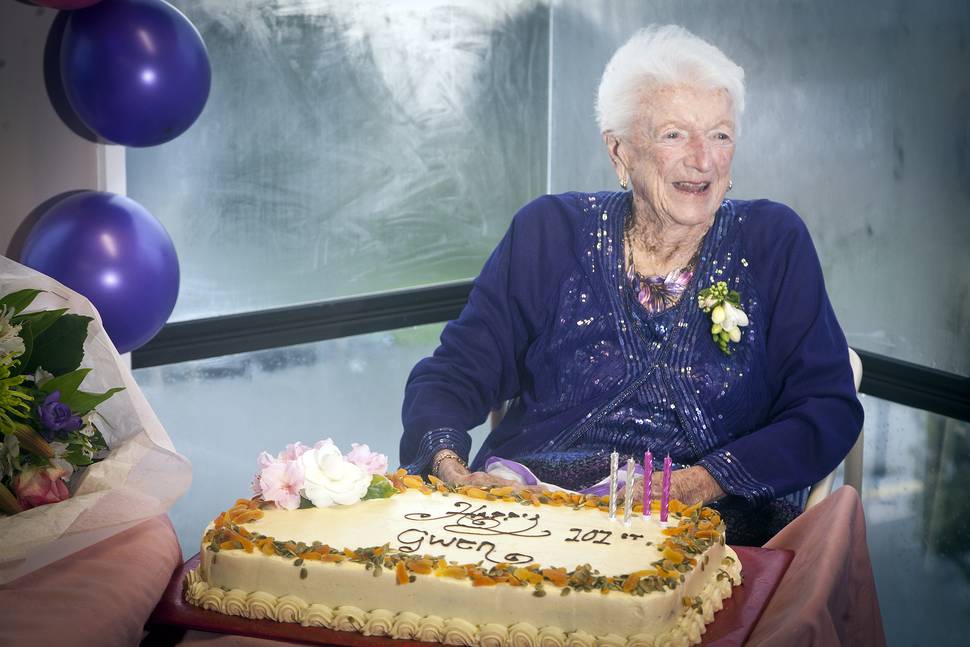 Mrs Walker has been a widow for more than 60 years after her husband Hector died, leaving her with two children.
She never remarried, partly because of her independent spirit.
Born in Port Chalmers in 1915, Mrs Walker spent most of her life in Wellington before following in her daughter Trish's footsteps and moving to Tauranga 12 years ago.
Mrs Walker was known for her roast pork dinners and pavlovas.
"Mum was a great cook and loved to show off her wares," daughter Trish Kerse said.
In the 1950s and 60s pavlovas became the "in" food and Mrs Walker practiced and practiced until she became "a master".
She only recently stopped whipping up her famous sticky pavs covered in cream.
Ms Kerse said if you asked her mum's four grandchildren or four great-grandchildren what their special memory of their nan was they would all say her roast pork dinners and pavs.
But fish and chips were Mrs Walker's meal of choice.
"She would have fish and chips every night of the week if given the choice," her son Peter Walker said.
Mrs Walker had an active life, kept busy by her job as a secretary and charity work.
She helped fundraise for Plunket, ran cake stalls for a new church and volunteered for the Foundation for the Blind.
Tauranga MP Simon Bridges was at the celebration to wish Mrs Walker a happy birthday.
Last year when Mrs Walker turned 100 she ticked off the number one wish on her bucket list by meeting NZ First Party leader Winston Peters. Mrs Walker had been a NZ First supporter for a long time and was over the moon to meet Mr Peter when he came to her birthday party.