Harrison Grierson's new Tauranga headquarters is the first of the engineering and design consultancy's offices to fully adopt an activity-based workplace, says national marketing manager Karen West.
After six months' planning, design and fitout, Harrison Grierson moved from Cameron Rd this month to its new office on the first floor of the former Post Office building on the corner of Grey St and Spring St, above the ANZ.
"We've moved several of our offices over the last few years and each time we've always wanted to make sure we are creating spaces that have moved with the times and are designed in a way to ensure we help retain existing and attract new talent," said Ms West.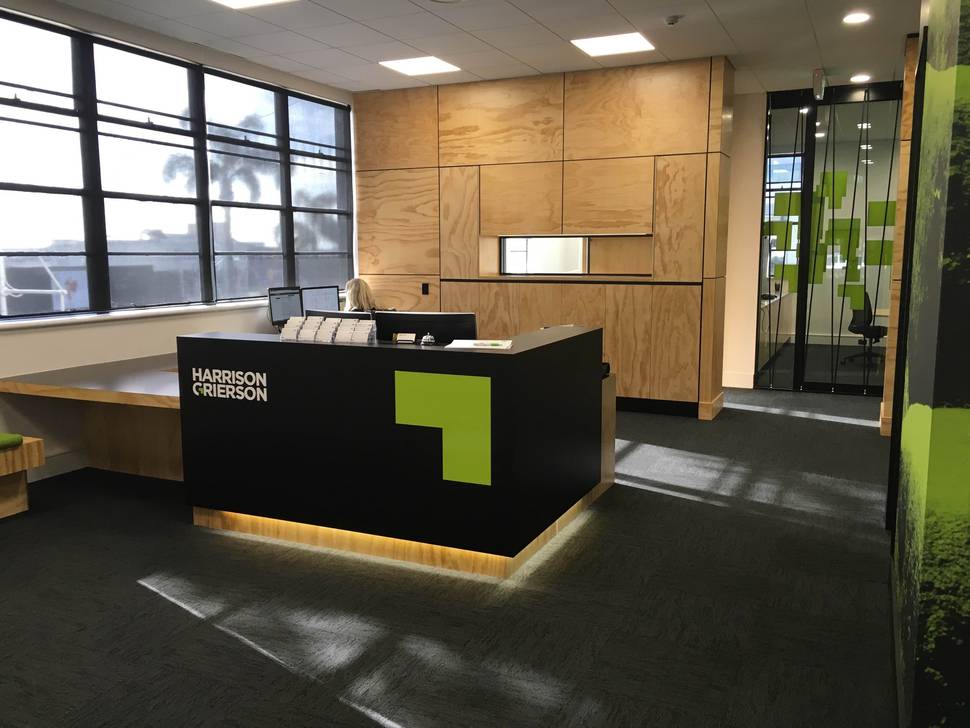 That has included moving away from the traditional layout of big corner offices and desks, initially to a more open-plan approach.
"With Tauranga it was an opportunity to advance even further," she said. "This is the first time Harrison Grierson has gone this far down the [activity-based] track."
Facilities include more loose furniture rather than fixed-desk locations for staff, acoustically soundproofed "chat chairs" for phone calls, and quiet rooms.
Ms West said while larger companies such as Trustpower, ASB and Fonterra had adopted activity-based working, she was not aware of any other engineering consultancies to have made the change.
"The Tauranga move was an opportunity to bringing activity-based principles to life," said Ms West. "The feedback from the change has been really positive."
Andrew Collins, general manager planning and a Harrison Grierson director, said the new approach and location had been positive. "We're all coming in and choosing different places to sit and breaking old habits," he said.
"It's actually been good for teamwork."
Mr Collins said that while the office had not moved to a totally paperless approach, it was helping staff to do a lot more of their work electronically.
"At the same time, a lot of staff are regularly out of Tauranga on projects, so there's no need to tie up an office or even a workstation day after day if you're not here. Doing it this way, you can get more people using the same number of work stations."
Beating on in heart of city
Harrison Grierson's lease on its previous office had been up for renewal and the firm decided to opt for slightly larger premises, the opportunity to reconfigure the office for activity-based working and a downtown location.
Tauranga manager David Needham, a firm principal, who is currently on leave, led the team for the transition.
The firm worked in consultation with Tauranga-based architect Richard Hales of Insight Architecture, and the landlord's representative Kevin Baker of Focus on Property.
Auckland company Vidak, which also worked on the Trustpower fitout, provide the specialised furniture and fittings.
The firm is now in 533sq m, up from 474sq m in its previous office on Cameron Rd, between Spring St and Wharf St.
And although the firm had only moved a few hundred metres down the hill, its 30 Tauranga staff were responding to the new environment and going out more into the city for breaks, said general manager planning Andrew Collins.
"I think the staff are finding it very convenient," he said. "Now we're right in the heart of the city and it makes a difference."
Harrison Grierson:
* Operates throughout Australasia and the Pacific Rim from offices in Auckland, Tauranga, Whakatane, Wellington and Christchurch.
* Won the Nancy Northcroft Planning Practice Award (Supreme Practice Award), and the Best Practice Award: District and Regional Planning, at this year's NZ Planning Institute's national awards.