A state-of-the-art home has sold for $5.65 million - setting a new record for a non-beachfront property at Mount Maunganui.
The sale of 158 Oceanbeach Rd, a new luxury five-bedroom home that backs on to the golf course, was settled on June 12. A Real Estate Institute of New Zealand spokeswoman said the house had fetched the highest sale on record for a single property on the road - following a $5.15 million sale in March 2015.
REINZ also confirmed there had been a spike in homes priced over $1 million from March to May 2016. Seven houses sold for $2.5 million or over while 48 sold for more than $1 million in Mount Maunganui and Papamoa.
Read more: British expats divided on Brexit
Tauranga businessman Harry Salisbury and his wife Errin bought 158 Oceanbeach Rd four years ago for about $920,000 when it was an old two-bedroom bach nestled on a 905sq m site.
Mr Salisbury said that the block of land had ticked all the boxes for redevelopment.
The architecturally-designed home that featured 28 solar panels, wine cellar, outdoor kitchen, pool and spa was a three-year project, completed just before Christmas, he said.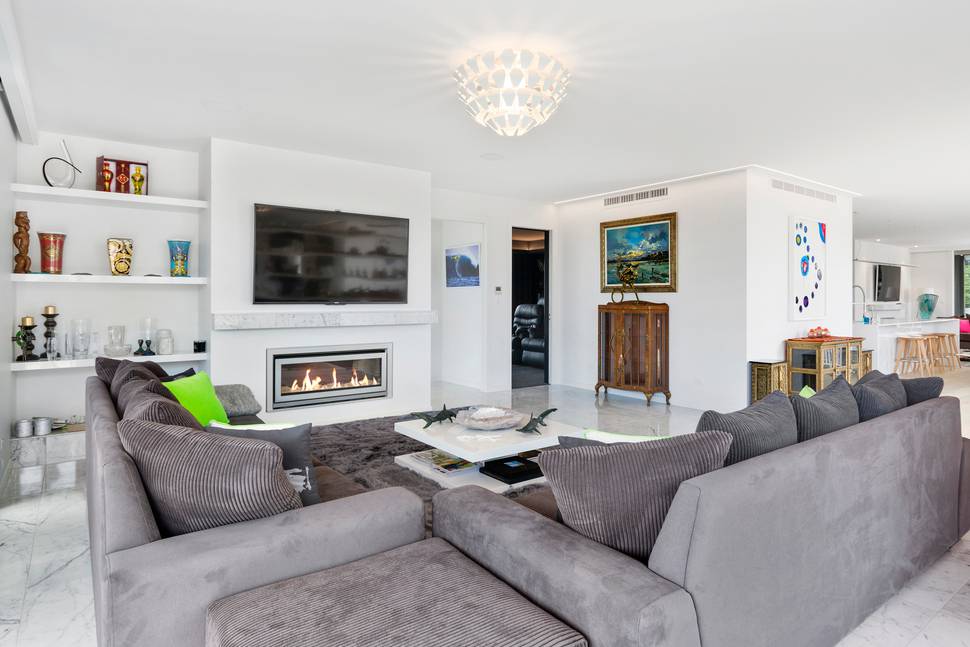 Mr Salisbury credited his wife for creating an interior opulence with the 'wow factor' and said "I just pay the bills. She has done an amazing job".
A wrist injury which meant he could no longer play golf, "which is very frustrating", coupled with the desire to live closer to the Mount and walk to work, had prompted the sale, he said.
The former Queenslander, who had lived in New Zealand for 34 years, said Mount Maunganui reminded him of his home when it was "a young Gold Coast about 50 years ago".
Now the Mount "is growing up, it's just hitting another level of maturity".
"A lot of people have finally realised what a great spot it is for us to reap the benefits of being in such a beautiful area we need infrastructure and the only way that will come is by growth."
Eves real estate agents Charlotte Gardner and Dirk Merwe said there had been strong inquiries for 158 Oceanbeach Rd nationally and overseas but the majority of interest was local.
An intensive marketing campaign was launched on January 15 and the house sold within five months which was considered a quick sale for a property in that price range, Mr Merwe said.
Ross Stanway, chief executive of Eves and Bayleys Real Estate, said the property had set a standard, "and we will see more of this type of development because the appeal of the Mount Maunganui area is world class".
"People that are looking for a top quality lifestyle and have the money look for locations like the Mount and this type of home."
The buyer of 158 Oceanbeach Rd was delighted with the purchase but wanted to remain anonymous, he said.
Tauranga Master Builders Association president Johnny Calley said Mount Maunganui had become a drawcard for bigger spenders that were developing sites and pumping money into the local economy.
"I think it's exciting for the area that we are being compared to successful areas around the world like the Gold Coastwith that comes a lot of tourism, the affluence of that area will create opportunities for other sectors in our region."
Harcourts Tauranga general manager Nigel Martin said sales in the $1 million-plus price range were certainly seeing an increase in activity, mainly driven by out-of-town buyers.
What was most interesting was the buyer activity happening in the $2.5 million-plus price bracket, he said.
"This shows strong economic confidence in the Tauranga area.
"The building activity in this price range is also very strong at present and when you drive around the Mount Manganui streets there are a lot of large family homes that are being built on full sites."
"Often these are people who have purchased their properties some years ago and are now confident in investing into the construction of a new large family home."
Traditionally winter was a quieter time for Mt Maunganui real estate, however this winter there was strong buyer activity for all sectors of the real estate market, including the apartment market, he said.
First National, Mount, Tauranga and Omokoroa owner Anton Jones said there "is a lot of money out there" and Aucklanders continued to influence the market. "The market was going up and demand for million-dollar plus properties had increased, he said.
Carmen Vicelich, founder of myvalocity, said Tauranga was the fastest growing region outside Auckland.
The trickle effect, investors and the labour market were driving up the price and demand, she said.