Four deaths yesterday bring harrowing Queen's Birthday tally to 11.
Eleven people had died by last night over a harrowing Queen's Birthday weekend -- its worst road toll in 27 years.
Among the crashes from the long weekend were two in the Bay of Plenty - one where a man died after his car crashed into a tree near Kaingaroa Forest on Sunday and a serious head-on collision at Whakamarama yesterday.
Another three died and three were seriously injured after a 4WD hit a tree on Baylys Coast Rd near Dargaville in Northland about 6.45pm yesterday.
Five people died over the same weekend last year.
By 8pm yesterday 11 people had died -- the highest toll for a Queen's Birthday weekend since 1989 when 13 people died -- but the road toll period didn't officially end until 6am today.
Earlier yesterday, a motorcyclist was killed in Huntly when his north-bound bike and a south-bound car crashed by the Waahi Paa Marae.
The motorcyclist died at the scene and the car's driver, who police confirmed was not at fault, was unhurt. Roads were blocked for several hours while police investigated.
Huntly police said it was a tragic end to a long weekend.
Soon after the Huntly crash, emergency services were called to the crash on State Highway 2 between Bethlehem and Katikati.
Police said trapped people were removed from each of the two vehicles involved.
The first person killed this weekend was Stuart Ernest Windle, 64, of Kaikoura.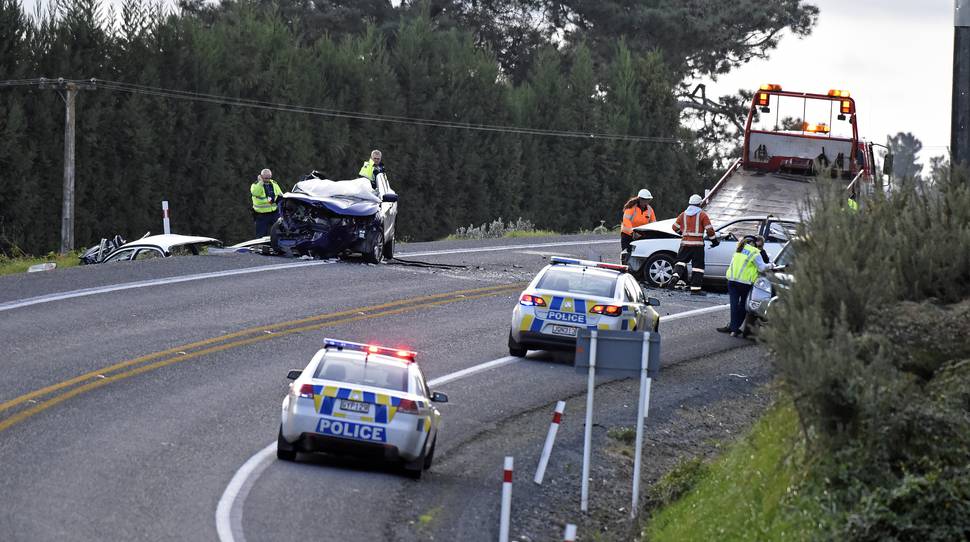 He died at the scene of a five-car crash north of Dunedin that injured six others, while heading south on Friday night to take part in the Hurricane Rodders Mid Winter Run in the city.
The crash was on State Highway 1 near the intersection of Apes Rd, about 5km south of Waikouaiti, as holidaymakers left Dunedin.
Mr Windle's vehicle, two other custom cars and a late-model sports car were heading south to the event when the crash occurred about 5.45pm.
Friends said Mr Windle loved the 1937 Ford Cabriolet convertible in which he died.
Hurricane Rodders president Wayne Nicol said the club considered stopping the event, but it was agreed it would take place.
There had been "a bit of a toast" for Mr Windle at the event, and the club next year would consider changing its name to a memorial event for him.
Queen's Birthday road toll 2016
Monday
• Three people died last night in a crash near Dargaville at 6.45pm
• A man died when his motorcycle crashed head on into a car on Harris Rd in Huntly at 3pm, Waikato
Sunday
• Two men died following a two-vehicle crash at about 11.50am on State Highway 2, near Mt Bruce in northern Waiparapa. One man died at the scene and another later at Wellington Hospital
• A man died after his car crashed into a tree on Dun Rd near Kaingaroa Forest east of Taupo at 3.15pm
Saturday
• A person died in a three-vehicle crash on SH1 at Greta Valley between Christchurch and Kaikoura when a car and truck collided shortly after 6pm
• A motorcyclist died on Castlebane Dr in South Auckland when the motorbike drove into a parked car at 4pm
• A person died in a crash on State Highway 3 between Te Kuiti and Piopio shortly after 5am
Friday
• Stuart Ernest Windle, 64, of Kaikoura died at the scene of a five-car crash on State Highway 1 near the intersection of Apes Rd, north of Dunedin at 5.45pm
- additional reporting Otago Daily Times