A 26-year-old Tauranga woman, who worked on gowns worn by the likes of Kim Kardashian and Angelina Jolie in London, has returned home to bring her experience and label to the Bay of Plenty.
Former Otumoetai College student Grace Sutherland moved back to New Zealand last year after she worked for Ralph & Russo, an exclusive fashion label which took her to destinations throughout the Middle East, where she was usually only informed of her travels the night before.
"On New Years' Eve they called me and said, 'Can you go to Dubai tomorrow?' So I was like, okay. We went New Years' morning ... and I think I got about three or four hours' sleep over about three days."
In 2011, after she completed her university degree in Wellington, she spent two years working in Melbourne for a bridal couture business.
"That was an intermediate thing, and I always wanted to go to Europe, so I went travelling for a bit.
"I was tossing up between Dubai or Paris or London, and I just happened to go to London," she said.
Two weeks after she arrived in London, she landed a role at Ralph & Russo.
"I didn't know who they were, I'd heard of them once and didn't realise the extent of it until I Googled them, and realised they're kind of a big deal.
"They were worth something like 10 figures by the time I got there, and there was 30 or 40 employees - when I left there were over 100," Miss Sutherland said. She worked for the haute couture label for 10 months before she returned to New Zealand.
"Couture is made to measure. Haute couture is a special term, only a few designers are allowed to use that term in the world.
"There is a syndicate in Paris who ensure who is in it and has specific guidelines.
"It's so not glamorous - we're there in our trackies, and the heating wasn't working so we're all there rugged up, all hours. Sometimes you had to have a night shift on to get the gowns done, it was crazy.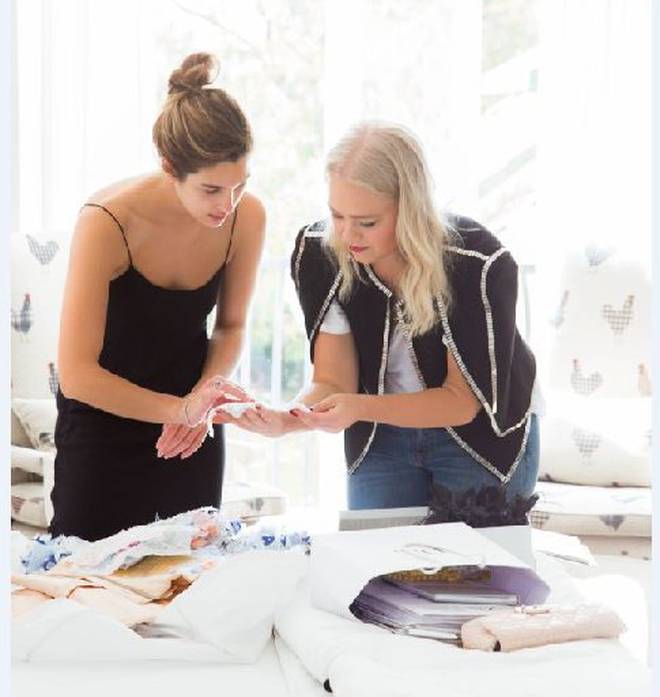 "We were making couture gowns in a week, when it should take a month," Miss Sutherland said. "I got to do surprisingly a huge amount of things for the time I was there."
In her first week, Miss Sutherland helped make a dress for Kim Kardashian.
"That was mental," she said. "This dress, which was an over 100,000 dress ... it was all heavily embroided and we tore it apart.
"We had to make it to her size, and fill it with embroidery. I was there all weekend, about 40 hours just filling in all the embroidery," she said.
Ralph & Russo have created gowns for Kylie Minogue, Angelina Jolie and Gwenyth Paltrow, as well as Chinese actress Fan Bing Bing.
"I don't really think too much of it. I just got on and did it," said Miss Sutherland.
She said people from Doha in Qatar and Saudi Arabia were their biggest clients, occasionally flying them over for fittings, to work on their gowns or to drop them off.
"You don't get time off, you spend all your time in a hotel room working. We just bring our sewing machines over. At least we got put up in five-star hotels and had amazing views.
"It was pretty sweet but still pretty awful at the same time."
Miss Sutherland estimated the dresses would have all started at 20,000 ($42,706).
"The money they have is just mental," she said.
Despite helping to create pieces for the rich and famous, Miss Sutherland decided to bring her experience back home to the Bay.
"I longed for sunshine again. I don't get homesick, it's just the weather is really miserable."
She wrote her business plan on the way to Paris Haute Couture week.
"There was no way I was starting it up over there. I needed to be back home," she said.
Miss Sutherland launched her brand Grace Millicent and was working with stylist and fashion magazine contributor Jaime Ridge.
"I approached her a few months ago ... She's awesome to work with, really really cool."
Miss Sutherland was working in hospitality at the same time as creating her gowns, but hoped to expand once she finished the current project.
"This is the start of it now," she said.