Heavy and violent seas have forced the second closure of Mauao's base track this week but people are being warned the worst is yet to come.
Large swells created by former tropical cyclone Victor are expected to reach their peak ahead of high tide at midday today.
People need to take care. There will still be big swells out there.

SHARE THIS QUOTE:
Metservice communications meteorologist Lisa Murray said waves could reach up to 4.5m as the deep low makes its way further east, affecting the East Cape, Gisborne and parts of Hawke's Bay later today.
"They will have about 4m waves with occasional 5.5m waves."
Yesterday the swells reached up to 4m in the Bay of Plenty and were expected to ease by tomorrow but Ms Murray said people should still be especially cautious at the beach.
"People need to take care. There will still be big swells out there," she said.
"People when they realise it, they are generally pretty good at taking care but it's a matter of being aware, especially now it's getting to the end of the school holidays."
Read more: Walk-through video of Tauranga's new high performance sports centre
While the heavy seas were expected to move on, the hot and humid weather plaguing the city this week was forecast to continue through into the weekend, Ms Murray said.
"The moisture isn't going to go due to this low sucking down tropical air. It's going to be a humid few days. You're in decent temperatures for the rest of the week but it will probably feel warner because of the moisture in the air."
Temperatures were expected to reach a high of 29C today with afternoon showers and light winds and an overnight temperature of 20C.
Significant swells combined with the high tide came up as far as the Mauao base track yesterday, making it potentially unsafe and prompting Tauranga City Council, assisted by the Mount Maunganui Surf Lifeguard Service and police, to close the track for the morning.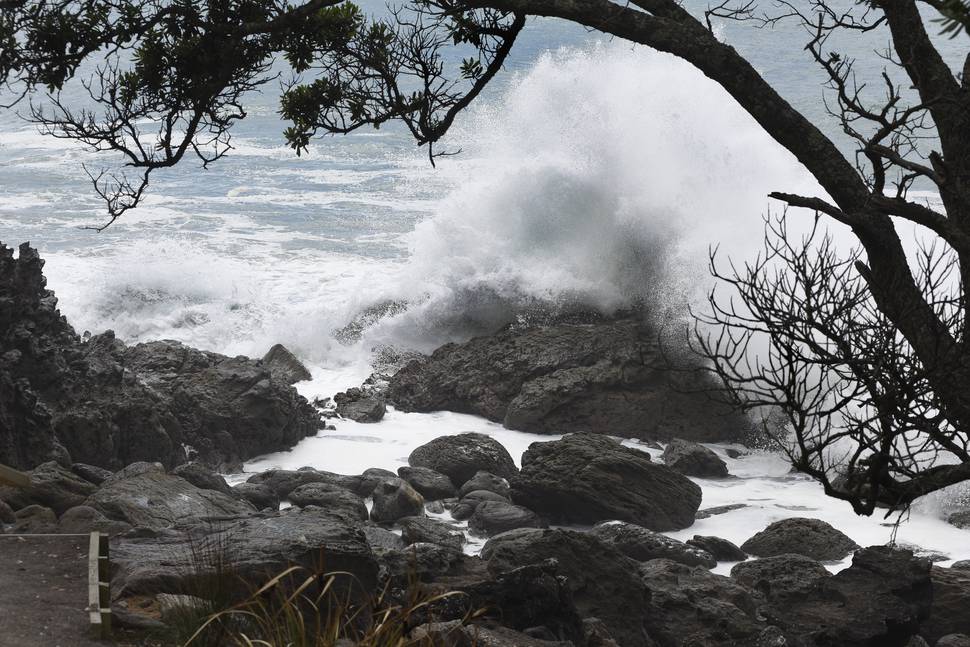 The waves stripped away up to 150mm of the track surface in some areas.
The Mauao base track was also closed on Tuesday because of the big seas.
Tauranga City Council communication advisor Marcel Currin said contractors would be smoothing out the affected parts of the track today and resurfacing would be done next week.
Moturiki Island (Leisure Island) was also being assessed.
The big waves have been hitting since the weekend, when 17-year-old Hamish Rieger was sucked out to sea by a large wave while on Moturiki Island.
Local lifeguards have warned people to stay out of the water until conditions calm down.
Mount Maunganui Lifeguard Service president Brent Warner said the club had been involved in a number of rescues since the big swells began.