Bay residents are not likely to get a reprieve from the recent sweltering temperatures with rain forecast for this afternoon likely to make it even more humid.
Fine days with plenty of sunshine resulted in a maximum temperature of 25C recorded at Tauranga Airport yesterday. For some, the day felt hotter with many taking to the beach to cool down. Sunday's maximum temperature was also 25C although Friday and Saturday hit 27C.
Cate Phipps, 5, was at Mount Main Beach playing on the rocks at Moturiki (Leisure) Island with her grandfather Gordon Astwood.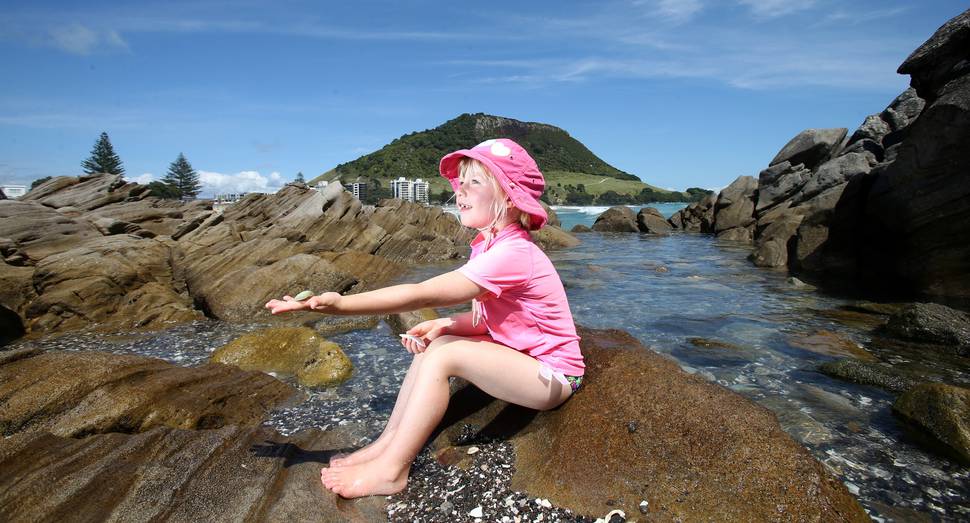 Cate and her siblings had come over from Rotorua for a couple of days to stay with her grandparents. They were spending the morning at the beach and had packed a picnic lunch.
Last night was a hot night for many also, with temperatures forecast to remain 19C or higher.
At 5.54pm yesterday humidity was at 73 per cent according to the Metservice.
MetService duty forecaster Leigh Matheson said the hot conditions and humidity were the result of subtropical air reaching the country.
"We've had a lot of subtropical air trapped over the North Island, with a ridge of high pressure, so it's been fairly warm and humid for many places for the last few days.
"And it's stayed pretty stationary for quite some time thanks to a couple of slow-moving weather patterns."
Metservice predicted showers to fall in Tauranga from this afternoon with light winds. Temperatures were expected to reach 25C today and 21C overnight before getting even stickier tomorrow with showers and a high of 27C during the day and 20C overnight.
The humidity is expected to stick around for the next few days.
"As we push into Wednesday, we start to see more cloud going around the eastern areas and showers spreading over the North Island," Ms Matheson said.
"So it doesn't mean that everyone sees a shower, but they'll be more widespread through the [North] Island."