Almost 100 years ago, Tauranga nurse Jeanne Sinclair was aboard the Marquette when the ship was struck by a German torpedo.
She was one of 741 people aboard the British transport ship when it was hit in the Aegean Sea on October 23, 1915 but, luckily, was not one of the 167 people killed.
Of the losses, 10 were members of the New Zealand Army Nursing Service who had cared for Gallipoli casualties in Egypt - making it the deadliest day in the history of this country's military nursing.
A Marquette Angel is the latest From Tauranga to the Trenches exhibition, a mobile series commemorating the centenary of World War One.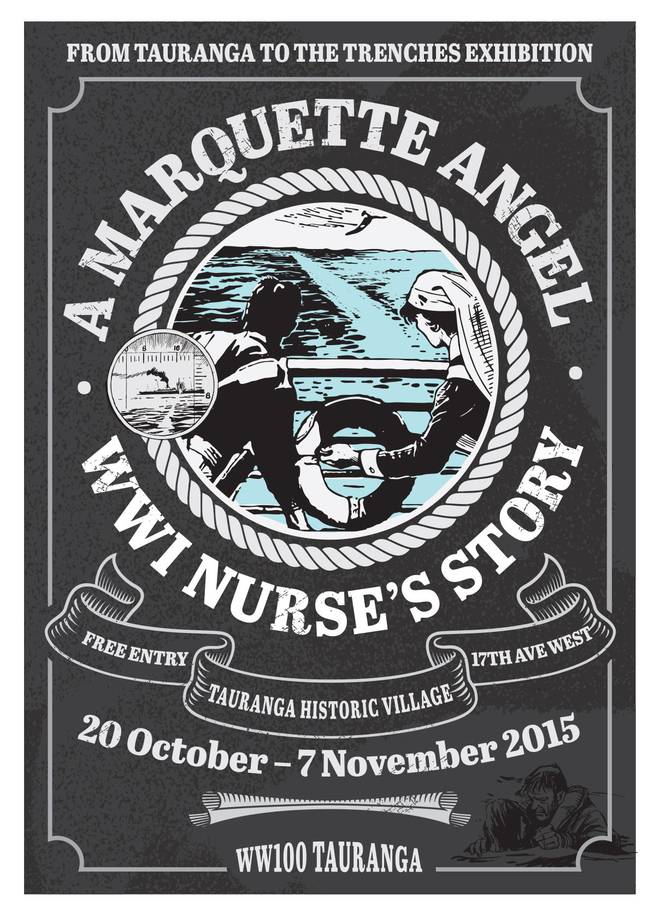 The exhibition tells the story of Nurse Sinclair, a survivor of the sinking who went on to nurse New Zealand's wounded at Brockenhurst Hospital in England.
Tauranga City Council cultural heritage manager Dean Flavell said Nurse Sinclair, whose father lived in Tauranga at the time of the tragedy, wrote home recounting her ordeal.
"In doing so, Nurse Sinclair created an incredibly touching and poignant account that captures the personal experiences of war in a way that history books and official documents simply cannot," Mr Flavell said.
"Her personal experiences provide a unique insight into the far-reaching impacts of war and the many lives that were affected by this defining moment in our history."
The exhibition features a full account of the sinking, as told by Nurse Sinclair's grand-daughter Rosemary Peek, as well as items worn and used by nurses during WWI and artwork by local graphic designer Andy Galaxy.
The exhibition is open to the public from October 20 until November 7 at the Historic Village on 17th Avenue and will then be transported to Phoenix car park on Maunganui Rd and Masonic Park on The Strand.
From Tauranga to the Trenches was created by Tauranga City Council's Heritage Collection in partnership with WW100 Tauranga. The series was made possible thanks to a grant from the New Zealand Lottery Grants Board.
A Marquette Angel - Container Exhibition
Location: Historic Village, 17th Avenue, Tauranga
Dates: October 20 - November 7
Opening times: 10am to 4pm - Monday to Friday, 10am to 2pm - Saturdays, closed Sundays.