4.04pm:
The Easter family festival has been cancelled this Saturday due to the continuing wet, wild and windy weather forecasts.
The Mount Mainstreet board made the tough decision this afternoon and have advised participants.
Mount Mainstreet Manager Leanne Brown said events must be safe, fun and enjoyable for everyone, and the expected nasty weather presents too many issues for everyone.
"We apologise for any inconvenience, and we too are really disappointed."

3.20pm: The rain has stopped and skies are already clearing after a day of wild weather that brought down trees, power, and parts of buildings across Tauranga.
Some roads remain closed.
2.50pm: A slip on Tauranga Direct Rd has blocked both lanes and the road is closed to all traffic.
Police northern communications spokesman Dean Wakelin said the slip was about 500m south of Te Matai Rd, on the SH36 that connects Tauranga and Rotorua.
There is no estimation on what time the road will re-open however Mr Wakelin said due to the high number of call-outs today, people should make alternate plans.

2.37pm: The More FM Easter egg hunt has joined the list of events postponed due to the wild weather.
Bel and Brendo's Easter Egg Hunt with Night 'n Day will now go ahead at Memorial Park on Tuesday, April 22, at 3.30pm.

2.16pm: The first day of the BMX New Zealand Nationals has been called off due to the bad weather.
Tauranga BMX club secretary Tania Gabel said the the opening ceremony and day's events planned for Friday has been moved to Saturday.
The original plan for the nationals to run from Friday to Sunday has been shortened to Saturday to Sunday to work around the weather.
She said organisers were hoping the rest of the competition would continue as planned.
2.12pm:
Paul Taylor was sitting in his office when he thought he heard a sign blow over.
Instead he looked out the window to find a tree lying on top of the fence and the company ute.
The wild weather blew down a 6m tree in front of the Classic Builders office on the corner of 15th Ave and Fraser Rd about 2pm.
The tree flattened the fence and left a dent in the back corner of the ute.
"I just heard a slight bang. I didn't know what it was," Mr Taylor said. "The tree is pretty rotten. It looks a bit naffed."
Murray King was about to head out in his ute when the tree came down.
"It's a bit freaky," he said.
Staff took to the tree with hand saws to cut off branches that were on the ute and hanging into the road.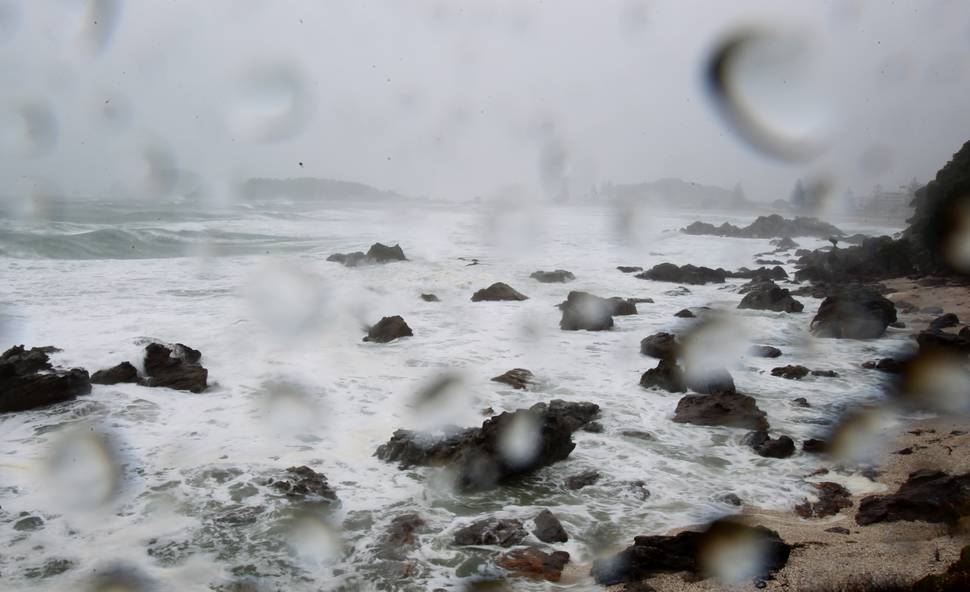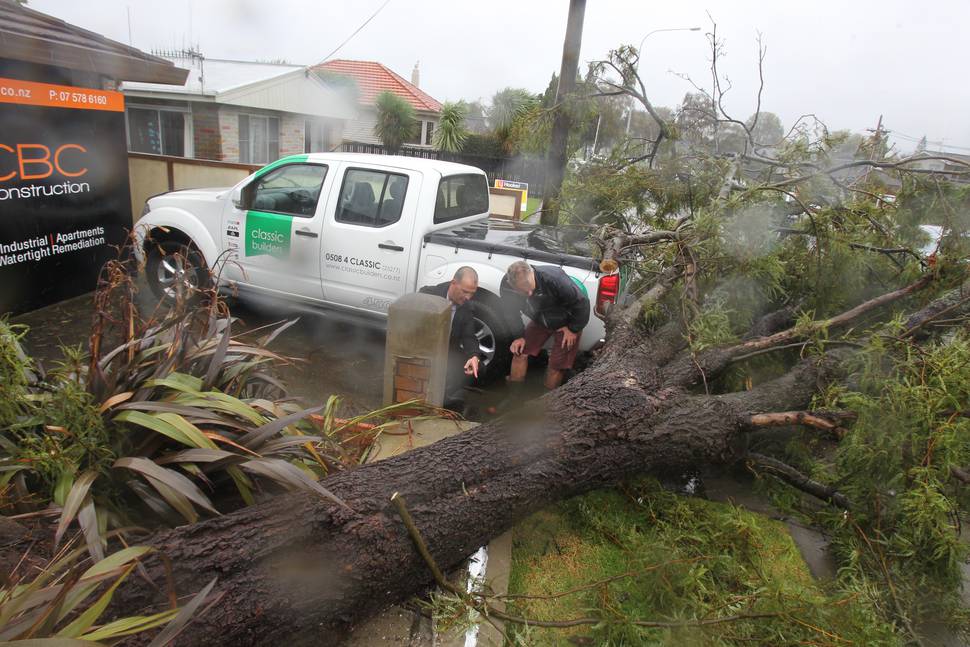 1.52pm:
Part of a roof has been ripped off a Devonport Rd building and only moments later the Burger King sign came falling onto a car.
Nicola Bettley from Bay City Music Works said some clearlite from the roof of the flat above their business had come off and a window had been broken.
She said it was lucky no one was living in the flat at the time and repairs were underway to ensure it was secure from the rain.
While fire fighters were attending to the roof, the Burger King sign came down on a parked car.
Michelle Bruce was shopping on Devonport Rd and walked back to see the sign lying across the bonnet.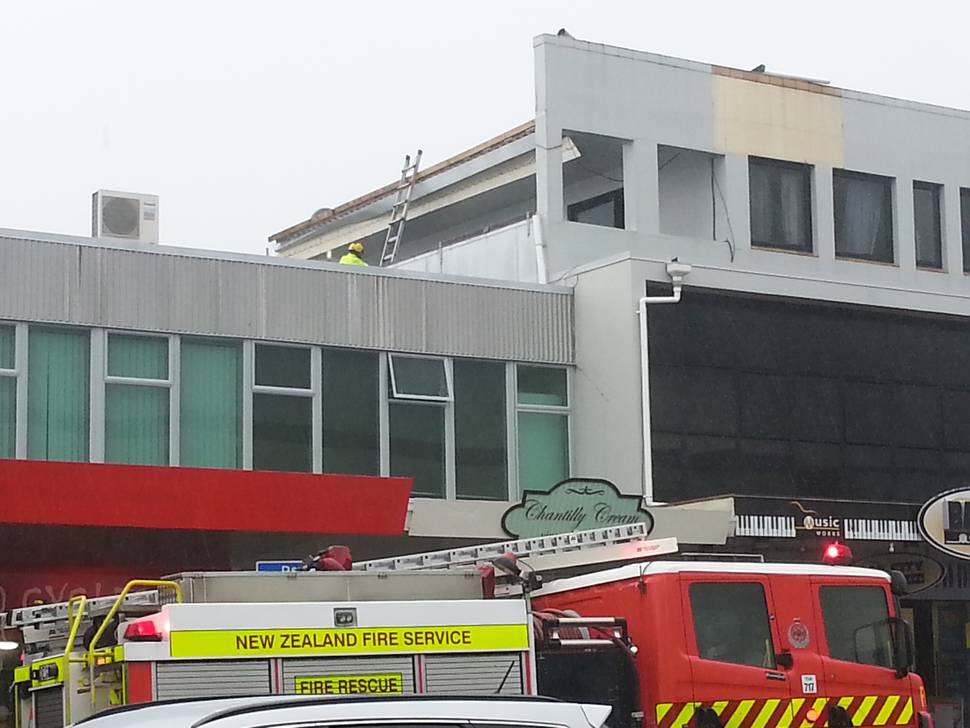 7-year-old Jared Woolcott was sitting in the Burger King window, watching fire fighters climb onto the Bay City Music Works roof, when the sign came down in front of him.
"We saw it fall down and it made a spark and a big crash," he said.
The incidents are jkust two of a series of call outs for emergency services due to the weather today.
1.35pm: Emergency services are responding to a report of a tree falling on a utility truck at the intersection of 15th Ave and Fraser St.
A tree is also reported to have fallen on a shed in Hairini.
Meanwhile, the driver of a truck in Te Puke who was trapped after lines fell on it has now been freed after the lines were confirmed as telephone cables.
Power lines on Omanawa Rd have also been reported as down.

1.15pm: A driver is trapped inside his truck at Te Puke after lines have fallen on the vehicle.
Emergency services were called to the incident about 1.10pm at the intersection of Dunlop Rd and Donovan St.
It is not clear if the lines are live power lines or telephone cables but emergency services are treating the lines as live until power authorities can arrive.
12.59pm: Reports have come in of a roof having blown off from a house in Papamoa.
The report follows that of one involving a tree crashing into a house at Ohauiti.
More soon.
12.16pm: Emergency services have been called to a report of a tree crashing into a house.
The incident was reported to firefighters about 12.10pm from an Ohauiti property.
More soon.
11.59pm: Power is now out to more than half of the Western Bay's suburbs.
Welcome Bay, Greerton, Hairini, Oropi and Matakana Island are among the latest areas reported to have power outages this morning.
They join Papamoa, Te Puke, Maketu, Paengaroa, Pongakawa, Pongakawa Valley, Otamarakau, and Pukehina.
11.33pm:
They join Wairoa Rd and Katikati without power as power lines fall throughout the region.
Most areas including Papamoa and Te Puke are expected to have power restored by 4pm.
11.12am: Traffic is down to one lane in on State Highway 29 in the Kaimai Ranges after downed power lines at Poripori Rd.
Senior station officer Kevin Cowper said a traffic management system was in place and the road was down to one lane while they waited for power authorities to take care of the lines.
Traffic was slowing down but there did not appear to be significant delays for motorists, he said.
Mr Cowper appealed for people to take extra care around their homes after objects such as trampoline have gone flying.
"Just go outside and batten anything down like trampoline, we've had a few of them flying around. Check that their drains are unblocked and tie down anything unsecure. Have a look around. It will really help matters."
9.51am: Power is out to more Bay of Plenty suburbs with power lines down and roads blocked.
Omokoroa, Otamarakau, Pongakawa, Pongakawa Valley and Pukehina join Katikati and Aongatete with power outages this morning.
The outage at Omokoroa was reported at 9.37am and is expected to be restored by 2pm.
It is understood lines are down in the area, with firefighters responding.
9.01am: Pukehina firefighters have begun trying to remove a large branch block part of the road at Pukehina Beach.
The branch is about believed to be 10m long and blocking one lane of the main road that runs through the point.
8.18am: Power is out to homes in Katikati and Aongatete this morning as wild weather wrecks havoc around the Bay.
The power outage was reported to Powerco at 7.58am and is expected to be restored by 11am.
Homes believed to be without power are listed as being in: BAHAMAS KEY, BAKER ROAD, CHARD ROAD, CONNELLY LANE, HENRYS ROAD, HOT SPRINGS ROAD, JEAN BATTEN DRIVE, KILLEN ROAD, LOCKINGTONS ROAD, LUNDS ROAD, MATAHUI ROAD, REA ROAD, STATE HIGHWAY 2, TAUPO AVENUE, TETLEY ROAD, THOMAS ROAD, THOMPSONS TRACK, THORNTON ROAD, WALKER ROAD EAST, WALKER ROAD WEST, WHAKAMARAMA ROAD, WHARAWHARA ROAD

SHARE THIS QUOTE:
The poor weather hitting the Bay of Plenty was the result of a tropical low, caused by the tail-end of Cyclone Ita that threatened Australia several days ago.
8.06am: Emergency services called to remove a tree on State Highway 2 at Papamoa have also been called to a tree down on the other side of the Kaimai Ranges.
The tree near Bell Rd is understood to have now been removed after being located on a dangerous blind bend earlier this morning.
Firefighters have now been called help remove a tree blocking State Highway 29 at the base of the Kaimais on the Matamata side.
EARLIER: Motorists are urged to take extra caution on State Highway 2 after a fallen tree is believed to be blocking the road at Papamoa.
The tree is reported to be lying on a dangerous blind bend near Bell Rd.
Acting Senior Sergeant Mike Owen said police were called to help firefighters remove the tree about 7.50pm.