A four-metre fully-electrified fence, floodlights, security cameras and gates that clang. Padlocked cages. This is prison for dogs and 911 spent time in these cells in the 15 months to March 31 with four out of 10 leaving on a one-way trip to the vet.
Whanganui's dog pound has a reputation in animal management and dog rescue circles. The new facility planned for Airport Road is badly needed.
Dogs are currently confined in one of 35 small runs with a closed-in kennel at the back; the runs have no overhead shelter from wind or rain.
Read more: New $1 million dog pound for Whanganui likely
Plan for new Whanganui dog pound sits in limbo after split vote
How the $1 million Whanganui dog pound costs break down
There's no space to quarantine sick or elderly dogs or suitably shelter puppies. The bleak exercise yard is about 60 square metres of scuffed dirt.
Wellington City, with a population five times that of Whanganui, has a pound the same size. It's mostly empty.
There were times last year when Whanganui's pound overflowed, with dogs doubling up in runs or being released prematurely. What is it about Whanganui, that our pound is so full?
To start with, this district is full of dogs: an estimated 7859, of which 7559 are registered. That's nearly one for every five people, one of the highest rates of ownership in New Zealand.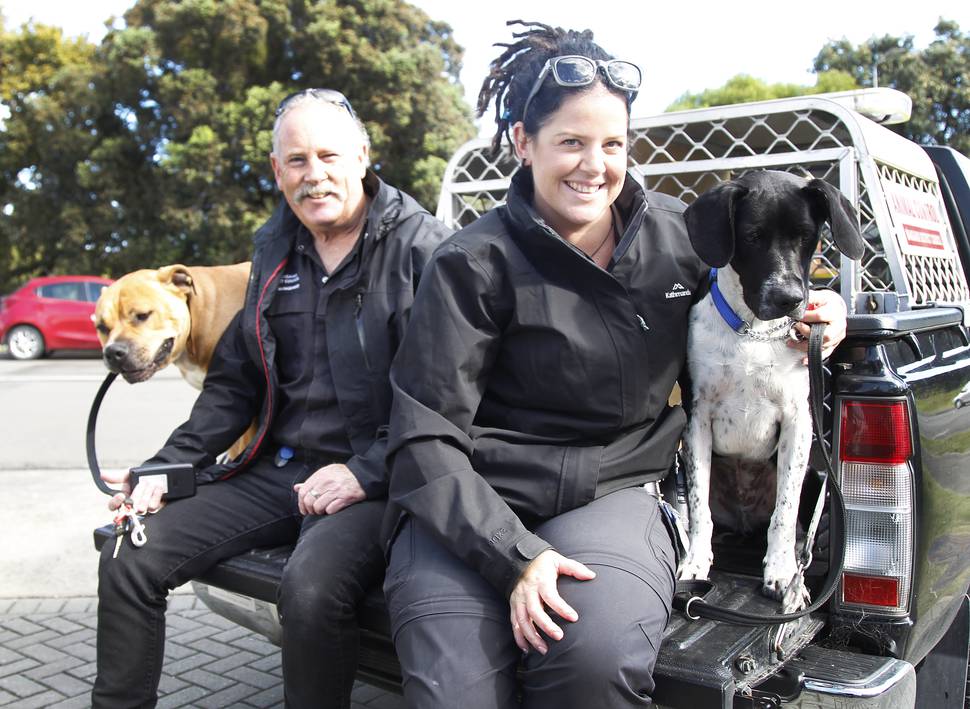 Compared to neighbouring regions and cities of similar size, Whanganui also has the highest number of menacing dogs. Last year it was second to Gisborne for most ACC claims for dog-related injuries, noted Warrick Zander, Whanganui District Council's compliance team leader, in a report to councillors last year.
It's a huge task for council staff.
Warrick is a new recruit, joining in January last year, and has just hired an animal management officer (AMO) for the third time. Tim Buchanan starts on Monday, having moved with his family from Raglan.
Tim will join a small team headed by senior AMO Bernie Compton, a bloke well known to Whanganui. A stalwart, "Bernie the ranger" (as he introduces himself) has been in the job for 25 years. He doesn't want to hear talk of retirement and it's probably just as well given the staff turnover in the industry.
Bernie is flanked by Kimberly Troughton, who was hired 11 months ago and trained by him. There should be three AMOs but they've been short-staffed for most of the past four or five years says Bernie.
There were only eight days in April with both AMOs rostered on -- that's because the same two rangers also handle after-hours callouts.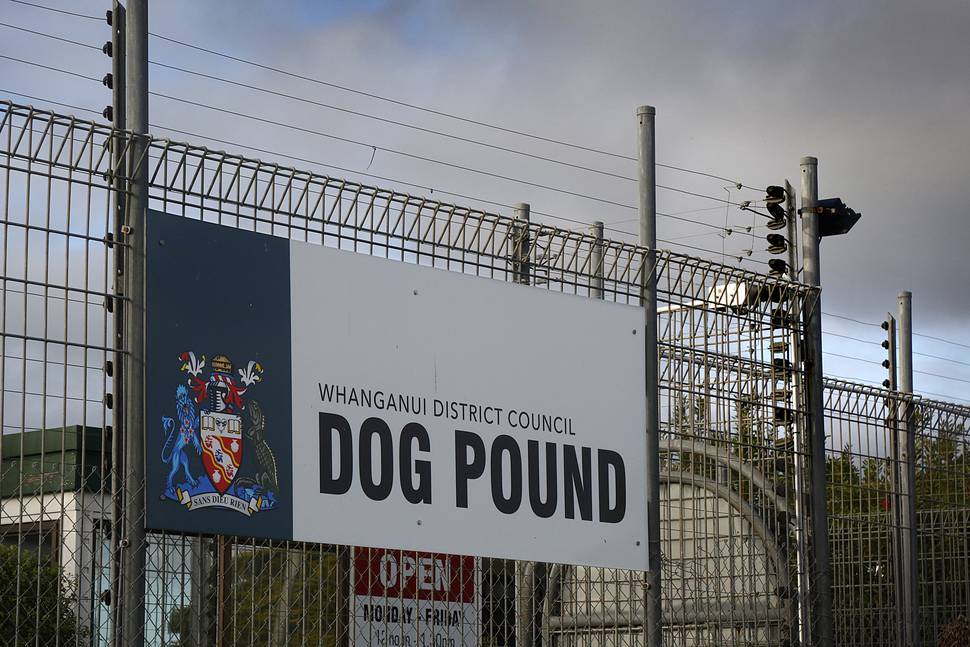 They only get called for priority cases during evenings and weekends but it's still rare to sleep through the night, Bernie says. If they're lucky, the issue can be sorted with a phone call.
Attitude, persistence and dedication to the job see staff make up for the inadequate pound facilities as best they can.

Bernie's full of praise for Stacey, the team's support officer -- "I don't know what we did without her". Before she was hired four years ago, feeding dogs and cleaning cages every day fell to the AMOs, too.
Staff know the current pound is long past its use-by date., and they've worked hard to get sign-off for the new facility. As for its $1 million price tag, Warrick says they've "gone with what we need, not what we want", in order to have a pound that complies with animal welfare regulations.
In the meantime, the three runs in the coldest, most exposed corner are not used and Warrick is negotiating with the SPCA to take in bitches in whelp and puppies.
Bernie sees his job as being like the old-fashioned neighbourhood police officer -- build relationships, be a presence, work together to find solutions.
When people front up at the pound to pay their fine and collect their dog, he's greeted by name and without animosity. Bernie is uniformly approachable: low-key, friendly, seemingly without judgment.
He's not a big man, but he's not soft. In his spare time, he loves to go hunting and he spent 18 years at the local works as a meat inspector.
Prompted to recall difficult situations, he reckons only about four times in 25 years did things "get hairy", and in each case he was dealing with people under the influence of drugs. He's learned what to look for, knows when to quietly back off and come back another day.
Bernie praises the training council has sent him on, and these days he sizes up a situation and has an escape route worked out.
The one time he got stuck, a power pole behind his ute stopped him reversing and an irate bloke in front of the truck blocked his way forward. Another time he recalls scrambling on top of a car roof to escape a threatening dog. It pays to be nimble.

Bernie likes to bring his dog to work: Chopper's a bulldog/mastiff cross who looks "mean as" according to those who stop to admire him. In reality, he's chilled-out and good at public relations.
Kimberly often brings her new dog along for the ride, too. She's keen on education and public safety.
"Kids will see him on the back [of the ute] and say, 'Oh look at that dog, what did he do?' and I say, 'He's my dog, he didn't do anything wrong'. Then we can have a chat, for instance about how they can be safe around dogs."
It illustrates the new direction Warrick is steering the team. He wants animal control to be about education too, not solely enforcement.
"We need to keep our head above water for the time being," he says. "We want to be the ambulance at the top of the cliff but currently we don't have the resources to do that."
Short-staffed, inevitably the rangers are kept busy responding to emergencies and callouts.
There's been a new emphasis this year on identifying unregistered dogs. The team are working hard, says Warrick and are finding 60 to 70 unregistered dogs a month.

The AMOs will work with owners to get the dogs "legal" and infringement notices are issued only after multiple warnings. As a last resort, the warranted officers have the legal power to enter a person's property and take unregistered dogs to the pound.

Bernie concedes it can be a tense standoff, especially when the dogs are aggressive. Some owners will throw down a challenge, believing their dogs won't let Bernie near them. They're in for a surprise -- "There's never been a dog I haven't been able to bring in," says Bernie.
Whanganui has nearly filled its quota for the free desexing programme funded by Internal Affairs, targeted at dogs classified as menacing. In Whanganui, that means pit bulls and 239 have been desexed as of March 31. Now almost three-quarters of known pit bulls or crosses in Whanganui are de-sexed.
The number of menacing dogs in the community should reduce as fewer pit bulls have unplanned litters. Pups are typically passed to neighbours and friends.
"People get the dog for nothing, and then they don't get the same sort of care, because [the dog] doesn't owe them anything. If it comes into the pound, 'So what, we'll just get another one off Trade Me'," says Bernie.
"Pittys" make up 87 per cent of the 352 menacing dogs in Whanganui. The remaining 47 are classified as "menacing by deed", because of something an individual dog has done.
"Dangerous" is the next classification which requires the dog is des-sexed and always muzzled and leashed in public. In more serious cases of dog attacks, owners are prosecuted and dogs are likely to be euthanised.
Of the 24 dogs classified as dangerous in Whanganui, four are pit bulls or crosses, while the list includes three Siberian huskies ("They don't bite people, but look out cats," says Bernie); two German shepherds ("people biters"); a cocker spaniel; a Labrador and a chihuahua.
Seven huskies or malamutes have been impounded in the past month, five for attacks or suspected attacks on livestock. Their strong prey drive means cats and other small animals, even sheep, are at grave risk.
"Huskies are super intelligent and want to please," says Bernie. "But they are the closest thing to a wolf and you can't make any errors in controlling them."
Breeds like collies, kelpies and heelers are high-energy dogs bred to work, who need huge amounts of exercise and training. As for huntaways? They've been bred to bark. That big voice is an asset when working sheep but a liability as a townie's pet.
The pound also receives dogs surrendered by their owners whose circumstances have changed or who underestimated the responsibilities that come with owning a dog.
Other owners never show up, even when advised their dogs are in the pound. Their dogs sit and wait in the tiny concrete runs for seven days or more; only the luckiest ones find a new home.
"There's a perception that owning a dog is a right," says Warrick Zander. "But it comes with responsibilities and obligations".
Life on the beat with the animal rangers
A ranger's life is always varied
Bernie Compton and Kimberly Troughton never know what job will be called in.
A feral goat wandering suburban streets? Dogs chasing stock or rushing at school children? A mini-horse on a midnight escapade? All in a possible day (or night's) work.
While the Chronicle rode shotgun, Bernie got a call about a wandering dog secured at a Tawhero address.
The pit bull cross is in a fenced section and highly alarmed having been chased around by the resident poodle. She is in no mood to make friends with Bernie and proves her intelligence and athleticism by evading capture.
Bernie's quick search of the council database by breed and location doesn't yield any clues to her owner's identity, so he puts her on hold -- she's not going anywhere and he's already late in taking a statement from a young mum on the other side of town whose chickens have been killed by a marauding dog.
He makes a plan to set a cage trap for the dog and his offer to dispose of the dead chickens is gratefully accepted.
Then it's back to the pit bull, having called in Kimberly as backup.
There's a bit of banter between the AMOs — Kimberly easily holds her own against Bernie's good natured teasing — but they're focused on the job at hand. Finally cornered behind the garden shed, the dog realises the game is up and accepts being collared.

The dog is scanned to see if she's micro-chipped -- no such luck. She's lifted into the dog box, docile now, a beautiful dog, young and in good condition. And possibly on heat, notes Kimberly.
Then an unexpected call: Bernie swears under his breath and paces as he collects the details.
Back across the river, the woman he visited just half an hour earlier has caught a husky in her backyard chasing her last surviving chicken.
Bernie knows the dog and its family and he seems sad for everyone involved. He quickly loads the dog on the truck and heads straight for the pound — just as a young boy rounds the corner, his eyes widening as he recognises his dog.
The kid's dad pulls up outside the pound just 20 seconds after Bernie. It could have been a scene: the dog was only loose for a moment he says and he wants to take him home.
Bernie's calm but firm. He points out the dead chickens in the truck, victims of Friday's attack. There has to be an investigation which he'll do as quickly as possible but the dog has to stay at the pound for a couple of days.
Postscript: No one reported the pit bull cross as missing and she was euthanised after being held for three weeks. The chicken and husky owners reached an agreement between themselves and the dog was released home after an infringement for wandering was paid.
Things dog owners should know
*Register your dog. This is different from micro-chipping and annual vet check ups -- your dog is required by law to be continuously registered with the local authority.
The registration year begins on July 1 and from this year, Whanganui District Council will not allow owners to pay off dog registration via automatic payment. Part payments can be made in advance before accounts are sent out.
*As a dog owner, you have a legal obligation to tell council if you change address or phone numbers or if your dog dies or goes to a new owner.
*All newly registered dogs must be micro-chipped. This simple procedure inserts a tiny machine-readable chip under the dog's skin. Even if a dog slips its collar, it can still be identified, anywhere in the country. The AMOs will microchip dogs for a one-off fee of $25; it may cost even less at your vet if done at the same time as vaccinations or other procedures.
*Classified dogs will not be re-homed — if an impounded dog considered to be a pit bull or pit bull cross is not collected by its owner, it will be euthanised.