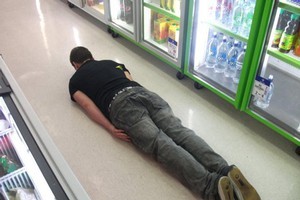 A mother spoke last night of her shock at the fad of planking after her teenage son was photographed lying over train tracks.
A photograph of Tauranga Boys College student Reid Moodie, 15, was posted on Facebook after he posed for the stunt last Friday.
Planking involves being photographed lying flat on a novel and precarious object, with the photos published online.
The internet craze shows no signs of abating despite safety warnings and the death last week of a Brisbane man who fell from a seventh-floor balcony railing of an apartment building.
Do you think 'planking' is dangerous? Here is the latest selection of Your Views: