Arrival of new wingsail puts USA-17 on target for a relaunch early next month.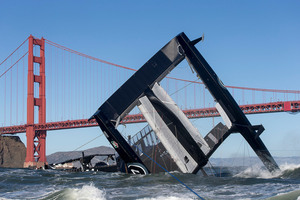 As the surging tide dragged the twisted and mangled shell of USA-17 out through the Golden Gate Bridge after the boat capsized in rough conditions last October, the sailing world wondered if Oracle's defence could be over before it started.
With the competitors for the 34th America's Cup already operating under a tight timeframe, the extensive damage Oracle suffered on just their eighth day of sailing their new AC72 was thought to be catastrophic.
As the damage was tallied and repair times calculated, it was obvious the Oracle sail crew were in for a lengthy lay-off.
Even with the team's enviable resources, many doubted they could recover from the massive setback.
With Sir Russell Coutts' team this week taking delivery of their new wingsail, built at Core Composites in Warkworth, Oracle have bounced back quicker than most had anticipated.
The three challengers are now looking over their shoulders as Oracle set about making up the lost ground.
Oracle general manager Grant Simmer said it is difficult to quantify how great a setback it has been for the team, but they are determined the capsize will not define their campaign.
"We've lost a lot of sailing time and a lot of time for the team to figure out the new boat, which will be difficult to recover. We're a sailing team and it's not great to be watching your competitors sailing when we're unable to - that's been tough. All of the team has really focused on fixing the issues, fixing the boat and getting back on the water as soon as possible."
The defenders are aiming to relaunch USA-17 in early February, once the new wing has been fitted to the repaired hulls and new systems installed.
Oracle skipper Jimmy Spithill said after three months of inactivity, the arrival of the wing in San Francisco this week provided a "psychological boost" to his crew anxious to return to the water.
"As a group we've faced the toughest challenge so far of all the teams. We've been able to test ourselves and see how we react.
"At the time, it didn't feel great, but it's been a good test for the team and all the people involved for us to get through this ... and now we can get back out there."
While Emirates Team New Zealand are expected to launch their second AC72 around the same time Oracle will be getting their first boat back on the water, managing director Grant Dalton said his team aren't as far ahead of the game as they appear.
Team New Zealand will have five to six weeks' downtime while the boat is dissembled and shipped to San Francisco, where they will be based from May ahead of the start of the Louis Vuitton challenger series in July.
Those six weeks will give teams like Oracle and Swedish team Artemis, who are already based in the Bay Area, a chance to make up significant ground.
Conditions in San Francisco at this time of year can be light and fickle and certainly not what you'd expect over their summer, raising questions over how much the teams will gain from this period of testing.
"But any day that looks good for sailing, we'll be out there, trying to put some hours on this wing and the boat", Spithill said.
Oracle have always had a bit more time up their sleeve than the other competitors as the defenders will not race until the America's Cup finals beginning in September. Being shorebound for the past three months has also allowed Oracle the chance to keep a close eye - at times too close - on the progress of their rivals. The information gleaned from their spying mission in Auckland over summer has been invaluable. Oracle will consider the penalty of five sail days and an $18,000 fine they were slapped with for breaching the 200m radius permitted in the Protocol well worth it, with the team claiming their boat will be better than ever as a result of modifications made.
Spithill said he was impressed with what he saw from his rivals when he was in Auckland late last year.
"Emirates Team New Zealand has done a good job with their foiling configuration - they looked pretty good. Luna Rossa were pretty early in their sailing programme when I was there. Artemis Racing in the meantime has started sailing a bit out here," he said. "There's a big difference in design and configuration in the boats, but that's something we're looking forward to."

Timeline of cat-astrophe
August 29, 2012: After weeks of delays, Oracle launch their AC72, more than a month after Team New Zealand take to the water in their catamaran.
August 31, 2012: Two hours into its first sail, the boat suffers extensive damage to its daggerboards. The team estimates the repair will take five weeks.
October 3, 2012: In an effort to prove their faltering AC72 campaign is back on track, Oracle took their newly repaired USA-17 out for a spin on San Francisco Bay while their rivals were in town for an ACWS regatta.
October 17, 2012: On just their eighth training run in the boat, Oracle suffers catastrophic damage after their boat pitch-poled in rough conditions in San Francisco Bay, snapping the wing on impact. The damage was further compounded when the support crew were unable to right the boat and the surging tide sucked USA-17 through the Golden Gate Bridge.
December 21, 2012: The second wingsail for Oracle left Core Builders Composites facility in Warkworth bound for San Francisco.
January 9, 2013: Oracle take delivery of the second wing and set about fitting it to the repaired hulls, with the aim of relaunching USA-17 in early February.