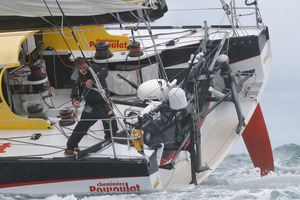 Swiss skipper Bernard Stamm sails after crossing the starting line of the Vendee Globe sailing race. Photo / AP
A solo round-the-world sailor is off and racing again after completing repairs off the Dunedin coast.
Swiss sailor Bernard Stamm rejoined the Vendee Globe 2012 round-the-world yacht race yesterday, after anchoring just off Murdering Beach - near the Otago Harbour entrance - for emergency repairs on Boxing Day.