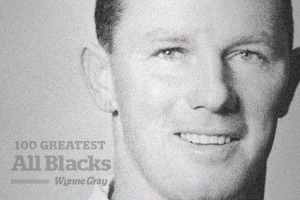 The Wallabies claimed him first and it was easy to see why when the Queensland-born halfback moved to Auckland to play his rugby.
Des Connor ran the game. When he needed he would whip a pass out to loads of talent in the blue and white backline otherwise he would box kick over the set pieces or order his forwards to take the possession forward.
He was a shrewd operator whose tactical work and feel for the game was at the fulcrum of Auckland's success during their Shield era in the 60's.
His delivery was long and fast and Connor also had a reverse pass which flummoxed many prowling loose forwards.
Eligibility rules must have been a bit hazy then because within a year of settling in the Land of the Long White Cloud, Connor was an All Black and a rare dual international.
He was a key member of the famous Auckland squad which held the Ranfurly Shield but after 12 tests and a last one against the land of his birth, Connor returned to Australia.
His rugby involvement continued and he was appointed Wallaby coach for three years from 1968-71 in a period when his innovations helped them challenge the All Blacks strongly.
Statistics
Date of birth: 9 August 1935
Position: Halfback
Matches: 15
Tests: 12
Test debut: 22 July 1961 v France, Auckland
Last test: 29 August 1964 v Australia, Wellington
Province: Auckland
Test tries: 1
Test points: 3