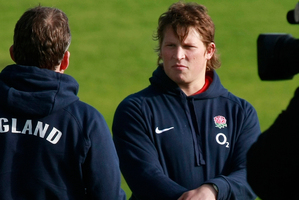 The penalties for rugby abuse have everything to do with long service and delivery.
Or so it seems after the ban on would-be Lions hooker Dylan Hartley, a fine for the Stormers and the wet bus ticket given to Graham Henry.
Instead of duking it out in Australia, hot-head Hartley will be watching his comrades on telly as he deals with an 11-week ban, a lost lifetime experience and cancellation of his direct credit line to the Lions.
On the same day Hartley was rubbed out of the Lions trip for calling referee Wayne Barnes "a f****** cheat", another of the referee's favourites, Henry, received a limp non-sanction from Sanzar.
Hartley's defence was he gobbed off at his opposite hooker. However, Barnes took a much different view that the abuse had been directed at him. A hearing agreed with the referee's assessment.
Henry and his 2007 All Black staff might have muttered a touche to Hartley's viewpoint on Barnes before Henry, now the Blues technical director, survived his please explain appearance with Sanzar.
He had laid into officials for their work in the Blues' loss to the Crusaders, called the TMO "blind" and questioned their competence. His outburst was not as vulgar or direct as Hartley's, but he did not miss his mark.
To my ears, Henry's thoughts added colour and depth to most of the sanitised Super 15 comment.
Other senior Super 15 coaches have since underlined their support of Henry's observations. However his comments contravened Sanzar's rules.
Henry wrote to Sanzar and apologised for his "inappropriate" remarks and in light of that reaction and his 40 years' service as a coach, the duty judicial officer cautioned Henry about a repeat misdemeanour and ordered him to apologise; which he did today.
Recently the Stormers were fined $30,000 for abusing match officials and in particular assistant referee Sheldon Eden-Whaitiri during their Super 15 match last month.
The Stormers were apparently upset about some decisions during the match and their bench offered suggestions to the assistant.
Both Hartley and the Stormers lost out while Henry escaped - that's almost more mysterious than rugby's offside lines.