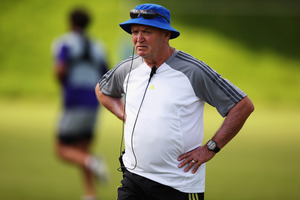 Blues assistant coach Sir Graham Henry has issued a public apology after he heavily criticised match officials following his side's loss to the Crusaders in Christchurch last weekend.
At the time the former All Blacks coach suggested, among other things, that the television match official was "blind" and prop Wyatt Crockett "got away with murder".
This morning Henry released a statement, which was part of his sanction handed down by Sanzar, accepting that his comments were unacceptable under Sanzar's code of conduct.
"On Sunday, I accepted that I had breached the Sanzar code of conduct with comments I made to the media last week following the Blues' game against the Crusaders. This statement is an apology to the match officials who may have taken offence to my comments and to Sanzar," Henry said in the statement.
"I accept that my comments to the media last week went beyond that which Sanzar deem acceptable under the code of conduct. Accordingly, I want to apologise to Sanzar and to the match officials involved for my comments, and for any offence they may have felt, as this was certainly not my intention.
My intention was to try to respond to media questions in relation to matters I thought were important, in an honest but humorous style.
"I clearly failed to achieve that and, in some respects, I accept my comments went too far in criticising the match officials.
"I recognise there is a Sanzar code of conduct to be followed and I will take more care to adhere to these standards in the future when I am answering media questions about matters which both the media, and the fans are interested to hear from us about."
Henry got himself in hot water with Sanzar when he didn't hold back at a media scrum at Blues headquarters last Tuesday. He said he believed the Blues should have been awarded a penalty try and that Frank Halai definitely scored the try ruled out by TMO Keith Brown in the second half of the 23-3 victory by the Crusaders at AMI Stadium.
"I think it's inconsistent," Henry said of the officials' ruling on mauls. "I don't think the referees know what they are looking for and they just go out there and hope they get it right. I think there needs to be a lot of education around the refereeing of the maul, also with the scrum.
"I think Wyatt [Crockett] got away with murder. I thought there were a couple of scrum penalties which were frustrating, to be frank, but after 40 years you get used to it."
Henry called the decision by referee Glen Jackson to sinbin Blues lock Retallick for an intentional knock-on unfair, saying the player "is not that good, he's not that capable [of doing that], all due respects to Red, and he'll understand what I'm saying".
Referring to Halai's attempt to score among a tangle of Crusaders, Henry said: "It was obvious to me. I don't know, he's probably a blind TMO is he?
"Then you had a situation where we attacked under the sticks. Frank went very close to scoring under the sticks and Andy Ellis is standing in front of the ball. It's a penalty try, isn't it? Those sorts of things frustrate you but it's part of the game.
"They were better than us, I accept that, they deserved to win the game. But I don't think it's all bad from a Blues side."
Henry suggested that rather than looking for reasons to send players off, referees should "just do the basics right".
- APNZ